When we think of Apple devices, we keep in mind safety and security. And iMessage is the reason many users do not want to switch to different platforms. iMessage is one of the prized possession of Apple company, and they do not desire to share this technology with anybody.
Apple vs Epic  Games battle
Recently, Epic Games filed a lawsuit against Apple. Epic Games stated that the iMessage version for android devices was earlier planned, but Apple has refused to share this technology, fearing that it may lose its customers.
Epic Games revealed some brief excerpts from their contract and dispute with apple manufactures ahead of the trial that will take place on May 3rd.
Apple opinion on iMessage
Moving iMessage to Android will hurt us more than helping us, and this email illustrates why. Apple always maintains good customer service and does want users to ever switch to the Android platform. They further clarified that using iMessage on Android devices will affect users.
They further stated in an email all the possible reasons not to launch this platform on Android. Earlier Google tried to give the same platform with RCS to every android user but failed to do so as the Apple ecosystem is far ahead.
What Epic Games have to say about the lawsuit?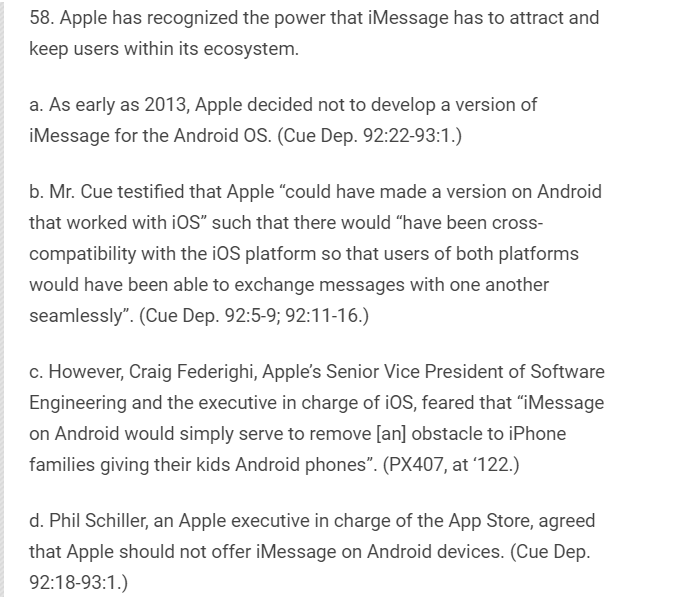 Epic Games completely disagrees with Apple executives. They said that the "company is trying to lock customers up in their ecosystem. They are hindering the growth of android users by stopping iMessage. Apple is trying to create a monopoly and limiting users to switch to different platforms. They are trying to restrict people on Apple Stores and In-App payment systems."
The email statement clarified that Apple said to develop messaging service for Android. They further  told that they had already started working on that in 2013. But, Apple's executives, Craig Federighi (SVP of Software Engineering) and Phil Schiller (SVP of Worldwide Marketing), said it'll affect the companies policy and user growth. Another employee stated that iMessage is the only reason or "serious lock-in" in keeping Apple users in the ecosystem.