Indian hospitals plead for oxygen as the country sets virus records. And bodies pile up due to second wave and death rate surge up too. Just a few weeks ago health minister that the government was in the endgame of the pandemic, and now he sees the actual reality. What will happen in India would be much more devastating.
India Health Care Is Crumbling Under Second Wave
India sets a record for most cases after the second wave of the pandemic has begun. The country's healthcare is crumbling under pressure since mid-march. There is a deficiency of everything from oxygen supplies, beds, hospital staff, and ventilators. The country recorded more than 332,730 cases on Friday, and this was the highest tally for one day, followed by the USA. America recorded 300,310 new patients on January 2.
COVID Cases Top The Tally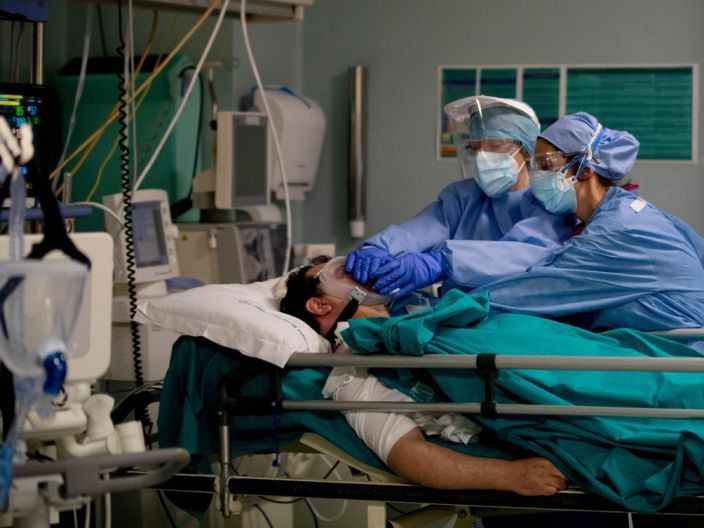 India's overall population is roughly four times bigger than the USA, but India's incidents are still far less than the American cities. With 16 million cases and 2,263 death in only 24 hours, the country tops the list.
"We're going through pretty much the worst possible phase of the pandemic here," said Chandrika Bahadur, chair of the Lancet Commission on Covid-19 India Task force, on Wednesday. "It has been bad for a couple of weeks, but now it's reached a peak."
Delhites, as well as people from other Indian cities, are begging for oxygen and other supplies. Underfunded healthcare is tattering under the pressure of the second wave of the pandemic. Some hospitals are rejecting more patients due to a lack of staff, beds, and oxygen supplies.
The situation is worsening day by day. Patients are dying in an ambulance, streets, or their homes due to a lack of facilities. Hospitals and patients are begging through social media platforms to give them alternatives other than to die while waiting.
There is a lineup outside of hospital lanes, clinics, and pharmacies. Still, the government is not taking any step further to see the woes of their citizens.
"We have surplus oxygen at plants which are far off from places where it is needed right now. Trucking oxygen is a challenge from these plants," said Saket Tiku, president of the All India Industrial Gases Manufacturers Association. "We have ramped up the production as oxygen consumption is rising through the roof. But we have limitations, and the biggest challenge right now is transporting it to where it's urgently needed."
Hospitals are issuing notices and asking for oxygen tankers to transport to the emergency wards. State governments are airlifting the tankers and sending them through railways for an emergency.