After a long research processes, Centers for Disease Control and Prevention said that some of the COVID 19 Vaccine reactions are due to anxiety and not because of the vaccination shot. These symptoms includes nausea, fainting and dizziness.
This report was published when CDC was reported about the reactions after receiving Johnson and Johnson's vaccine in early month of the April. This happened before putting a pause on the Johnson and Johnson's vaccine after 6 cases were reported of blood clots after receiving this vaccine.
Around 8624 people received Johnson and Johnson's vaccine in the early days of April, out of which 64 experienced these anxiety related symptoms. These symptoms were considered to be normal. Many people experienced the mild symptoms like dizziness, nausea and headache. Other common symptoms were heavy sweating, hypotension and fainting.
Out of these counts 61 % were women and median of the age turned out to be 38. These people told the medical staffs about their history of  usually getting fainted after getting the needle pricked.
All these symptoms only lasted for about 15 minutes and were resolved with food, hydration and lying down. 20 % of them were hospitalized  to be monitored and to do the further research about the symptoms. Also, 4 sites paused the vaccination process.
The authors said that informing people about the anxiety related side effects in the start could help them make the decision weather to continue with the vaccination process or not. The anxiety related side effects were noted only after administration of the Johnson and Johnson's vaccine and it was also said that anxiety related side effects can occur after any vaccine.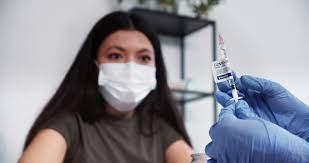 How to reduce Anxiety before vaccination?
President of the American Psychiatric Association said that people having anxiety issues and who do exercises to keep anxiety under control might have a painful vaccination experience.
Self care, eating well, keeping oneself hydrated may help to over come the anxiety issues. At the location of vaccination, if the Que is long, divert yourself and listen to songs. Also, inform the officials about the anxiety issues so that they can help you before getting the vaccine shot.