Titans is one of the most-watched TV shows and has a huge fanbase all over the world. It is based on Teen Titans, which are from the DC comics. With 2 superhit seasons, it's no surprise that viewers are looking forward to Titans Season 3. After all, the journey of the superhero group is always interesting to watch. So, what's in store for the upcoming season this year? When is it releasing? Which new cast members are going to be added? Has the filming ended? Continue reading to find the answer to all your questions regarding Titans Season 3!
Titans Season 3 Release Date
The hit series was renewed for a season 3 on 11 November 2019. This clearly meant that season 3 of titans was supposed to release in the fall of 2020 on DC universal since filming had begun immediately. But, due to covid 19 and the lockdown it brought with it, filming was delayed.
Hence, the upcoming season is now getting released for viewers in the US on 12 August 2021. And this time, the show will air on HBO Max instead of DC universal. The season will later be available for international viewers on Netflix.
Titans Plot
The dark and gritty series is always full of new plot twists, making viewers sit on the edge of their seats. It mainly revolves around a group of young superheroes who form a team together, aka the Titans, to fight all sorts of evil. The team is usually lead by Dick Grayson.
In season 3, viewers will get to watch Dick Grayson take on his new role of Nightwing. Furthermore, viewers will also get a chance for the Titans team gets expanded as they try and fight new enemies. Barbara Gordon will be entering the show as a commissioner of the Gotham City PD. However, we aren't sure whether she will appear as Batgirl or be in the mantle of Oracle. Scarecrow, played by Jonathan Crane, will also be another new addition in Titans and the police department of Gotham city.
One familiar enemy that the Titans will come across is Red Hood. He will obviously be a lot more dangerous than the previous enemies that the team has fought against. Besides this, viewers will get to see the transformation of Jason Todd into Red Hood after being once killed by Joker (who we will hopefully be seeing in the upcoming season). Starfire will also probably be seen taking a personal fight of her own against her very own evil sister, aka Blackfire.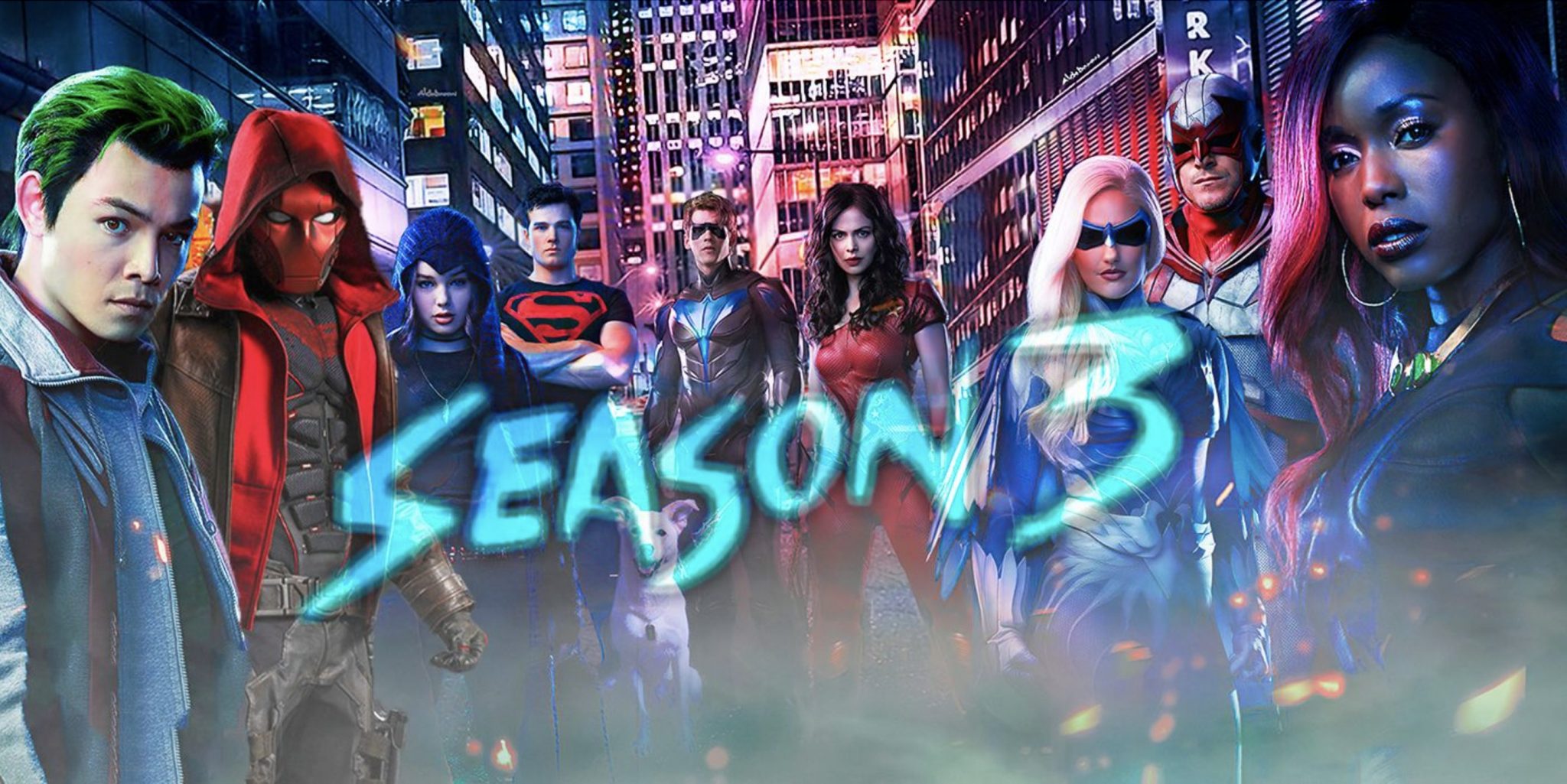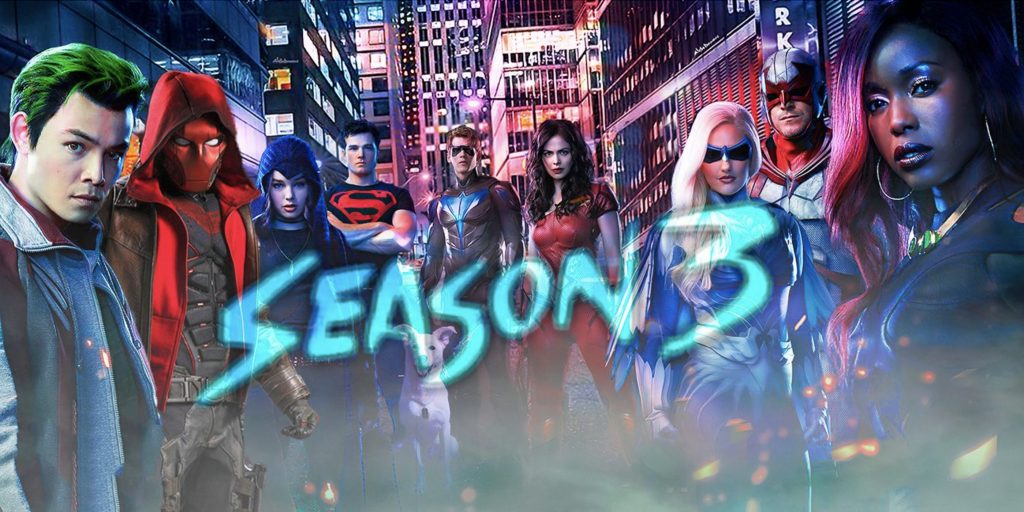 Titans Season 3 Cast
Almost all the cast of Titans season 2 will be returning. There will be a couple of new additions in the Titan family as well.
Brenton Thwaites as Dick Grayson
Anna Diop as Kory Anders
Teagan Croft as Rachel Roth
Ryan Potter as Garfield "Gar" Logan
Alan Ritchson as Hank Hall
Minka Kelly as Dawn Granger
Curran Walters as Jason Todd
Conor Leslie as Donna Troy (Wonder Girl)
Joshua Orpin as Conner Kent
Chelsea Zhang as Rose Wilson (Ravager)
Damaris Lewis as Blackfire
Iain Glen as Bruce Wayne
Savannah Welch as Barbara Gordon (Batgirl)
Jonathan Crane as Scarecrow
Jay Lycurgo as Tim Drake (the third Robin)
Titans Season 3 Trailer
Titans Season 3 trailer just got released in June 2021. It doesn't give out too much information about what's going to happen. But it surely is a treat for all those fans who have been waiting since last year to see the group together. It also confirms that's the superhero group will once again come back to the city of Gotham to fight against enemies and bring the city's peace back. In addition to this, the trailer also confirms that this season will be even more exciting and thrilling than the previous 2 seasons.
Frequently Asked Questions
Where can you watch Titans season 3?
This time, Titans season 3 will be premiering on HBO Max instead of DC Universe, where previously the first and second seasons of Titans had streamed. Moreover, after some time of its release on HBO Max in the United States, Titans Season 3 will become available for all international fans, including those in the UK through Netflix (probably in late 2021 or beginning of 2022) just like it had happened in the previous seasons.
How many episodes will be there in Titans Season 3?
Titans Season 3 will consist of a total of 13 episodes. Each of these episodes will be much more thrilling than the previous one. There is a possibility that the first 3 episodes will air simultaneously, whereas the rest of the 10 episodes will air weekly.
Moreover, the titles of the first 10 episodes have also gotten leaked. They can give viewers an idea of what to expect. We have listed them all below:
First Episode: Barbara Gordon.
Second Episode: Red Hood.
Third Episode: Hank & Dove.
Fourth Episode: Blackfire.
Fifth Episode: Lazarus.
Sixth Episode: Lady Vic.
Seventh Episode: 51 Percent.
Eighth Episode: Home.
Ninth Episode: Souls.
Tenth Episode: Troubled Water.
Will Joker be making an appearance in Titans Season 3?
We have seen both Batman and Deathstroke in Titans. So, it's no surprise that viewers are wondering when Joker will make his ultimate entry into the show. Well, according to us, this might be the season.
Although Joker wasn't clearly visible in the trailer of Titans Season 3, there were a couple of hints that make us believe that he will be there in the episodes.
The hints include Jason Todd coming across a corpse having a wide smiling (a classic Joker move) in an abandoned amusement park. The trailer also includes a scene where viewers can hear Joker's laugh. Hence, according to us, Joker will be making an entry in Titans Season 3 with an amazing yet shocking plot twist.