Pokémon Go is quite popular among the Pokemon community, nowadays. It fulfills their fantasy of having Pokémon in real life. On this note, let's talk about a very popular and cute-looking Pokémon that everyone is very eager to catch, Dewgong.
Pokémon Go Dewgong
You can categorize Dewgong as an Ice and Water-type Pokémon. It mainly evolves from Seel. Some weaknesses of Dewgong include fighting Electric, Rock, and Grass-type Pokémon. The most damaging attack Dewgong can deliver is Frost Breath and Blizzard. The maximum CP for Dewgong is 1985. According to the Pokedex, Dewgong loves to sleep on the ice.
Now, let's talk about how a trainer can catch Dewgong and use it in battle.
How to catch Pokémon Go Dewgong?
Now, the type of Pokémon can clearly giveaway its location. One can easily know where to find that Pokémon based on their type. As Dewgong is an Ice and Water-type Pokemon, trainers can likely find this Pokémon near areas with Ice or Water. For example, multiple trainers have already found a Dewgong near streams, wetlands, ports, beaches, lakes, oceans, docks, canals, harbors, and rivers.
If you do not have access to these places, then don't worry. Dewgong also appears near fresh water ponds and grassy areas, garden parks and other such places. 
Even though, the chances of finding Dewgong here are less as every Pokémon prefers to live in a comfortable habitat.
If you wish to catch yourself a Dewgong, then head on over to these places. Roam around them a little, and the Pokémon is bound to pop up if it is there.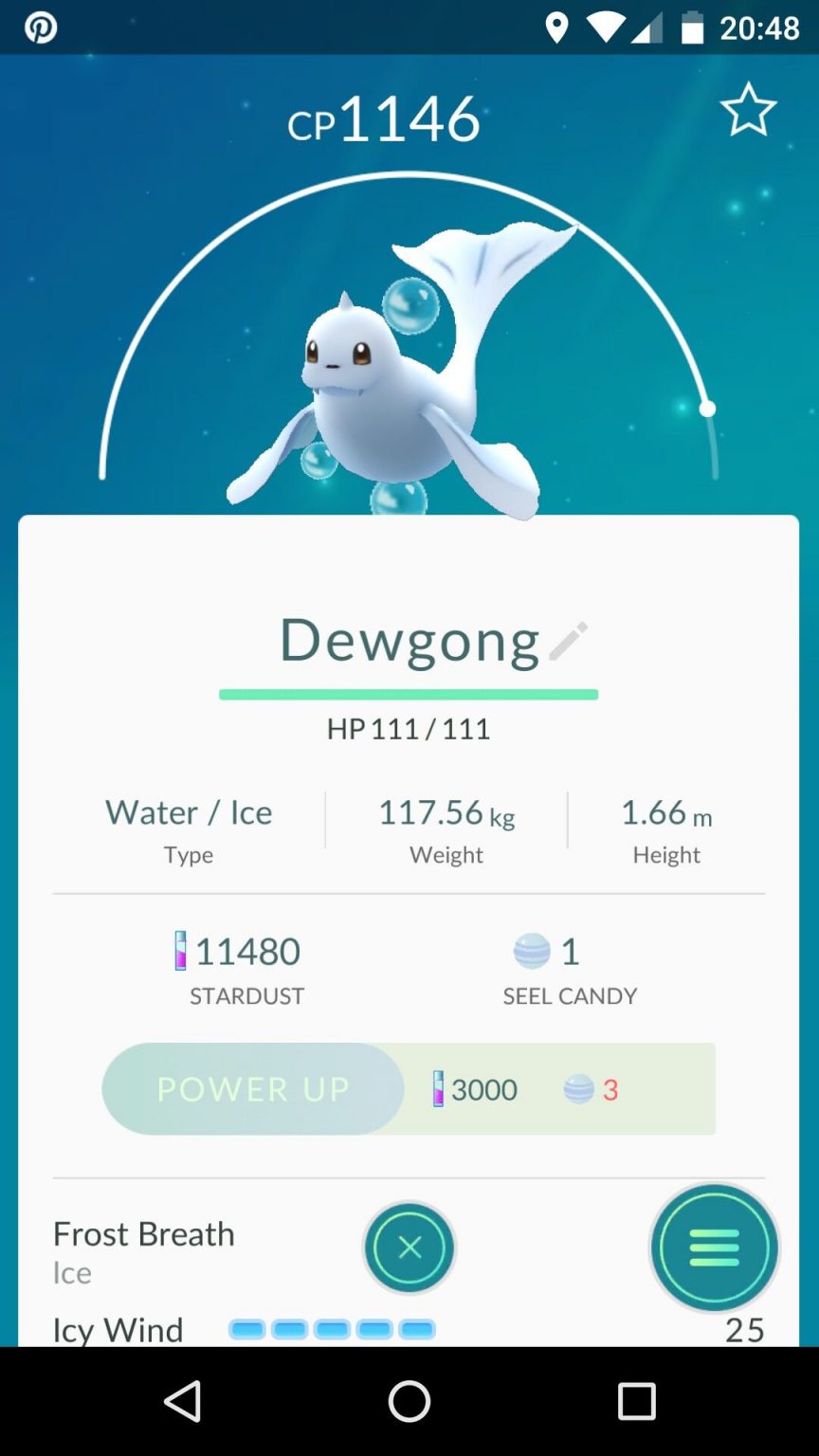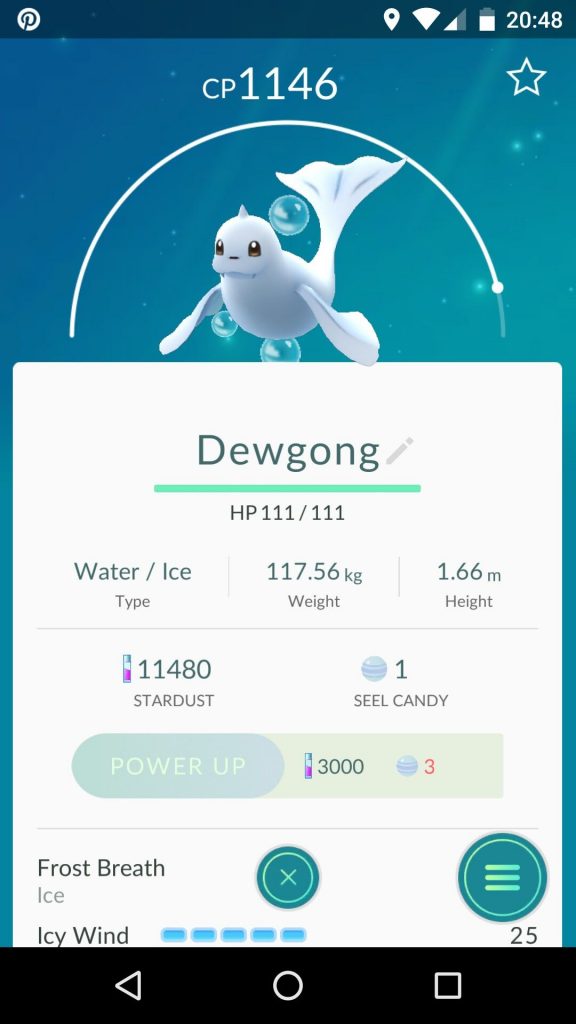 Pokémon Go Dewgong Move sets
Dewgong has a lot of good and powerful moves that it can use to neutralize its opponents. 
Some of them are:
Ice Shard combined with Icy Winds and Water Pulse
It is one of the best moves Dewgong can deploy. This is a Legacy move, irrespective of the fact that it provides a large amount of energy and is a very fast move. The Frost Breath and the Iron Tail have less energy generation, but Iron Tail has the advantage of the Stab attack, which gives a considerable Buff to the damage. 
After a balance update, Icy winds is a must-use for Dewgong as it takes up less energy and has guaranteed damage to the enemy. Water pulse also has the Stab attack damage buff, but it is a tradeoff for a lot of energy and causes less damage.
Aurora Beam and Blizzard are not worth using as they require a large amount of energy with little to no damage on the opponent.
Rankings in Leagues
Great League
Dewgong is a chubby and bulky Pokémon who uses Ice and Water-type attacks and has a few strong move sets. For Dewgong to perform at its best, the trainer needs at least two legacy moves; then and only then can Dewgong perform well in leagues. So, as you can see, accessibility is the major letdown for Dewgong.
If Dewgong keeps on using Icy wind, then it can turn the match in Dewgongs favor, or it could force the opponent trainer to switch out and change the current Pokémon, which can be a large help towards the team win.
Ultra League
Let's be realistic; Dewgong cannot perform in this league. There are low chances of it surviving, much less getting a win. There are many dragon-type Pokémon in this league, and they are a weakness of Dewgong, so it is good to stay away from this league if you wish to fight with Dewgong.
Master League
Dewgong has very little CP for this league, and there are many other Pokémon that can perform much better than Dewgong in Master League. It is hard for Dew gong to survive in the Ultra League, so think about it. After all, you do not want your Pokémon to be defeated miserably.