All the comedy lovers out there, grab your popcorn for Grace & Frankie Season 8! As the first four episodes of season 7 of Grace and Frankie have just dropped on Netflix. Well, for the new comers wondering what Grace and Frankie is? Let's give a brief introduction:
Initially, released on Netflix, the series follows the story of two unlikely friends, Grace Hanson, who is a retired business woman and Frankie Bergstein, a hippy artist by profession. Their world falls apart when their divorce lawyer husbands reveal that they are in love and intend to marry each other. Despite having nothing in common, they move in together until they regain their footing in the world. 
Although it's first season streamed in 2015 it received mixed reviews. But unlike most seasons, with each new release, it started gaining popularity and positive reviews. Currently,  according to Netflix the Grace and Frankie season 7 is going to be the final season for the critically acclaimed show. However, whispers of a potential season 8 are also there. Because popular series like these are not easy to end as there are always more stories to tell. 
So, this brings us to our discussion that what is there's all about a potential sequel of Grace and Frankie season 8. 
Let's take a look at some info that we were able to gather!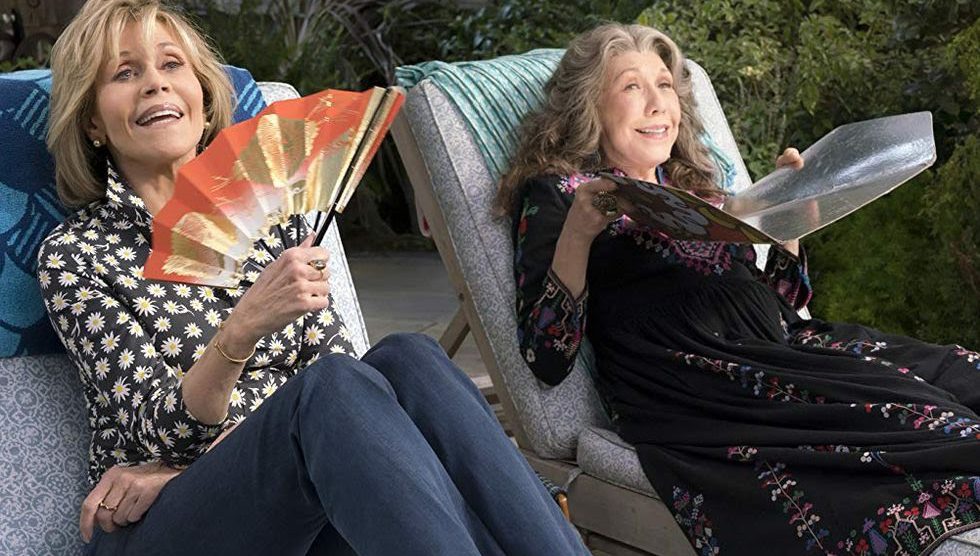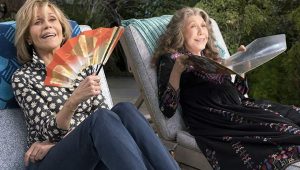 Grace & Frankie Season 8 Release Date
While it is still unclear when season 8 will release and when the production will start. But based on the insights, the most likely date would be around mid-2023. Season 7 is going to release in two parts, with the next 12 episodes to stream in 2022. The major reason for delay is due to the COVID pandemic when cast and crew had to halt production in 2020. 
When asked about the show ending, co-creator Marta Kaufman stated in the Los Angeles Times:
"It is a combination of things. As Netflix is not doing long-term series now. So, we're really lucky that we got the seventh season."
We're aware that this may not be the blissful news that the fans were expecting, it's exactly what she said. But there's no reason to get dishearten yet as the co-creator went on saying that such decisions come from Netflix and whether or not they decide to keep going depends on the response. So, there's still hope, folks! 
In addition, Jane Fonda and Lily Tomlin, who play the title roles of Grace and Frankie, released a joint statement:
"We are both delighted and heartbroken that 'Grace & Frankie' will be back for its seventh, though final, season."
The statement hints at a potential return by the cast should the show be given the go-ahead by Netflix.
The Cast
If the series continues and is renewed for a season 8 then it is safe to say that most of the cast will return. Because the cast is already giving hints in their statements about the devastation they feel by the ending of the show. The current cast of season 7 is as follows,
Jane Fonda

Lily Tomlin

Sam Waterston

Martin Sheen

June Diane Raphael

Brooklyn Decker

Baron Vaughan 

Ethan Embry
However, there is always room for more characters to interweave more storylines into the plot and expand on it. But as far as these characters are concerned, we're hoping to see them again in season 8.
Potential Plot for Season 8
Recapping from season 6, which had a spectacular finale complete with exploding toilets. Grace and Frankie's friendship was starting to wither, with Grace marrying Nick and Frankie designing another invention which blew up in their faces (literally!). Currently, season 7 is continuing and untangling the drama though we won't know about its conclusion until next year. 
But based on the given hints by the show runners and director, when talking about potential storylines. They said that in a final season, whichever that may be, they would like to focus on the friendship of the two women, surviving so many hardships and how it affected those around them, changing their lives forever. 
A potential plot that will fit for the last season can be Frankie opening up a research center for bright minds like her own and Grace helping her  run the place. While she settles into married life after struggling with what happened with her last husband. 
With the streaming of season 7 and hopefully a season 8, Grace and Frankie will have a total of 110 episodes. This will make it the longest running Netflix series to date!   
So, all Grace & Frankie fans, brace yourself as it's going to be a long ride till the completion of season 7 and the arrival of season 8.