Money Heist is Netflix's one of the most top rated shows which has garnered a lot of attention in the past 4 to 5 years. And the other interesting bit about the franchise is that it is watched by people of all backgrounds hence the Spanish show is dubbed into several other languages. But obviously dubbing takes time so does that mean Money Heist Season 5 Hindi Dubbed will get released after the English version?
The upcoming chapter of Money Heist will also be the last to ever come. And this time it is divided into two volumes; each one will be out with a gap of one month. The reason behind this schedule is because of the pandemic situation, due to the frequent lockdowns Alex Pina was not satisfied with the way the show was turning out, so he adopted a different strategy! 
"When we began to write Part 5 in the midst of the pandemic, we felt that we had to change what was expected from the 10-episode season and used every tool we could to create the sensation of a season finale or series finale in the first volume itself," Money Heist creator and showrunner Álex Pina said in May. "We decided to work in an extremely aggressive genre, putting The Gang on the ropes. In volume 2, we focus more on the emotional situation of the characters. It is a journey across their sentimental map that connects us directly to their departure."
Almost all of the major voice cast is returning for Money Heist Season 5 Hindi Dubbed! And why wouldn't they after all they have always given the audience goosebumps with their spectacular voiceover skills. Below you'll read more about the details of Money Heist Season 5 (hindi version).
Money Heist Season 5 Hindi Dubbed Release Date
As mentioned earlier the upcoming season will be released in two parts. However, the Indian fans were confused if they'll have to wait longer for Money Heist Season 5 Hindi Dubbed. But Netflix has disclosed that all dubbed versions of the upcoming season will be available at the same time only. 
So, the following are the release dates for Money Heist Season 5:
The first part will come out on 3rd September 2021

The second part will come out on 2nd December 2021
Money Heist season 5 Hindi Dubbed "Volume 1" will be available at 12:30pm IST on 3rd September. Volume 2 will be released at 1:30pm IST on 3rd December.
Will there be a Money Heist Season 6 in Hindi? Well, we are not sure if there will be a 6th season at all. However when a few years back Alex Pina was asked about when the show would end, he answered "after 5 to 6 seasons". But it doesn't look like the franchise will get one more season. Therefore You shouldn't get your expectations high for now! 
And yes if there will be a Spanish Money Heist Season 6 then obviously there will be a Hindi dubbed version too!
Cast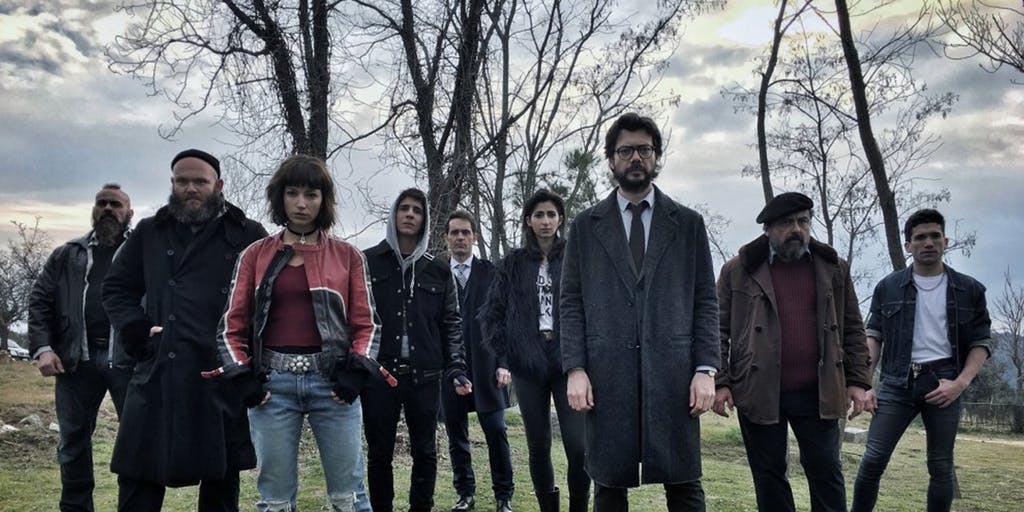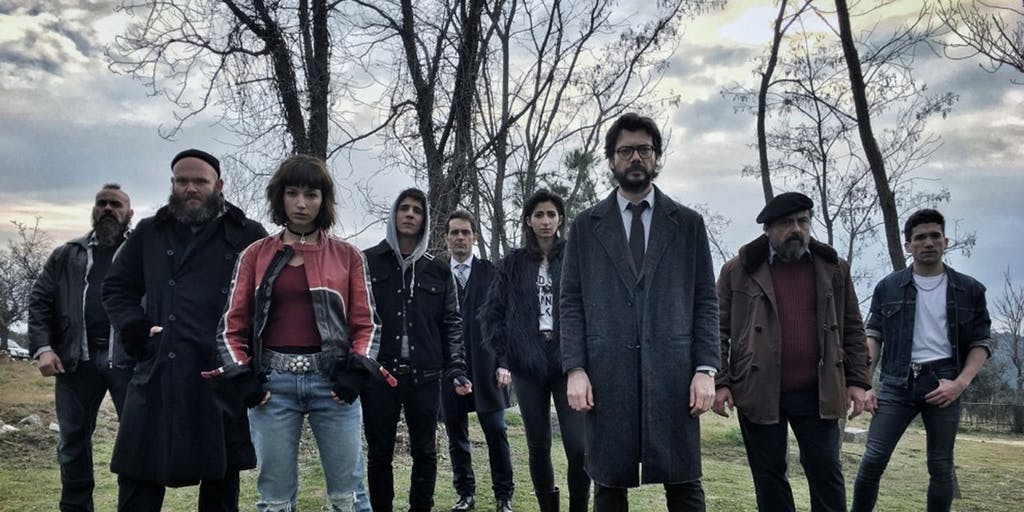 In Money Heist Season 5 Hindi Dubbed version everything will be the same except for the voices. Instead of the original Spanish language you'll get to hear Hindi! 
The cast for Money Heist Season 5  version includes:
Úrsula Corberó (as Tokyo)

Álvaro Morte (as The Professor) 

Itziar Ituño (as Lisbon)

Miguel Herrán (as Rio)

Jaime Lorente (as Denver)

Esther Acebo (as Stockholm)

Enrique Arce (as Arturo)

Darko Peric (as Helsinki)

Hovik Keuchkerian (as Bogotá)

Luka Peros (as Marseille)

Belén Cuesta (as Manila)

Fernando Cayo (as Coronel Tamayo)

Rodrigo de la Serna (as Palermo)

Najwa Nimri (as Inspector Sierra)

José Manuel Poga (as Gandía)

Pedro Alonso (as Berlín)
The dead characters won't return in the upcoming season; unless they feature in some flashback scenes. And the original cast will be joined by Miguel Ángel Silvestre (Sense 8) and Patrick Criado (La Gran Familia Española)!
Money Heist Season 5 Hindi Dubbed Plot 
Money Heist Season 5's plot will be different from its predecessors. And Alex Pina himself has admitted to this. The gang will have to fight for their own lives to get out of the bank. Why? As the professor is pretty occupied by his own problems outside of the bank so he group is all on its own now. Will they make out alive or will they make history? We'll find out once the 5th season premieres!
The original plot synopsis given for Money Heist Season 5 reads:
"The gang has been shut in the Bank of Spain for over 100 hours. They have managed to rescue Lisbon, but their darkest moment is upon them after losing one of their own. The Professor has been captured by Sierra and, for the first time, doesn't have an escape plan. Just when it seems like nothing else could go wrong, an enemy comes on the scene that is much more powerful than any they've faced: the army. The end of the greatest heist in history is approaching, and what began as a robbery will turn into a war."
Trailer 
The official Money Heist Season 5 Hindi Dubbed trailer can be streamed on Netflix India's YouTube account. There are several other clips too, so don't forget to watch them too!