A Virginia court handed down $26M judgment to nine plaintiffs who sued white nationalist leaders and groups in 2017. The judgment was over the violence at a deadly rally at Charlottesville. Still, it's unclear whether they will be able to collect a significant chunk of that money, i.e., collecting $26M.
A large number of the defendants are in prison, in hiding, or have left the white nationalist movement. Three of the far-right extremist organizations named as defendants have been dissolved. Most defendants claim they cannot afford to pay off their judgments.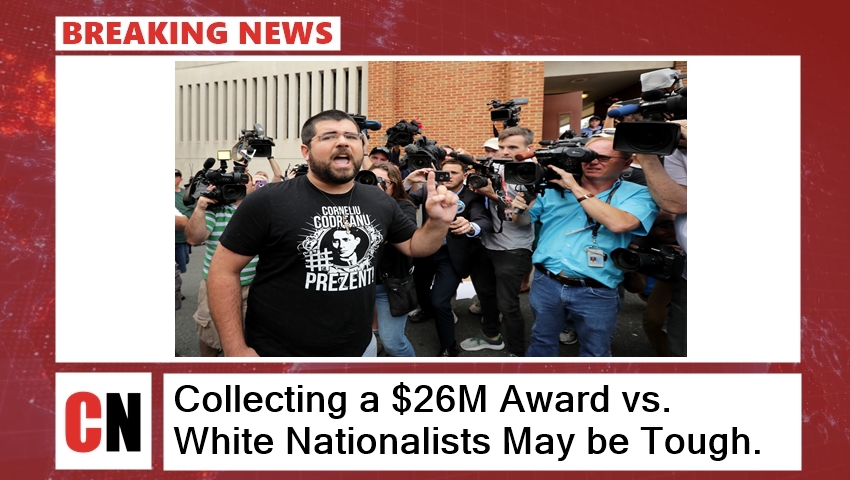 Defendant's Stance
Following the court verdict for collecting $26M from the plaintiffs, most defendants are saying that they will not be able to pay it back. 
According to defendant Matthew Heimbach, he does not have any assets. I don't own anything. The defendant, who co-founded the far-right Traditionalist Worker Party with Matthew Parrott, said: "You can't get blood from a stone." 
Heimbach, who was arrested for assaulting Parrott, his wife's stepfather, in 2018, brought an end to their neo-Nazi group. According to court documents, the men had argued about Heimbach's alleged affair with Parrott's wife.
'I've got two young sons, work in a factory, and I live paycheck to paycheck,' said Heimbach. In his view, the plaintiffs' lawyers wasted $20 million by trying to pit public figures against each other.
In months prior to the trial, Richard Spencer, one of the most well-known white nationalists in the country, told a judge that his notoriety had hindered his ability to raise money for his defense against the "financially crippling" lawsuit. As a result, the case was "extremely expensive" and "a huge burden" for him.
"The alt-right" (alternative right) is a term coined by Spencer to describe white supremacists, neo-Nazis, and other far-right extremists with loose connections. In reaction to the jury's verdict on Tuesday. Spencer called the alt-right a "totally dysfunctional institution with dysfunctional people" and said he has grown disgusted "with a lot of it."
Do the Plaintiffs have any chance of collecting $26M?
Well, it's early to say anything in this regard. Honestly, but as far as the facts point, the chances appear to be quite meek at the moment. 
Currently, we do not know where Andrew Anglin and Robert "Azzmador" Ray are.
The Daily Stormer's founder, Gavin Angelin, hasn't paid any portion of judgment he received for orchestrating an anti-Semitic harassment campaign. It was for instigating the crowd against a Jewish family of a Montana real estate agent. Due to Anglin's failure to appear for a deposition, a federal judge entered a default judgment against him. Many other plaintiffs' lawyers have secured default judgments against Anglin as well, including those in the Charlottesville civil case.
Similarly, in September 2020, District Judge Norman Moon issued an arrest warrant for Ray, a neo-Nazi podcaster. He contributed content to Anglin's website. During the lawsuit, Moon rule that Ray was in contempt for "total disregard" of court orders.
It is possible to obtain a portion of the $26 million judgment, despite the numerous obstacles. The goal of plaintiffs' attorneys is to obtain court orders seizing assets, garnishing wages, and placing liens on property owned by defendants.
Defendant's Attorneys Try to Reduce Penalty
In response, several lawyers for the defendants said they would seek a reduction in the award.
Attorney James Kolenich, who represented three defendants, including James Kessler, the lead organizer of the rally, said. Even though some white nationalist organizations have assets, "I'm not sure if they could afford to pay these damages out of pocket."
"We'll do what we can to slim it down," he said.
The Experts' Opinion
Professor Brian Levin of California State University, San Bernadino's Center for the Study of Hate & Extremism, says that the plaintiffs' lawyers might be able to recover some of the damages due to the sheer number of defendants in the lawsuit. There was a jury verdict of $26 million against 17 defendants, and the judge gave default judgments against seven more defendants before the trial.
"The case is unique because there are so many defendants. Despite the fact that some of them may be captive or destitute, they might still possess assets, (insurance) policies, or real estate," Levin explains.
In a statement, Amy Spitalnick, executive director of Integrity First for America, which funded the lawsuit, expressed her commitment to ensuring that our plaintiffs receive the full compensation they deserve."
Since Charlottesville's bloodshed, many racists who adopted the alt-right brand have largely disappeared from public forums. An upsurge of lawsuits and infighting among movement leaders led to the movement's demise.
Currently, two of the defendants are behind bars.
After facing conviction of intentionally ramming his car into a crowd of counter protesters on the second day of the Charlottesville demonstrations, James Alex Fields Jr. was sent to live in prison for murder and hate crimes.
As a result of the latest rulings, the judiciary has clearly shown its determination to stop hate crimes and violence. So, in lieu of the above-mentioned facts, we can say that there are chances that the plaintiffs will be successful in collecting $26M. Even if not whole, maybe up to some extent.