Joe Phaahla, South Africa's health minister, says the variant is responsible for exponential COVID infections.
A new COVID-19 South Africa variant detected in small numbers is raising concern among South African scientists. While research is underway to determine its implications.
Scientists said on Thursday that the variant – B.1.1.529 – has a "very unusual constellation" of mutations. They are concerning because they could help the virus evade the body's immune response and make it more contagious.
In the country, 22 cases of the new variant have been recorded following genomic sequencing by the National Institute for Communicable Diseases (NICD).
At a press conference, Tulio de Oliveira, from South Africa's Network for Genomic Surveillance, says that the new variant is causing concern.
'A very high number of mutations are present in this variant,' he said. "Unfortunately, it's resulting in an outbreak of infections again," he said.
According to him, travelers from South Africa were also carrying the virus in Botswana and Hong Kong.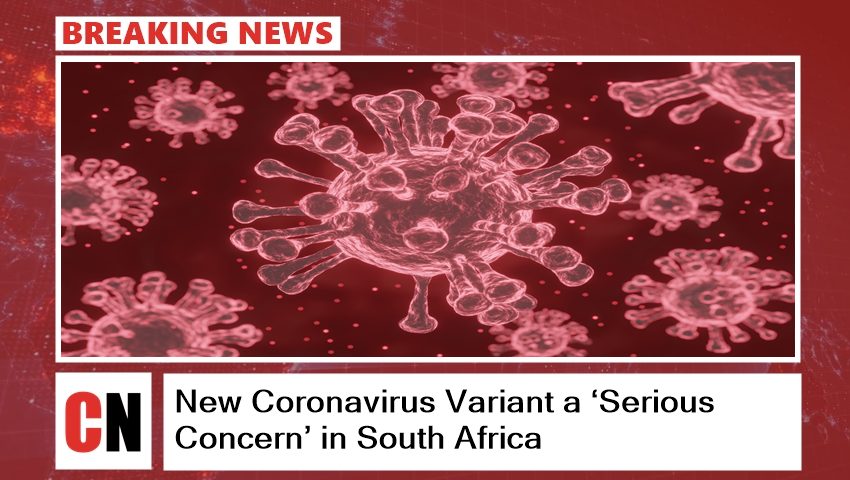 The Current Situation
According to Joe Phaahla, the variant is causing "serious concern" and has resulted in an "exponential" increase in reported cases, making it "a major threat".
The number of daily infections jumped to over 1,200 on Wednesday, up from about 100 earlier this month.
According to authorities, a fourth wave is expected to hit South Africa in the middle of December. Because travel soars ahead of the festive season.
The NICD announced on Thursday that detected cases and the percentage testing positive were "increasing rapidly" in three provinces, including Gauteng, Johannesburg, and Pretoria.
NICD recently reported a cluster outbreak at Pretoria's higher education institute.
According to the statement, "our experts are working overtime with all the established surveillance systems to understand the new variant and the implications".
Since the start of the COVID-19 epidemic, South Africa has reported nearly 2.95 million cases, including 89,657 deaths. Check out this Tweet for more information.
Briefing by the Minister of Health, Dr Joe Phaahla and other experts taking place right now where information on the new #COVID19 variant is being shared. #B11529 #NewVariant

— NICD (@nicd_sa) November 25, 2021
Expected Mutations
According to de Oliveira, the new variant had a "constellation" of new mutations that raised immunity evasion and transmissibility concerns.
Professor Helen Rees of the WHO's African Regional Immunization Technical Advisory Group warned people not to panic.
We are currently trying to identify how widespread this problem is. It will be important to address the question, is it more transmissible? Does it cause any more serious diseases? Would it weaken the vaccine?" Rees said.
"In the meantime, our big request to the world, in terms of vaccination of the African region, is to get the vaccines out to the region. Because we know variants do not stay in one country," she said.
Travelling Restrictions
England
As a precaution, Britain announced on Thursday that it would temporarily suspend flights from South Africa, Namibia, Lesotho, Eswatini, Zimbabwe, and Botswana from 12:00 GMT on Friday.
We have early indications that this variant may be more transmissible than the Delta variant. Moreover, the vaccines we currently have may not be as effective against it," UK Health Secretary Sajid Javid said.
Despite not finding the new variant in Britain, Javid says their scientists were "deeply concerned".
"Anyone arriving from those countries from 4:00 am on Sunday will be required to quarantine in hotels," Javid added. "If anyone arrives before, they should stay at home and take a PCR test on day two and day eight.
"Anyone who has come from these countries in the past 10 days should take PCR tests."
According to Johannesburg reports, the new restrictions could hurt the economy.
"Southern African countries depend on tourism and trade," Miller said. He further adding that the expected tourism uptick during the holiday season now appears unlikely.
The UK recently removed South Africa from its red list, only to introduce new restrictions. Currently, around 1,000 people travel between the UK and South Africa, and Miller said they expect it to increase in the near future.
Israel
Following the UK's steps Israel also added six countries, including Mozambique, to its "red" list of countries with the highest risk of terrorism after the new variant was announced.
Therefore, Israelis will no longer be able to travel to southern African countries. While citizens of those countries will not be allowed to enter Israel.
They're expecting that Israelis returning home from those countries will need to stay between seven and fourteen days in quarantine hotels after arrival.
An Israeli traveler returning from Malawi on Friday was the first to have the first case of the new Coronavirus variant in the country.
According to the Health Ministry, the traveler and two other suspect cases are under isolation. All three were vaccinated, but the organization is still investigating their exact vaccination status.
Other Countries
The Czech Republic, Singapore, Japan, Italy, and Japan have also implemented new travel restrictions. In response to the worst wave of contagions since the pandemic began, the Czech government has enacted new measures to contain the virus' spread in the country.
Australian officials say they are investigating the strain and may close their borders with those countries if the World Health Organization (WHO) advises them to do so.
"We are flexible as we have always been. As soon as the medical community advises that we need to change that, we will do so," Health Minister Greg Hunt told reporters in Sydney. "That's what we have done as a country, whether it was closing borders, or ensuring quarantine."
In a meeting on Friday, the WHO technical working group will assess the new variant and decide whether to give it a code name from the Greek alphabet.
Phaahla said it was too early to predict if the South African government would impose tougher restrictions.
Last year, South Africa was the first country to detect the Beta variant.
According to reports, the WHO designated Beta as one of only four diseases of concern because studies have shown that it is more contagious and vaccines do not work as well against it.