In a telecast 'surprise' phone call to Al Roker, NBC's chief meteorologist, President Biden swept all the problems under the rug, saying, "After two years, we are back – America is back". Al, there is nothing we cannot overcome."
Tammy Bruce took aim at President Biden during her show, 'Hannity,' on Friday. According to her, the Biden-Harris agenda is failing on every front: Inflation is surging, and the border situation is still chaotic. "The American adversaries are emboldening, and Democrats are still pushing their so-called Build Back Better agenda, which will send us over a reckless spending cliff," she says.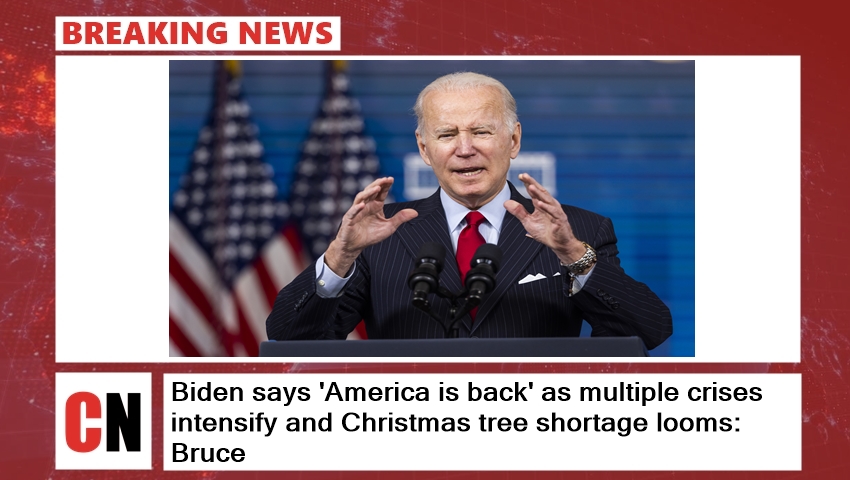 Inflation, border problems, and more plague the United States, making them feel as if they are in the depths of an abyss. Social media is flooding with complaints that the misgovernance of the Biden administration has put them back in the Carter era. Democrat administrations spend tax revenues while unemployment and inflation increase simultaneously.
Some of the crises faced by the general masses are:
Inflation
Almost everything has spiked since Biden took office, including food prices, housing costs, gas prices, and pretty much everything else. The holiday season will be particularly hard hit by inflation this year. With the cold engulfing America, people are concerned about their heating expenses. 
As poultry prices soar, one of the most important parts of Thanksgiving, the turkey, has also become increasingly costly. There is no doubt that the gas price hike is to blame for much of the increase in transportation costs.
Tammy Bruce hammered Senator Elizabeth Warren. Unfortunately, Senator Warren's tweet seemed out of touch with reality. This is when she describes poultry companies collecting huge profits and using them to supplement the lavish lifestyles of their executives.
Americans are paying record high prices for their Thanksgiving turkey while big poultry companies are paying billions in dividends, giving CEOs raises & earning huge profits. These companies are abusing their market power. I'm asking DOJ to investigate.https://t.co/G70KyaUd1Q

— Elizabeth Warren (@SenWarren) November 23, 2021
According to Bruce, Democrats need regular doses of reality checks.
Issues on Borders 
Despite the immigrant crisis looming at America's borders, the Biden administration has failed to offer a standard policy. Instead, Biden wanted to keep a clear distance from the task, so he gave it to Harris. Harris, however, was not able to take the initiative and come up with an apt strategy.
The refugee and asylum issue remains unresolved even though President Biden signed an order immediately after taking office to stop the construction of the USA's border wall. It has been ruled that the 'Remain in Mexico' program, which requires asylum seekers to remain in Mexico until the US government grants them asylum, is illegal under US law.
Asylum seekers can now enter the US, putting the existing US framework under pressure. Thousand of kids separated from their parents at the border have not yet been reunited with their families. In the detention centers where they were previously held, children say they feel like prisoners. Now, the US Government has a difficult time finding the families of the remaining children.
Therefore, the border issue is a multifaceted issue. As one example, there is the economic hardship that American communities face due to illegal immigration. The immigrants, on the other hand, usually come from war-torn countries or areas where crimes are prevalent. Afraid for their lives, the refugees make their perilous journey to the US in search of greener pastures. Border crises are, therefore, also humanitarian emergencies.
Shortage of Christmas Trees
Tammy Bruce spoke to The Washington Post about a problem many Americans are likely to face this Christmas: A shortage of trees. Normally, Christmas trees grow in Washington and Oregon, but climate change was impacting the two states this year. As a result, farmers report trees damaging with a fungus. In previous seasons, this fungus had not been observed. Additionally, forest fires, heatwaves, and floods all contributed to farmers' misery.
Artificial trees may raise some questions. People can buy them. They're on the market, but they're pretty pricey. As the trees are scarce, COVID showed its treachery. They import them from China, where the pandemic was slowing down production.
Even worse, fulfillment of all orders was not possible. Due to manufacturers' inability to meet deadlines, some suppliers had a shortage of trees. Shipping is expensive because of the long supply chain. As a result, manufacturing prices have increased. This is also true for suppliers. Ultimately, all supply chain expenses will be borne by the customer.