Marcus Lamb, 64, whose Daystar network has an estimation to reach 2 billion viewers worldwide. Pushed alternative therapies instead of going for vaccinations. 
Daystar's co-founder, who railed against Covid-19 vaccinations, has succumbed to the illness. He was 64.
Lamb, who was the CEO of the conservative network with an estimated global viewership of 2 billion, died on Tuesday. It was weeks after contracting the Coronavirus.
The Daystar Television Network announced in a tweet on Tuesday that Marcus Lamb, president and founder of the network, had passed away. During this difficult time, the family requests privacy as they grieve. Please keep them in your prayers.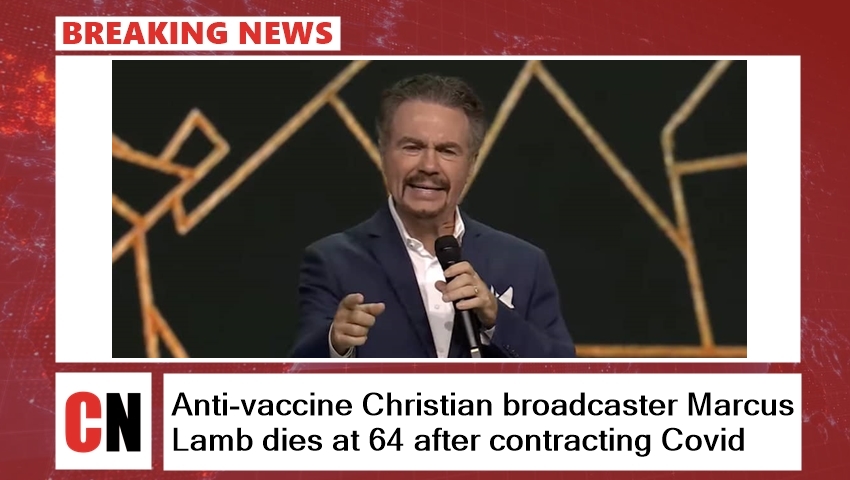 Lamb's Anti-vaccine Propaganda
Under his leadership, Daystar aired baseless anti-vaccine conspiracy theories. For example, it claims vaccines are in use to take away Christian freedoms. In July 2020, the network spent an hour complaining about "censorship" surrounding the pandemic and gave an hour to Robert F Kennedy Jr, who spread misinformation about the Covid vaccine.
Researchers have repeatedly shown that the Covid vaccines prevent severe illness caused by the virus. However, while some prominent Christian broadcasters have died from the virus in recent months, evangelical Christians have not received the vaccines at the same rate as the general US population.
Lamb's son Jonathan said last month that sinister outside forces had caused his father's illness.
I believe this is a spiritual attack from the enemy," he says, adding that Lamb has been pushing alternative therapies, and "there is no doubt that the enemy is not please with that."He's trying everything to destroy my father."
Daystar was founded in 1998 and had more than 100 television stations worldwide. Joni Lamb, appearing on the daily Ministry Show on Tuesday, said that Lamb had contracted Covid pneumonia.
She said, "He 100% believed in everything we discuss here on Daystar, things that help so many people around the world with early treatment for Covid." "We still believe in those, of course."