In a new Yahoo News/YouGov poll, Americans favor reaffirming the 1973 Roe v. Wade decision more than overturning it. In addition, the 6-3 majority on the Supreme Court seems poised to uphold a Mississippi law banning abortion after 15 weeks of a woman's pregnancy.
But when we ask about the specifics of the Mississippi case, respondents are divided – a sign that Americans' views on abortion are less polarized and clear than many assume.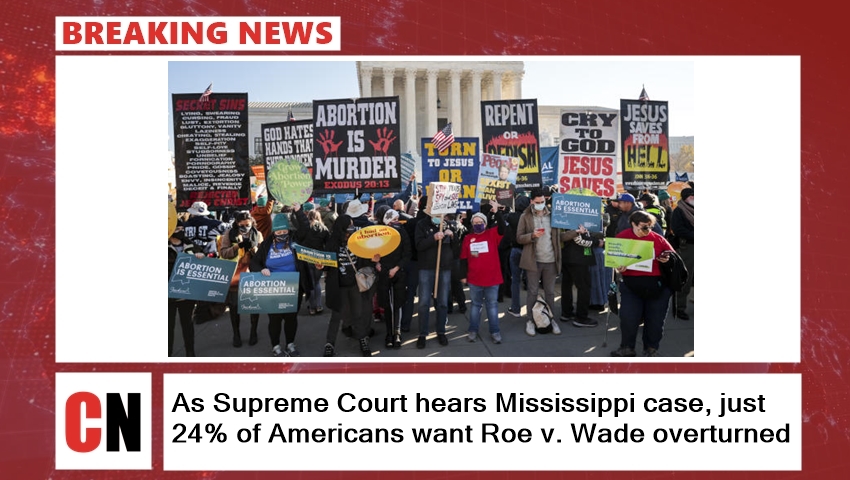 A survey of 1,696 U.S. adults conducted from Nov. 17 to 19 found that the same number of people favor (39%) and oppose (38%) the Mississippi law when it is described as banning most abortions after 15 weeks, or about three and a half months. 
The Roe v. Wade decision specifies that no state may prohibit the procedure before 23 weeks. 19 percent of Democrats, 25 percent of Black Americans, and 29 percent of Hispanic Americans favor the 15-week ban. Overall, 23 percent of Americans are unsure.
This survey shows that most Americans support Roe v. Wade in theory. They are not necessarily committed to what the court has previously described as the central holding of the decision. Women are entitled to an abortion up to viability — around 23 weeks when the fetus is capable of living outside the womb.
Roberts emerged as the leading advocate on the right for a narrow ruling allowing other states to ban abortions before 15 weeks without overturning Roe.
Roberts said: "What we are discussing today is the 15-week issue."
Clarence Thomas and Neil Gorsuch, two other conservative justices, also believe to hold the same view as Justice Alito. Who argues that "the only real options we have" are to reaffirm Roe in its entirety or to overrule it.
What does the poll show?
A New York Times report states at least 20 states will ban abortions immediately or soon after Roe v. Wade is overturned," forcing women who can pay for it to travel far to obtain it.
The sequence of events would be surprising to many Americans. When asked if the Supreme Court will overturn Roe v. Wade, only 16 percent say yes, while the rest say no (36 percent) or have no opinion (48 percent). Some even who are not opposing to Mississippi's 15-week ban are reluctant to see it to overturn Roe.
Support rises to 42 percent when respondents learn that "the current federal law prohibits states from banning abortion before around six months of pregnancy"; support for "preserving" Roe v. Wade or upholding the Mississippi law drops to 32 percent.
Across the board, 61 percent of Americans believe abortion should be legal in all or most cases, while 39 percent believe it should be illegal in all or most cases. 
Meanwhile, 56 percent of respondents believe abortion is a constitutional right that women in all states should have access to, while only 29 percent believe it should be legal in all states – the result of overturning Roe.
However, even here, there are nuances. Most respondents typically favor abortion rights on a general level; those who support narrower restrictions, such as parental consent or "late-term" abortions tend to oppose them. It's because there are few Americans who are hard-liners either way. 
A mere 11 percent, for example, say abortion should be "illegal in all cases"; just a quarter (26 percent) say it should be "legal in all cases." Most people fall somewhere in between, with 35 percent believing abortion should be "legal in most cases" and 28 percent considering it should be "illegal in most cases".