Northern California has confirmed its first case of the new, heavily mutated Coronavirus variant, called Omicron.
According to the WHO, the variant was first detected in South Africa under the name B.1.1.529. Scientists will have to wait a few weeks to determine if vaccines and treatments are effective against the new variant.
CDC officials confirmed Wednesday the first case in U.S. of the new, heavily mutated Coronavirus variant called Omicron, which was discovered in northern California.
Dr. Anthony Fauci, White House chief medical advisor, says the patient was under full vaccination and just came back to the San Francisco area on Nov. 22 from South Africa. But he was positive for the virus on Nov. 29.
"The individual is self-quarantining as of now, and all close contacts that he contacted are all negative," he announced during a White House press briefing. "We are happy that this patient's symptoms aren't only mild but actually improving."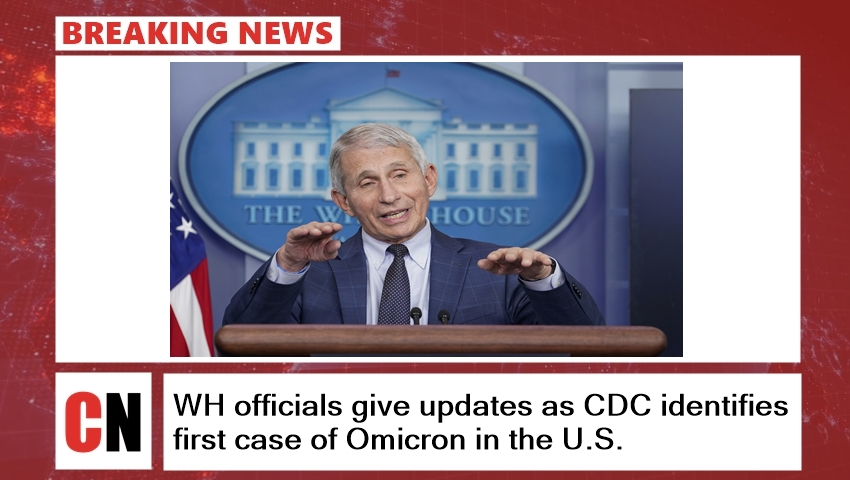 Current Status of the Virus
In the U.S
CDC reports that genomic sequencing first took place at the University of California, San Francisco, and the CDC confirmed the omicron variant.
After the CDC confirmed the case, the Dow Jones Industrial Average swung from a 520-point gain to a loss of over 461 points.
On Twitter, Gov. Gavin Newsom emphasized that there is no reason to panic, but residents should remain vigilant. Vaccines are one way to remain vigilant. Boost your immunity. Use a mask indoors."
The patient, who was not six months out from their original vaccination course, hadn't received a booster shot because he was between the ages of 18 and 49.
In light of Omicron, Newsom and local officials in San Francisco did not anticipate new restrictions on residents.
"There's more panic than information about this new variant," Newsom said, adding that everyone must be vigilant but that lockdowns are not in consideration. We should communicate so that we can avoid any shutdowns, such as closing our schools or businesses. Nobody wants that to happen."
Rest of the World
Besides South Africa, the variant has been found in Canada, Israel, Belgium, The Netherlands, Germany, Italy, and Hong Kong since its first report a week ago among other places. Global leaders are on high alert, worried that the virus is already spreading across the globe.
WHO reports that Omicron has been reported in at least 23 countries.
Fauci stated over the weekend that the variant would inevitably enter the U.S. Two cases were reported in Ontario, Canada, on Sunday. The variant, which was initially named B.1.1.529, was first found in Botswana and South Africa's Gauteng province, where Johannesburg is located.
Stephane Bancel, CEO of Moderna, warned Monday that Omicron has already spread around the world. 61 of the 624 passengers on Friday arriving from South Africa in Amsterdam tested positive for Covid. According to Dutch health authorities, 14 of them are infected with the omicron strain.
According to Portuguese health authorities, 13 members and staff of a professional soccer team in Lisbon have been infected with the variant after returning from a trip to South Africa.
"Most countries already have it," Bancel added. In my opinion, most countries that have direct flights from South Africa in the last seven to 10 days may already have cases in their country that they aren't aware of."
Steps Taken by the U.S Government to Prevent Omicron After the First Case
Travel Bans
Starting Monday, the U.S. imposed a travel ban on noncitizens who have visited South Africa and seven other nearby countries within the past 14 days. In addition, the United Kingdom and the European Union have implemented similar travel restrictions.
Booster Shot Drive
President Biden gave directions to the Food and Drug Administration and the CDC to follow the safest and fastest process for approving vaccines targeting Omicron and getting them on the market.
As of now, Covid vaccines provide at least some protection against the heavily mutated strain of Omicron, and booster shots "increase that protection significantly," Biden expresses at the White House.
The WHO considers Omicron a "variant of concern". This means it has higher contagiousness, virulence, or ability to evade public health measures, vaccines, and therapeutics. More than 30 mutations are present in the spike protein, which allows the virus to enter the body. There are about 50 mutations in total, including ten specific mutations in the receptor-binding region. It is the region where the virus first comes into contact with cells.
Officials are already warning that many of these mutations may result in increased antibody resistance and transmissibility, which may reduce the effectiveness of Covid vaccines.
According to Fauci, the molecular profile of the mutations present in Omicron indicates that it can be more infectious and evade some kinds of vaccine protection. But that's something we're not sure of yet.
We must prepare for the possibility that immunity protection from vaccines and recovery from Covid may diminish against Omicron. This emphasizes the need for boosters.
South African Findings on Omicron So Far
Dr. Angelique Coetzee, chair of the South African Medical Association, called the symptoms linked to omicron "extremely mild" so far. 
Despite this, Bancel cautioned the symptoms reported in South Africa might not be a good indicator of the variant's virulence. Since few people over 60 live there and there are fewer comorbidities than there are in the U.S. and Europe.
"Today, I think it's impossible to know. "I don't think what's going to happen in South Africa in the coming week or two will be the full virulence of a virus," Bancel says.
Pharmaceutical companies have responded quickly to the new variant. Both Pfizer and BioNTech said they are investigating Omicron and could adapt their vaccines if necessary. Johnson & Johnson says its vaccine is already under testing against the variant. In addition to its original Covid booster, Moderna plans to test three booster candidates against Omicron. Moreover, the company plans to develop a booster dose tailored to the variant.
As the holidays approach, Fauci said Americans should still be able to celebrate indoors with vaccinated family and friends.
If you are having dinner or a reception, you do not have to wear a mask. You should, however, wear a mask in a public setting where you don't know the vaccination status of the people involved.