5sos (5 Seconds of Summer) recently made a comeback on their 10th anniversary. They were able to release a new single, '2011', to celebrate the occasion. After starting their careers in the humble suburbs of Sydney, they have come a long way.
On Friday, 5SOS released their new single, 2011, to celebrate their tenth anniversary.
According to the band, the past decade was 'single-handedly the best ten years of our lives.
The band's YouTube channel will also host a global Livestream concert as part of the celebrations.
Our story together is beautiful above all else, and we rediscover that once again, they said.  
Our band has been an absolute joy to be a part of. We look forward to another ten years of 5 Seconds of Summer,' they concluded in their statement.
The four-piece band was formed at Norwest Christian College in Riverstone, Australia, in 2011. They played their first concert at Annandale Hotel in 2011.
In 2013, they joined One Direction on their Take Me Home world tour, which helped to raise their profile.
She Looks So Perfect was their 2014 single that really kicked off their career. 
Over the years, they have won countless American Music Awards, MTV awards, and ARIA awards.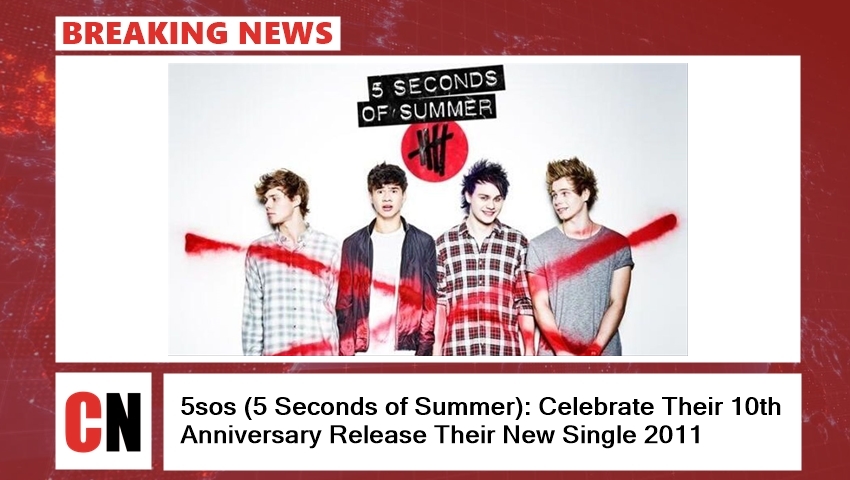 5sos (5 Seconds of Summer) Journey from 2011 to 2021
Having attended the same school together, Hemmings, Clifford, and Hood formed a group in late 2011 and began sharing their music on YouTube. After inviting drummer Irwin to join, 5 Seconds of Summer was born. Their first concert was held at a pub in Sydney called Annandale Hotel on Dec. 3, 2011.
2012
After signing with Sony/ATV Music Publishing, they eventually released their debut EP Unplugged in June 2012, after signing with Sony/ATV Music Publishing.
2013
In February 2013, they toured with One Direction for their worldwide Take Me Home Tour, which made them popular. The band signed with Capitol Records in November 2013.
2014
After signing with Capitol Records, the group can release their hit single "She Looks So Perfect" in February 2014. In August of that year, they release their self-titled debut. Together, they toured with One Direction again in 2014.
2015
In May 2015, 5SOS embarked on their first world tour, Rock Out With Your Socks Out, in May 2015. 'Sounds Good Feels Good' became their second studio album in October 2015.
2016
The band spent 2016 touring for their Sounds Live Feels Live World Tour, which includes sold-out shows in North America, Europe, Australia, and Asia.
2017
As well as playing a few music festivals, the band worked on their third studio album for most of 2017. The group also undertook a journey of self-discovery during this period.  
According to an interview with Billboard from 2018, Irwin said the band has taught him how much to give. "You don't need to devote 100 percent of your time to it. Even if you feel like it's 140 percent at times, you need to learn how much is enough to be most productive. After so many years, you need to know who you are. Last year, we redefined who we were as adult men. That's why we're still a healthy, on-the-go band."
2018
In February 2018, the group released a new single titled "Want You Back." After that, they went on to perform on their 5SOS III tour, which sold out in minutes. In June 2018, 5SOS released their third studio album, Youngblood, which debuted at number one on the Australian and US Billboard 200.
2019
"Who Do You Love" by the Chainsmokers featured 5SOS in February 2019. Lennon Stella and the group later joined Chainsmokers on their North American World War Joy Tour. 
Interscope Records signed the group the same year and released "Easier" as their fourth studio album's lead single.
2020
Announcing their fourth studio album in February 2020, Calm was released that March. They were initially scheduled to go on a tour that year, but the pandemic forced them to postpone it.
2021
This year, the group has been collaborating on new compositions after embarking on some solo projects, including Irwin's Superbloom in October 2020 and Hemmings' When Facing the Things We Turn Away From in August 2021. 
The group signed with BMG in October 2021, and in December, a new song titled "2011" was released.