Pennzoil 400 2022, the third season of the NASCAR Cup Series is almost around the corner! The details regarding its listings and racers are also officially out. It will be hosted by Jiffy Lube at the Las Vegas Motor Speedway in Las Vegas. Continue reading to find out more about the upcoming race event!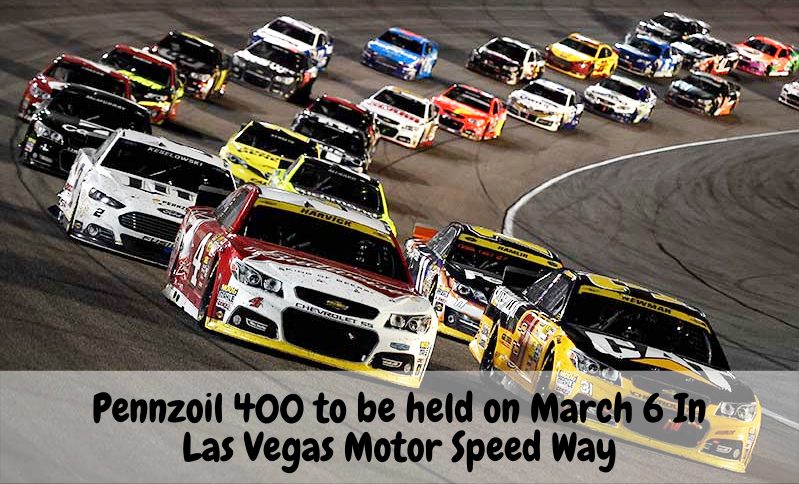 The Entry List for the race
The PDF for the list has already been posted on the official site. There are 37 cars on the 40-spot entry list. Moreover, Kyle Larson is also coming back.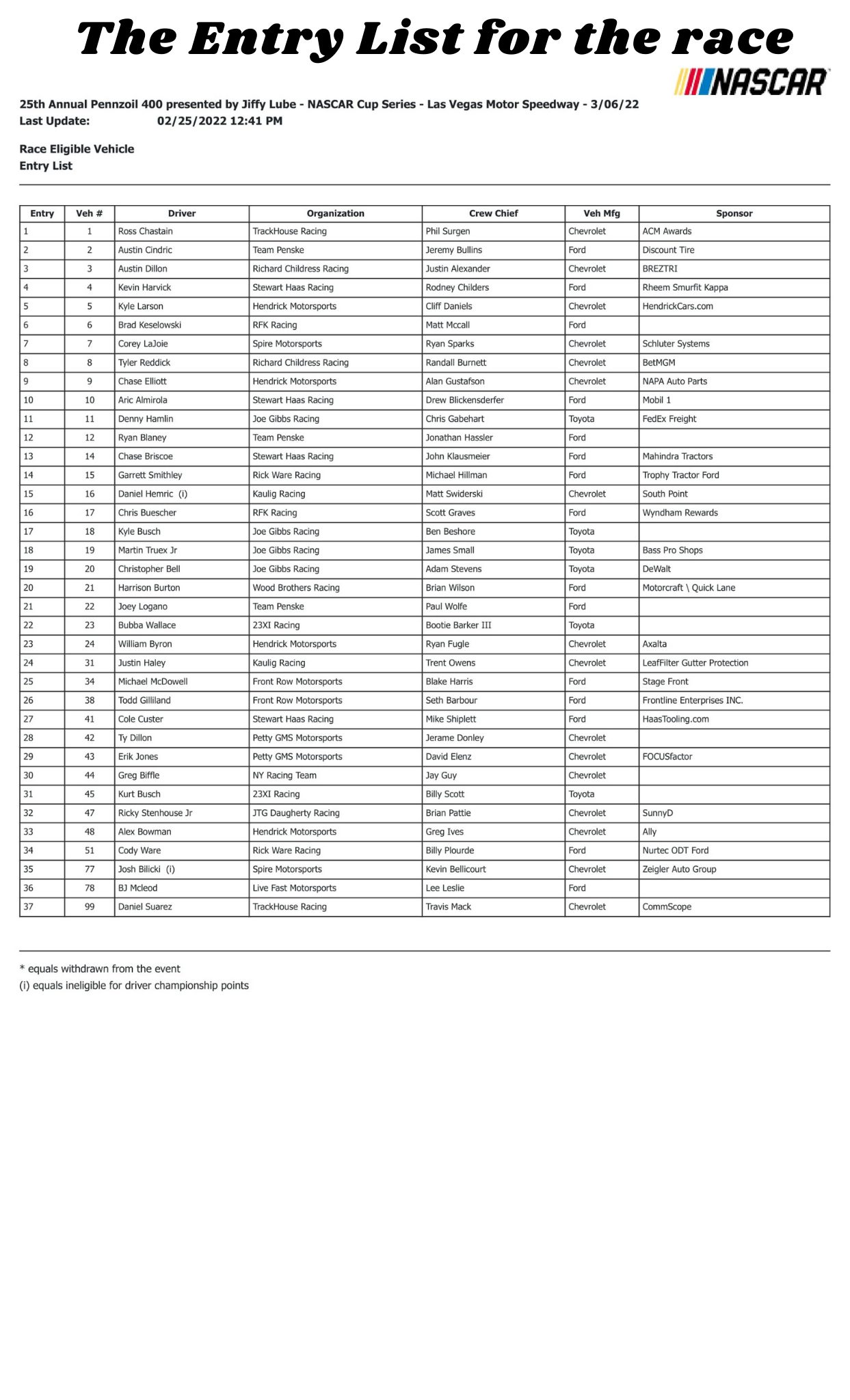 The finalized schedule for Pennzoil 400
The race has 267 laps and runs on the 1.7 miles speedway. Fox Sports will be hosting the 22nd race and PRN is responsible for covering over the radio.
3:00 pm NCS Rookie Meeting (virtual)

3:30 pm NCS Driver and Crew Chief Meeting (also virtual)

7:00 pm – 9:00 pm NCS Haulers enter (unloading of equipment)
12:30 pm – 5:30 pm NCS Garage Open

12:30 pm 5:30 pm NCS inspection in progress
8:00 am – 1:00 pm NCS Garage open

10:30 am -11:05 am NCS practice (group A & B)

11:05 am-12:30 pm NCS Qualifying (impound) (Group A & B / single vehicle, 1 Lap, 2 rounds)
9:30 am NCS garage open

11:00 am NCS grid access open to guests (only the credentialed ones (Pit Road). 

11:55 am NCS drivers report for pre-race (stage)

12:00 pm NCS driver introductions 

12:30 pm (3:30 PM/ET) NCS race (stages 80/160/267 laps = 400.5 miles)

4:30 pm Approx NCS haulers exit
Other important facts regarding Pennzoil 400
The Grand Marshall of the event is Marcus Allen this time. Race will be initiated by Tiera Kennedy singing the national anthem. This time there are no capacity limits. This news came out a long time ago in June of 2021. In the official words of Powell:
"We're beyond thrilled that we'll be able to open the grandstands to full capacity this fall. We've been working to get back to normal for several months now, and knowing that we won't be turning fans away because of social-distancing requirements has energized our entire staff.  We can't wait to welcome our race fans back to the speedway."
The sad news is that spectators won't be allowed in the race this time. Due to the covid situation and to respect the SOPs the management had to take this action. Else it would have been a havoc. So, in South Point 400 playoff weekend there won't be anyone watching the race in person. But multiple TV channels will be streaming it!
The tickets for South Point 200
This unique ticket has been made exclusively for this season. It will allow the audience a view which has never been experienced before by anyone. The booth for this stand-only ticket was made specifically for giving the fans a complete overview of the track. The entire 267 laps can be watched from this booth!