Jaden Smith speaks in favor of his father, Will Smith, who smacked Chris Rock at the 2022 Oscars. The 23 year old singer tweeted:
"And That's How We Do It."
He also tweeted the following but has now deleted it:
'My Dads Speech Made Me Cry.'
These tweets by Jaden Smith combined with Will's actions have caused a lot of controversy. According to some people what Will did is completely right. And Jaden Smith's support to his father is the perfect thing to do.
On the other hand, people from the industry as well as some others believe that the situation could have been handled better. They think that Will shouldn't have slapped Chris Rock in front of everyone no matter what. They also think that Jaden Smith should not be supporting this kind of behavior. Its not like these people think what Rock did was okay. But they also think that Will could have handled the situation maturely and explained the autoimmune disorder, alopecia, that Jade has.
Jaden Smith tweets in support after Will Smith hits Chris Rock at the Oscars
Will Smith slaps Chris Rock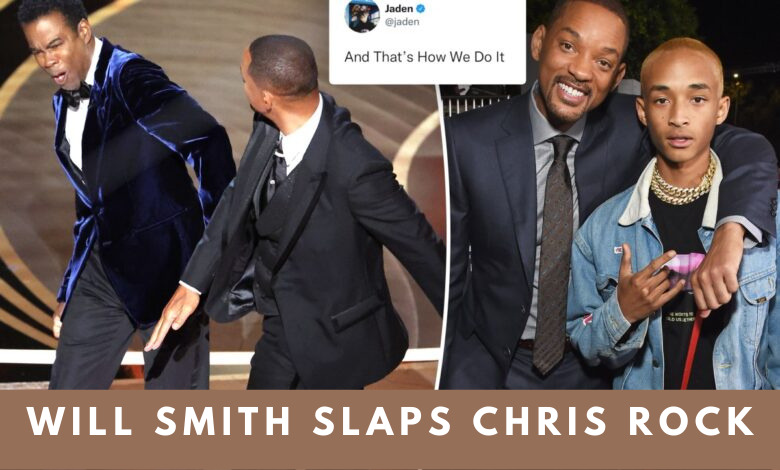 Jaden Smith's mother, Jada Pinkett Smith, is battling with alopecia due to which she sported a buzzcut at the Oscars. Since Chris Smith was a presenter at the awards, he cracked a joke about Jada's hair situation. While presenting the award for best documentary, the comedian joked the following:
'Jada, I love ya. G.I. Jane 2, can't wait to see ya.'
Will was initially spotted laughing at the joke but soon things got a bit heated up. After all, Jada had an unimpressed expression resulting in Will getting up from his seat and slapping the 57 year old presenter in front of everyone.
Virgin River Season 4 Release Date, Trailer and Cast Expectations
Rock, who was caught by surprise said: 'Wow, Will Smith just smacked the s**t out of me.' 
Will went back to his seat after slapping Rock and shouted loudly in an angry tone. He screamed: 'Keep my wife's name out of your f***ing mouth.'  
In an attempt to calm the situation and explain himself, Rock said: 'Wow, dude, it was a G.I. Jane joke.'
This resulted in Smith giving the same reply once again.
And so, Chris Smith got the message and said: 'I'm going to, okay? That was the … greatest night in the history of television.' He then, presented the award he was on stage for.
Jaden Smith father wins Oscar
Will Smith won an award for Best Actor for playing Richard Williams in King Richard after his outburst. The Fresh Prince of Bel Air actor, then covered up his outburst during his acceptance speech. Here he apologized from everyone except Chris Rock. He said the following.
"I want to apologize to the Academy, I want to apologize to all my fellow nominees. This is a beautiful moment and I'm not crying for winning an award,"

he said. "Art imitates life. I look like the crazy father, just like they said about Richard Williams! But, love will make you do crazy things."
It was this speech that Jaden Smith was referring to in his now deleted post. Moreover, Willow Smith, Will's daughter and Jaden's sister has decided to stay quiet on this matter. She has been active on social media recently but has not commented on this entire situation.
Also Jaden Smith's tweets have only added more fuel to the drama. And we are yet to see if Will Smith apologizes from Rock or not.
Gentleman Jack Season 2 Release Date, Episodes, Cast and Plot