Michael Oher, the infamous Super Bowl Champion, has created an unmatched legacy in the world of football. He played for the Baltimore Ravens, the Carolina Panthers as well as the Tennessee Titans throughout his eight years career in the NFL.  During his journey in American Football, this renowned athlete has won the hearts of millions of fans and made quite a fortune. So what is his current net worth in 2022? How much fortune has he amassed from his career in the NFL? Keep on reading to find out Michael Oher's Net Worth in 2022.
Michael Oher Net Worth 2022
Michael Oher is quite a sensation in the world of American Football. He wrote a book called 'The Blind Side: Evolution of a Game' based on Oher's life in 2006 which was later adapted as a movie in 2009. Additionally, Oher also wrote an autobiography titled I Beat the Odds which was an absolute hit.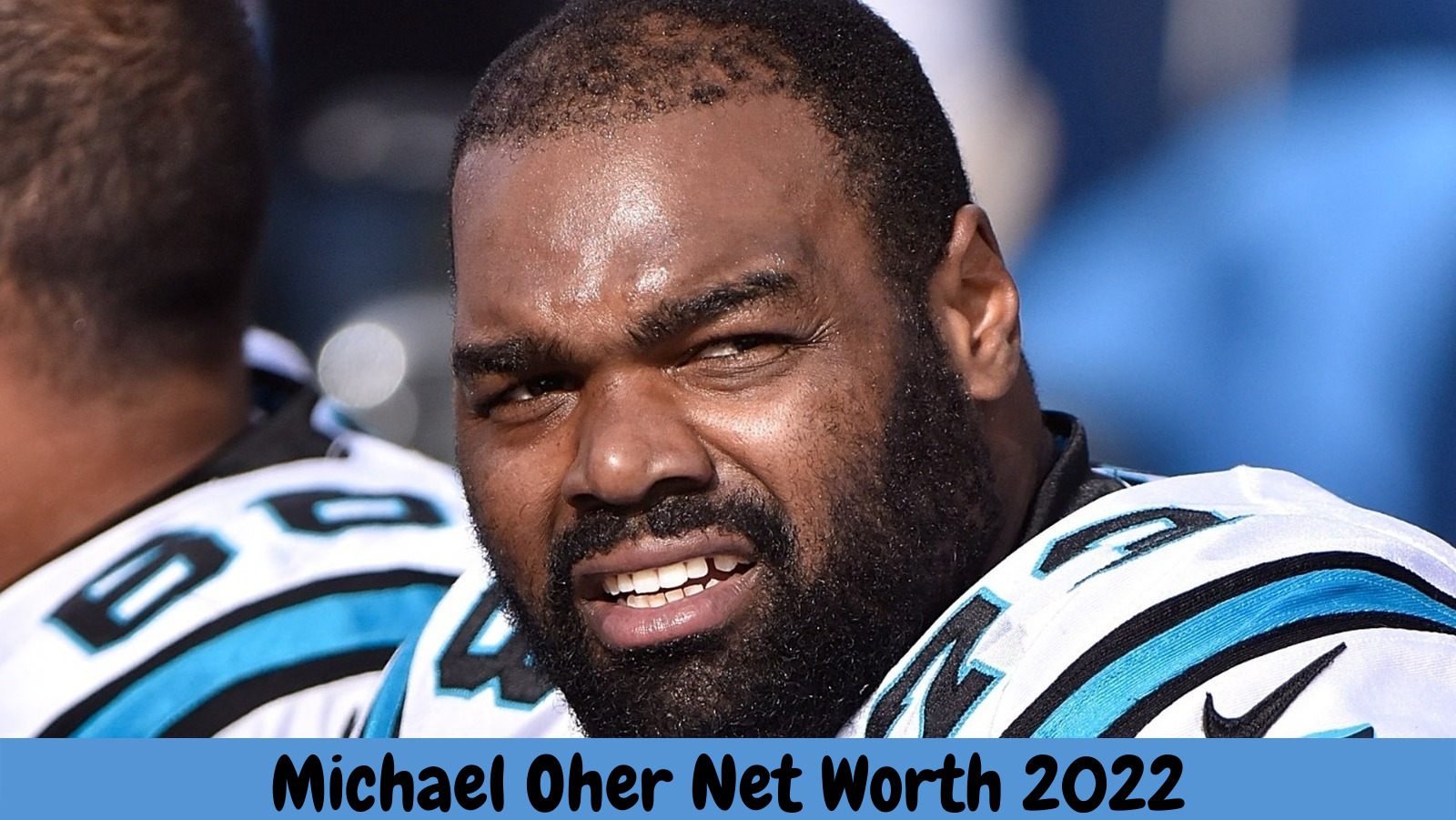 His football career, book, movie and autobiography have earned him millions of dollars. As of April 2022, his net worth is estimated to be $20 million!
Michael Ohers has not revealed much information about his private life including his wealth. However, his $1.3 million house in the Forest Hills area proves that he is one of the richest sportsmen alive.
Michael Oher Career
Michael Oher began playing football at the University of Mississippi. He was a natural born footballer and won several awards like the Jacobs Blocking Trophy and Unanimous All-American award.
From here, he went on to enter the NFL Draft in 2008. However, he withdrew from it and was officially drafted in the 2009 NFL Draft by the Baltimore Ravens. He signed a five year contract for $13.8 million with them and they were his team for most of his football career.
He went on to join the Tennessee Titans in 2015 for four years for $20 million. Unfortunately, his contract was terminated within a year! Then, he was recruited by the Carolina Panthers in 2017 for $7 million.  To sum it up, Oher made approximately $34.5 million during his NFL career.
He also won several awards during his career. This includes the 2008 Colonel Earl "Red" Blaik Leadership-Scholarship Award, 2008 SEC Jacobs Blocking Trophy, runner up in the NFL Offensive Rookie of the Year Award and the 2013 Super Bowl Championship.
Michael Oher's Wife
Michael Oher has been very secretive about his personal life and his marriage to Tiffany Roy. Both of them have refused to share any information about her including her family details. In fact, we don't even know Tiffany's exact birth date!
Michael And Tiffany Roy have celebrated several years of marriage together. We've seen several pictures of the two in old vintage clothes! However, they have remained quiet about their life together and have not shared any details about their marriage including their wedding date.
Together, the two run a charity organization called 'Beat the Odds Inc.'. It is funded by Michael himself and focuses on providing opportunities to underprivileged athletes. Michael is the organization's President and Tiffany holds the post of Vice President.
We don't have any information regarding Michael and Tiffany's children. However, we have seen a young child in their house and we suspect him to be their child. We don't have any proof and hence, we can't confirm whether the child is theirs or not.
People often confuse Tabitha Soren as Michael Oher's second wife. However, this is untrue as Soren is Michael Lewis' wife, the guy who wrote a book on Michael Oher.
Where is Michael Oher Today?
Michael Oher was put on the injured reserve list in 2016 as he hit his head and was suspected to suffer from a concussion. This ended his career according to SB Nation.
Oher failed his physical in 2017 which led him to retire from the NFL. He struggled greatly from mental health issues. He described it as,
"I'm still traumatized and I still deal with things that I dealt with as a kid. If you're still dealing with trauma, [therapy] is definitely needed early on, because I had to do that to get back healthy."
Oher then decided to focus on improving his mental health while launching a charity app named Good Deeds. The app helps people get their daily life necessities such as clothing, shoes, baby food, etc. Michael describes it as,
"It is all about connecting people who have needs with those who want to give. Download the app and help a child in need beat the odds like I did. Be an answer to someone's prayers."
At the same time, Oher is also running his charity foundation, Beat The Odds.
Thus, Michael Ohers is currently focusing his life on giving back to his community and helping those around him.
Michael Oher and the Tuohys Family Relationship
Michael Oher has led a very tough childhood. His mother was a drug addict while his father spent most of his time in prison. Thus, Oher was left to fend for himself and lived a life of homelessness as he moved from foster house to foster house. This affected his education and studies greatly. In fact, he changed 11 schools in less than 9 years!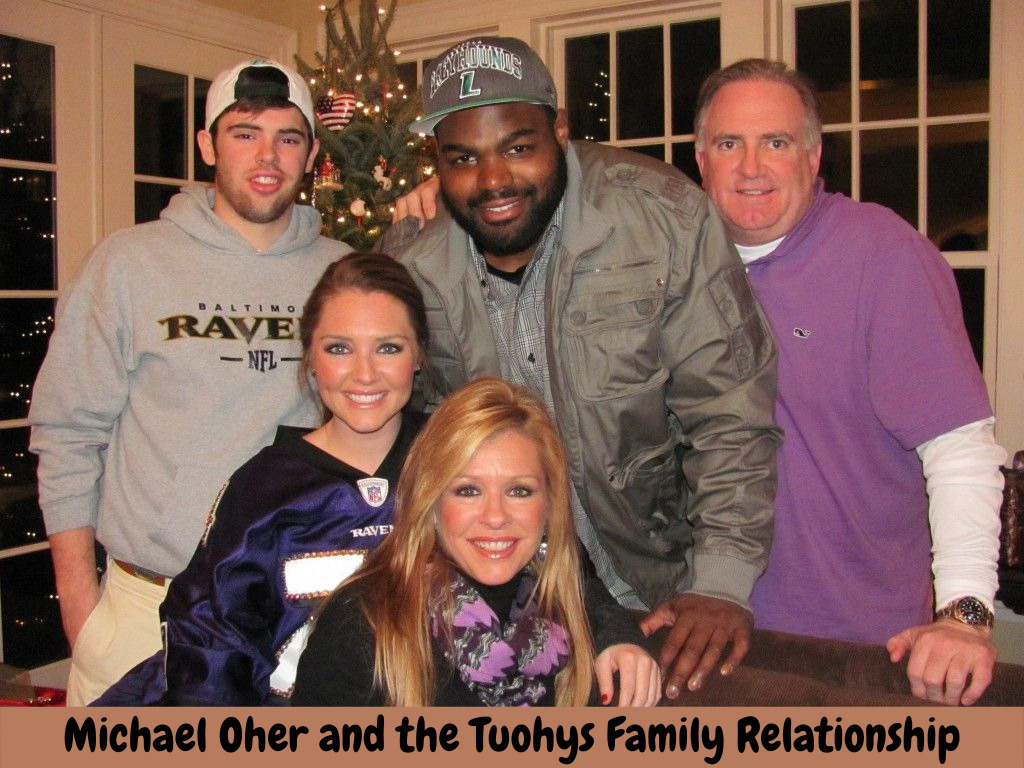 Oher lost his father in his senior year in high school. He was adopted by Sean and Leigh Anne Tuohy at the age of 17 and the two of them helped him lead a better life and become the spectacular player that he is today. He has a strong relationship with both of them till today. In fact, the whole Tuohy family was present at the 2013 Super Bowl and cheered Oher on as he won his first championship.
Michael also shares a close relationship with his step sister Collins Tuohy Smith. He was even her escort at her homecoming dance! Similarly, he also had a close relationship with the other Tuohy child, Sean Tuohy Jr.
All in all, Michael has a close relationship to the Tuohy family till today. They have supported and cheered him on throughout his career.