Folks, adopt me Easter finally has 2022 update and the wait is over. Finally, the countdown is about to end. Adopt Me Easter is an exciting and popular game celebrating real-life events. The game got a hit with 27B views. The best and most famous thing about this game is that It keeps updating every year, and the game always comes up with a lot of new and interesting ideas for players. So people who play this game never get bored and are always excited to see the next update as it never fails to provide new games. It's been 2-3 years since this game was released, and the number of players is increasing with each passing minute.
A recent tweet from the officials provides accurate information about this game update that this year's update will have some new and exciting features. For example, in Adopt Me Easter 2021, players are asked to collect eggs. In addition, according to sources, this year's game is introducing some new pets.
Happy Monday! It's time for the Weekly News 🐈

💸 Last week of the Spring Sale!
🐎 Horse and Carriage vehicle leaves Thursday!
🥚 Easter update!
🏜️ Desert weather!https://t.co/eEwZMeyQrz pic.twitter.com/fJoXAGQuv1

— Adopt Me! (@PlayAdoptMe) April 11, 2022
The game is really addictive, and once you start playing it, there is no going back. You can play it continuously all day long and still will never get bored.
Adopt Me Release date and time
There's no official news from the Adopt Me Easter team. However, according to sources, it's coming on April 14, 2022. This game updates every single year. The expected months to release are March and April as Easter is on April 17, so maybe they will release the game on the same date, but we can't say anything confirmed as there's no official announcement, but it will be somewhere at the end of April. Players are super excited to see the new features. 
Moreover, if you still haven't seen a sneak peek into the game, check out this video.
Adopt Me Easter Pets
The featured pet of 2021 was a lamb. It costs 250 Robux to Unlock the egg, and one can't use in-game Bucks to buy it. If one has to get lamb, he has to get him himself or trade it for someone who already has it.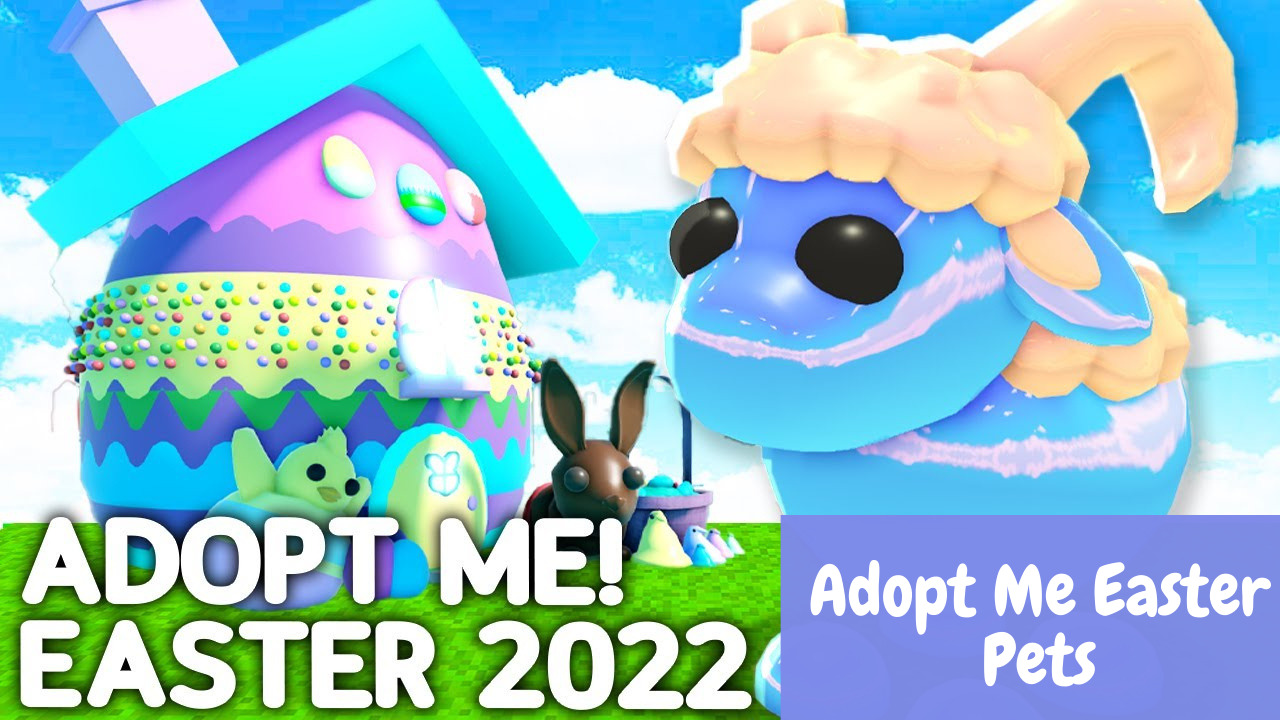 Here's the list of pets we are expecting in the 2022 update.
Common Pets:
Chicken, Dog, Ground Sloth, Otter, Robin, Tasmanian Tiger, Bandicoot, Buffalo, Cat, Chick.
Uncommon Pets:
Meerkat, Pink Cat, Puma, Silly Duck, Snow Cat, Snowman, Stegosaurus, Triceratops, Wild Boar, Wolf, Bat, Black Panther, Blue Dog, Capybara, Chocolate Labrador, Dingo, Drake, Fennec Fox, Glyptodon.
Rare Pets:
Monkey, Musk Ox, Ox, Pig, Polar Bear, Pterodactyl, Rabbit, Rat, Reindeer, Rhino, Snow Puma, Swan, Wooly Mammoth, Australian Kelpie, Beaver, Brown Bear, Bunny, Cow, Dilophosaurus, Elephant, Elf Shrew, Emu, Hyena, Lynx.
Legendary Pets:
Guardian Lion, Kangaroo, Kitsune, King Bee, Monkey King, Metal Ox, Ninja Monkey.
Ultra rare pets:
Some rare pets that we are expecting are Sabertooth, Shiba Inu, Sloth, turkey, Yeti, Zombie Buffalo, Albino Bat, Arctic Fox, Bee, Ladybug, Lion, Llama, Lunar Ox, Panda, Penguin, Platypus, Red Panda, Toy Monkey, Business Monkey, Crocodile, Santa Dog, Deinonychus, Flamingo, Ghost Bunny, Horse, Koala.
Adopt Me Easter Update 2022
This game gets an update by introducing new pets. We are expecting to have a box with three different pets in this update. Similarly, we hope to get pets, one from rare, ultra-rare, and legendary. It can be a unicorn with some cute attachment to its body and two tiny horns or Three Sheep from Easter. A unicorn is a legendary pet that will cost around 500 Robux.
We are not sure about the pets, so we can have an Easter Egg too with pets from different categories. We are sure a new currency will be added to the game to buy pets. But this is only what we are hoping for. It will be sure when the game will show its update and we are damn sure it will be something crazy that will attract the people more as 'Adopt Me Easter' never fails to impress players.
Editor's pick on what to watch next:
Monkey Island 3: Ron Gilbert is making a new Monkey Island game
Two Point Campus isn't Releasing until August 2022
Disney Mirrorverse Release Date Revealed – Latest News, Trailer and Plot
Rise of the Third Power: We Have Exciting Information About Release Date!