Big Sky Season 3 is all fans can think of at this time of the year! After all, it's been a few months since season 2 premiered on ABC and now, fans want to know after season 2 ends if there will be a third season.
Created by David E. Kelley, Big Sky is based on a book series called The Highway by CJ Box. The crime and drama series has an IMDB rating of 6.8 and is great for anyone wanting to watch a show with detectives, crime, drama, thriller, and lots of mysteries. It all begins when two private detective aka Cassie dewell and Cody Hoyt come together to join forces with none other than Cody's estranged wife who is also an ex-cop aka Jenny Hoyt. They do this so that they can find two sisters who have gone missing thanks to a truck driver in Montana. However, things take a turn when Cassie, Cody, and Jenny find out that there have been other missing girls by the same truck driver. And so, the investigation to finding these girls and preventing others from being abducted begins.
Also, besides airing on ABC, seasons 1 and 2 are also available on Amazon Prime Video for viewers to binge watch them. Overall the television series has received a lot of popularity and this is why the future of season 3 seems quite bright. Hence, if you loved watching every bit of Big Sky episodes and want to know everything about season 3 from the release date to what new plot twists and mysteries await them, keep on reading.
Big Sky Season 3 – Is it Renewed?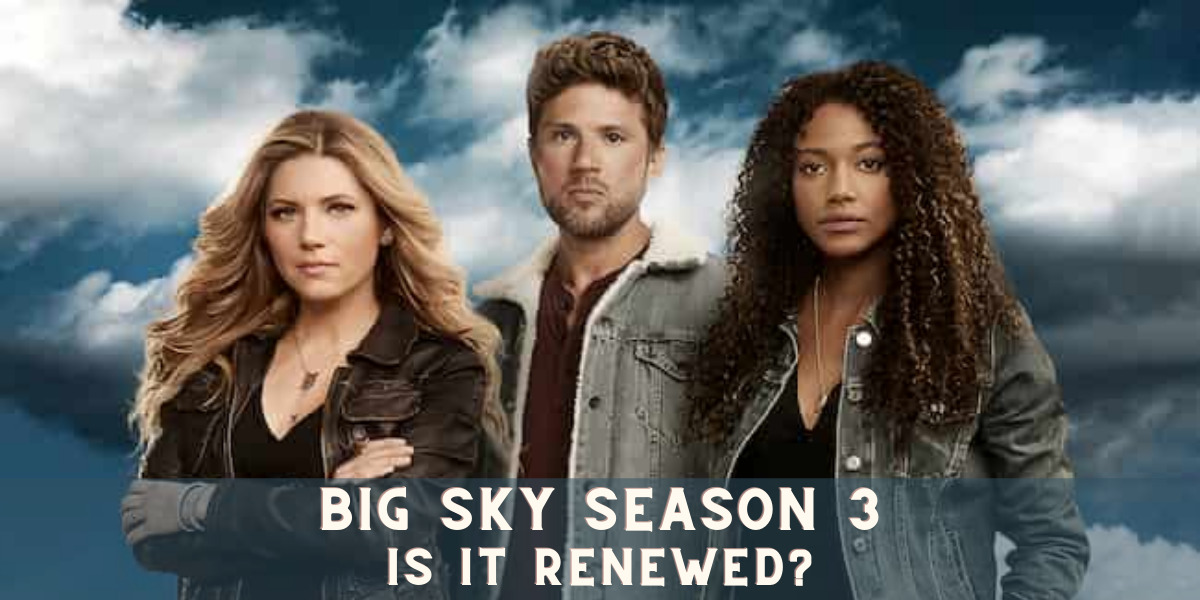 Unfortunately, the team at ABC has been quiet in terms of the renewal status for Big Sky Season 3. Until now, they have not renewed or canceled the thriller series making fans impatient. After all, even after the series gets renewed for a season 3, it will take some time to get all the cast members back and begin production.
Big Sky Season 3 Release Date
The first season of Big Sky was released back in November 2020. Soon after, in September 2021, Big sky season 2 was released. So naturally, many viewers are anticipating watching new episodes of their favorite series once again in the fall of 2022.
However, ABC has made no announcement about the Big Sky season 3 release date. And we are looking forward to them officially confirming that the series will be back once again as a part of the regular fall television schedule.
Moreover, if the third season premieres this year, it will have new episodes released every Thursday probably at 10 pm EST, the same time that seasons 1 and 2 aired on ABC. Also, each episode will probably be 42 to 44 minutes long.
Big Sky Season 3 Cast Members
Cast members for Big Sky season 3 still have to be finalized. And so, we do not have an official cast list. Although, we are sure most of the cast from season 2 will be reprising their roles and continue the story which was left incomplete. Hence, here is a list of everyone we are expecting to see in season 3.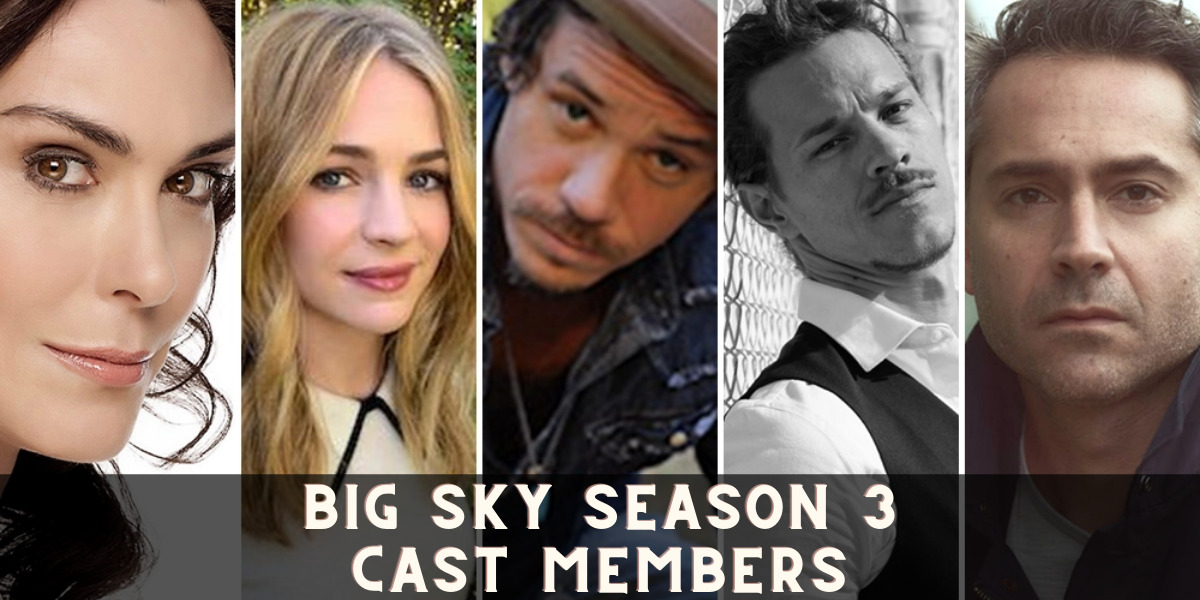 Katheryn Winnick as Jenny Hoyt

Kylie Bunbury as Cassie Dewell

Natalie Alyn Lind as Danielle Sullivan

Valerie Mahaffey as Helen Pergman

Brian Geraghty as Ronald Pergman

Lynch as Wolfgang "Wolf" Legarski

Dedee Pfeiffer as Denise Brisbane

Jesse James Keitel as Jerrie Kennedy

Anja Savcic as Scarlet Leyendecker

Logan Marshall Green as Travis Stone

Jade Pettyjohn as Grace Sullivan

Janina Gavankar as Ren Bhullar

Omar Metwally as Mark Lindor

Gabriel Jacob Cross as Kai Dewell

Troy Leigh-Anne Johnson as Harper

Jeffrey Joseph as Joseph Dewell

Michael Malarkey as Deputy Harvey

Lola Skye Reid as Madison

Madelyn Kientz as Max

Jeremy Ray Taylor as Bridger
In addition to this, there will be a few new cast members as well to spice up things. However, we do not know their names yet. And as soon as we get an update on this, we will let you know.
Plot
In the second season, Cassie and Jenny join forces in search of a drug cartel. iIn this season lots of drama and plot twists occur but the story does not get completed. And now, there are some loose ends that need to be tied via Big Sky Season 3.
Although the official plot synopsis for Big Sky season 3 has still not been shared, we are sure it will continue from where season 2 ended. The new season will manage to keep viewers hinged to it thanks to its amazing storyline. But this is all that we know about the season 3 plot details. As soon as we get any more news, we will share it with you.
More about Big Sky Season 3
Big Sky has a total of 2 seasons released till now. The first season has 16 episodes and the second season has 17 episodes.
Additionally, the executive producer for Big Sky is C. J. Box, Gwyneth Horder-Payton, Paul McGuigan, Matthew Gross, David E. Kelley, Ross Fineman, and Elwood Reid. We are hoping they will once again take on the role of executive producer in season 3.
Also, along with the author of the book series C. J. Box, there are many other writers who have helped write the screenplay and make Big Sky the success it is. It includes David E. Kelly, Annakate Chappell, Maria Sten, Dominique Arrianne Holmes, Brian McCauley Johnson, Elwood Reid, Jonathan Shapiro, Matthew Tinker, Morenike Balogun, Mike Flynn, Kyle Long, Ryan O'Nan, and Sharon Lee Watson. This list of writers will probably come back together to write Big Sky season 3 and make it another one of its successes.
Trailer
Since the thriller drama crime tv series still has to be green light for a third season, no trailer for Big Sky Season 3 is available. It will probably release close to the season 3 official release date.
Furthermore, if we get any new updates on Big Sky season 3, we will update it here. Here's to hoping that new episodes will be released soon!
Editor's pick on what to watch next:
Slow Horses Season 2 Expected Release Date, Cast, Plotline and Trailer
The Marked Heart Season 2 Release Date Renewed By Netflix?
Slow Horses finale Release Date and Time on Apple TV+
Mirzapur Season 3 is Renewed at Amazon Prime
Grace and Frankie Season 7 Trailer and Release Date Announced