Well, well, well! Here's some exciting news for all anime fans out there – Arcane Season 2 is in the works. In early November, Netflix launched the animated League of Legends series Arcane, which stayed at the top for three weeks, reaching the top 10 in more than 52 countries and earning a 100% critics score on Rotten Tomatoes.
As Arcane focuses on characters' origin stories from League of Legends' popular MOBA game. Fans are eager to see how these stories are continued in future episodes and how other familiar characters might be included.
Here you will find everything you need to know about Arcane Season 2. We will keep you informed as new information becomes available.
Arcane Season 2: when can we expect it?
There's no official announcement for Arcane season 2 yet. Though the show's return was announced following the season's tweet, we know it's on the way. 
Ready yourselves, friends. Season 2 of Arcane is now in production.

Where's a Hexgate when you need one? pic.twitter.com/3aUeWuQ5Uu

— Arcane (@arcaneshow) November 21, 2021
It reveals only that season 2 is in production. And three characters from season 1 will return (more on that later). Despite that, we're glad Arcane will get a second outing. The game deserves it.
But when is it returning to Netflix? We aren't sure how far along season 2 is at the moment. Riot Games CEO Nicolo Laurent tweeted that the next installment won't arrive in 2022.
So yeah, we are working on #arcane season 2.
The good news: you won't have to wait for 6 years (the time it took us to making season 1)
The bad news: it's not coming in 2022 😢 https://t.co/IQoPyLnw1J

— nicolo (@niiicolo) November 21, 2021
Arcane Season 2 plot: what does it involve?
After watching the first season of Arcane, you will know that some characters may not be back for the next batch of episodes. Jinx launched an arcane crystal rocket at Piltover's council chamber with many primary and supporting characters trapped inside during the season 1 finale. At the explosion, Jayce, Cassandra, Mel, Viktor, Bolbok, Hoskel, Shoola, and Salo were present in the chamber.
There is no guarantee that all of those individuals will survive. At the very least, Mel and Cassandra will have perished or been severely injured if we were to guess. Since Mel and Cassandra are Jayce's partner and Caitlyn's mother, respectively, Jayce and Caitlyn would have a significant reason to pursue Jinx.
We expect Jayce to backtrack on his promise to allow Zaun to be independent of Piltover, especially now that Jinx (a citizen of Zaun) carried out a terrorist attack on Piltover's council.
Vi and Caitlyn aren't the only ones who may be at odds because of this. A fan on Twitter asks whether Caitlyn knew Vi and her gang blew up Jayce's lab at the start of season 2, but Arcane writer Amanda Overton revealed that wasn't the case. Will Caitlyn discover the truth in the show's second season? That's highly likely, and we expect she'll be angry if she does.
hey amanda, i have a question! After meeting vi, did Caitlyn ever find out that it was Vi and her group, was the ones who blew up that building when they were little? they were literally meters away from each other.. pic.twitter.com/jxdCLxFulD

— 𝑱𝒆𝒔𝒔 ❦ (@poisonbatcat) December 20, 2021
Vi may be at odds with Caitlyn, who became close to her after Caitlyn's mother's death. Since Caitlyn may seek revenge if her mother gets injured or killed. In the end, Jinx is Vi's sister, so Vi will likely be caught in a difficult situation. To help Caitlyn and Jayce bring Jinx to justice or protect Jinx from herself, which puts Vi at odds with them.
So, what's going to happen?
Regardless, Arcane season 2 will focus on the brewing war between Piltover and Zaun. After Jinx attacks Piltover's council, we won't be surprised if there is a full-blown war between the two nations.
Arcane Season 2 will continue to deal with other storylines, such as Heimerdinger and Ekko working together. Having voted off of Piltover's council in episode 7 of season 1, he bumps into an injured Ekko on the streets of Zaun in episode 8. After Heimerdinger helps Ekko find his way home, the two decide to work together to ease Zaun's suffering after discovering they have a shared love of technology.
It will also be interesting to see whether Viktor completely loses himself to his Hextech research. It appears he'll walk a darker path in season 2. Since he's already inadvertently murdered his childhood friend Sky. Viktor can easily use Hextech to enhance his body further cybernetically and become the LoL champion fans know him for to die-hard LoL fans.
Arcane Season 2: Cast Who's Coming Back?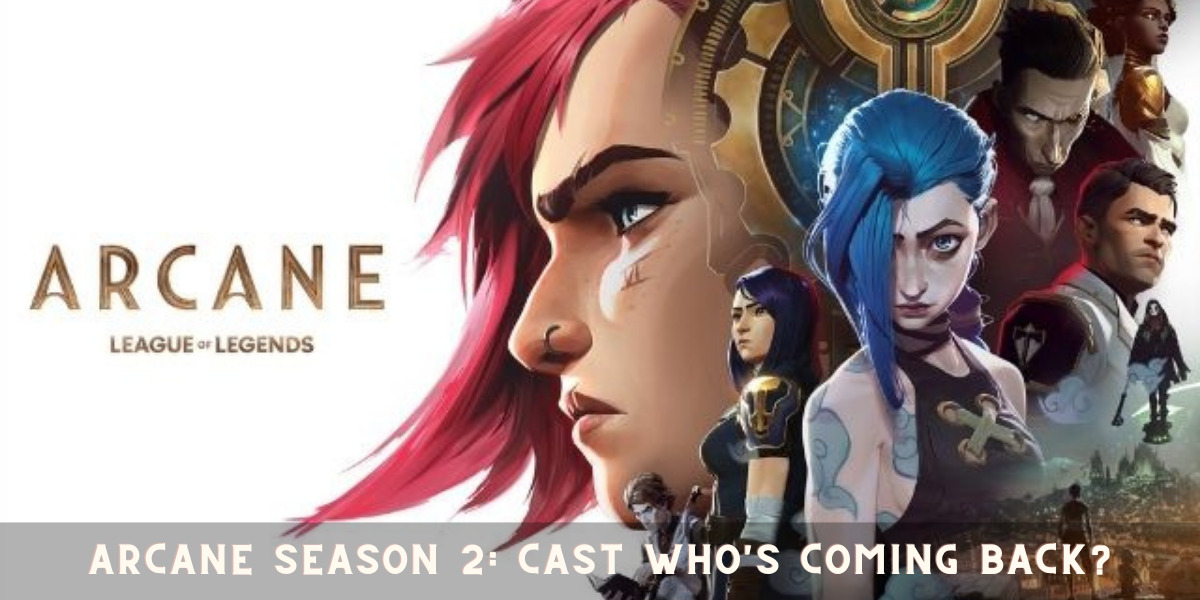 Actors from season one are almost sure to return for season two:
Hailee Steinfeld plays Vi.

Powder (formerly known as Jinx) plays the role of Jinx.

Katie Leung as Caitlyn Jenner
Stay tuned for more information on who will play Warwick if he comes back in Season 2.
So, fans here's all we know about Arcane Season 2, and if we get any new information, we'll surely update this space. 
Editor's pick on what to watch next:
Star Wars: Visions Season 2 Release Date, Cast, Plot and Trailer
Does bluey season 3 Have an Official Release Date on Disney+?
Does Frozen 3 Have a Confirmed Release Date?
Amphibia Season 4 Will There be a New Season?