The Duck Dynasty clan is returning with their brand new unscripted show 'Duck Family Treasure,' which will premiere exclusively on Fox Nation. The officials revealed in an interview that when they added Duck Dynasty to their library, it received immense fan support. Hence they are willing to give the same people one more chance to connect with their fans in a different style. But when will Duck Family Treasure be released? Well, you'll read about it later in the article!
Jase Robertson, Korie Robertson, and Zach Dasher will serve as the show's executive producers. The original show ran for approximately seven years, and in this duration, seven seasons of Duck Family Treasure were released. If the upcoming show also gets the same response from the public, they might stand a chance of getting more seasons in the future. But for now, let's talk about Duck Family Treasure and its other details. 
Pretty Little Liars: Original Sin Release Date
The Good Fight Season 6 Release Date, Cast, Trailer, Spoiler and Storyline
Duck Family Treasure Cast
Jase, Jep, Si Robertson, and Murray Crowe will lead the show. Missy is Jase's wife, and Jessica Robertson is Jep's wife. And, of course, you'll get to see other members of the Robertson family in the series too. 
In the main lead, we'll have the two brothers (Jase and Jep) along with Uncle Si and a historian Murray Crowe. Together they'll entertain you with their unique quests. 
Creed 3 Release Date, Cast, Plot, Trailer, and Production status (Official Updates)
Duck Family Treasure Release Date
Duck Family Treasure will premiere only on Fox Nation on 19th July 2022. The show has ten episodes, and each episode will follow the weekly schedule. 
If you don't have a Fox Nation subscription, you can avail of their monthly offer for $5.99, and if you want access to the show all year long, then we suggest you go for the annual subscription, which costs around $64.99.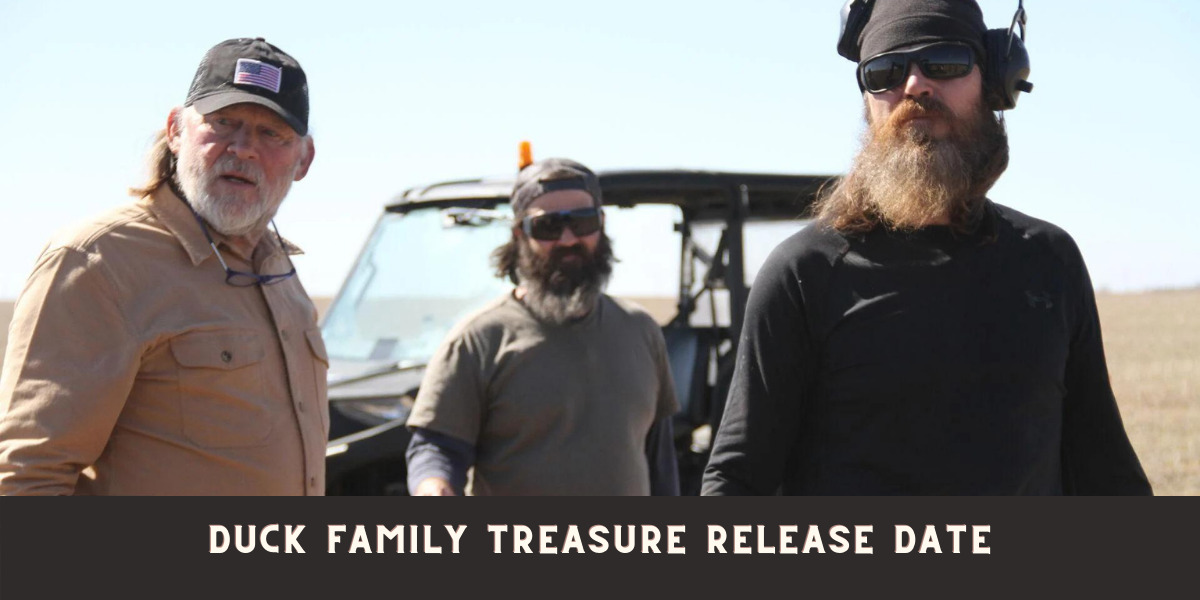 Plot
There is no such plot in Duck Family Treasure because, as you must be aware, it does not have a script. It features the members of the Robertson family unfiltered, which is the fun part. But you'll get to see Jase and Jep hunting for unique treasure. And in this task, they will get help from their Uncle Si and a historian Murray Crowe. 
The team will also look for gems or artifacts along with hidden treasures. But of course, it won't be limited to just hunting, but as they explore new places, the audience will get introduced to new cultures and people. So, it will be a good experience for sure! 
Man Vs. Bee Season 1 Release Date on Netflix
KinnPorsche Season 2: Release Date & Confirmation!
Spoiler
It is too soon to say anything about the spoilers of Duck Family Treasure because the show hasn't even premiered yet. Moreover, the nature of the show is such that you can't predict what will happen next. So, all that you can do for now is wait until Sunday. 
Trailer
The official trailer for the upcoming show is now out on YouTube! Make sure to stream it before you miss out. In the footage, we got to see the whole clan busy with their new adventure. Our group of 4 are equally talented, and each possesses a specific trait that makes them perfect for hunting treasure. Uncle Si got introduced as the one 'with brains' for the operation, Crowe being the historian, earned the title of an 'expert,' whereas our two brothers, Jase and Jep, are believed to have hunted in their veins. And all these qualities prove that there is no better team than them. 
The wives of the Duck brothers are also involved in the show, and they have worked equally hard! So, that was all about Duck Family Treasure's details. For more information, stay tuned! 
Check official Trailer: