Prodigal Son Season 3 will bring crime, mystery, and drama back to our screens as we learn more about our favorite criminal NYPD psychologist and his messed-up relationship with his criminal father. 
Prodigal Son is a crime drama tv-series with a twist that keeps fans on their tip toes at all times! The show features heart-stopping plot twists and jaw-dropping revelations. It focuses on Malcolm and his father, Martin. While the son helps the police, the father is a criminal mastermind in jail for committing atrocious murders! 
So far, Prodigal Son has two seasons with a total of 33 episodes. The series is in huge demand, and fans are yearning to know about its return. When will Prodigal Son Season 3 come out? What is its expected release date? Are there any spoilers? Keep on reading to find out. 
Duck Family Treasure: Release Date, Cast, Plot, Trailer, and Expectations
Pretty Little Liars: Original Sin Release Date
Prodigal Son Season 3 Release Date 
The series made its debut in 2019 when the first season aired on Fox. The second one came out two years later, in January 2021. However, a few months later, Fox canceled the show and dismissed the possibility of a third season airing on it. 
Fans are adamant about getting a third season and began a #SaveProdigalSonCampaign, which has over 55k signatures. Additionally, even creators Sam Sklaver and Chris Fedak are supporting the campaign. Thus, the producers may give in and renew Prodigal Sons for a third season! 
Moreover, there is also a possibility that another streaming service or TV network may pick the show up. This had happened in the past when Fox canceled Lucifer, and Netflix picked it up and renewed it! However, there is no news confirming whether this will happen with Prodigal Sons. 
The Good Fight Season 6 Release Date, Cast, Trailer, Spoiler and Storyline
Creed 3 Release Date, Cast, Plot, Trailer, and Production status (Official Updates)
Prodigal Son Season 3 Cast
The third season of Prodigal Son does not have an official cast list. However, we expect the main stars to return, including Tom Payne (Malcolm Bright), Louis Diamond Phillips (Gil Arroyo), Halston Sage (Ainsley Whitley), and Aurora Perrineau (Dani Powell) 
We also expect Michael Sheen to return as Martin Whitley despite his tragic ending! Creator Fedak shared his thoughts on Martin's return, saying,
"I mean, he could be dead. But we'd be bad writers if we did anything that means Michael Sheen couldn't be a part of the show going forward."
Fans can also expect to see Zeta-Jones return as Vivian. "We hadn't pitched Catherine our plan for S3, but yes…" stated Creator Sklaver.
"We have a sane and not crazy story for her in S3."
Plot and Spoilers 
The finale of Season 2 ended on a major cliffhanger! Malcolm stabbed his father Martin in the gut! The series ended before we could find out if Martin was dead or somehow managed to survive the fatal wound!
The stabbing also made Martin realize that his son is very similar to him. Thus, we are curious if this incident will make Malcolm give into his inherited darkness.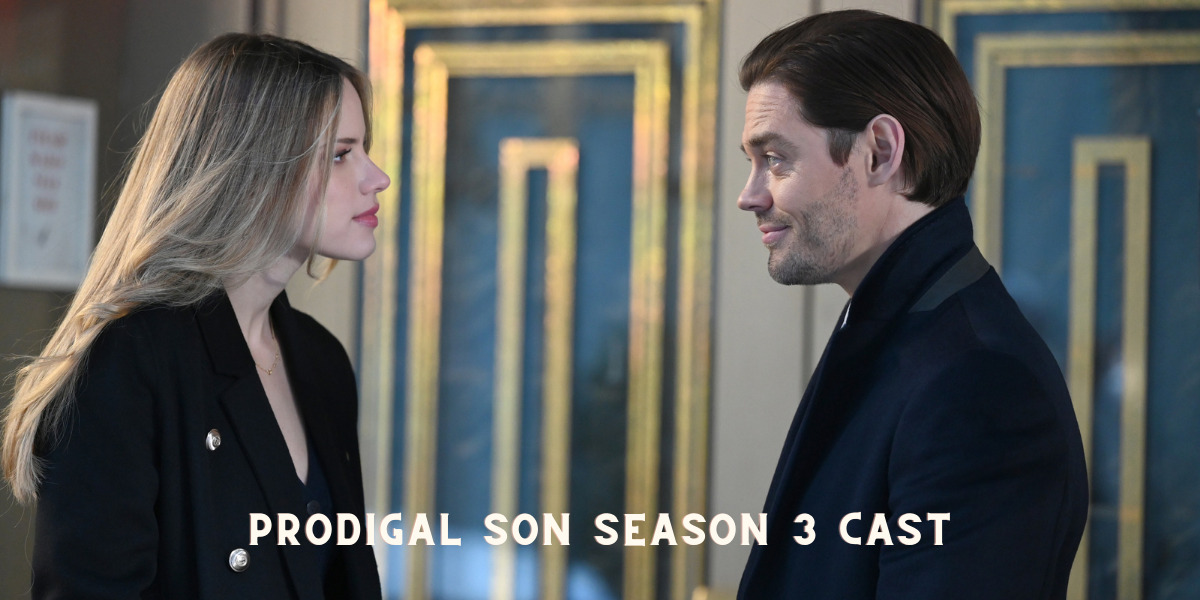 Malcolm has a haunting gift of being able to understand crimes from a killer's perspective. This allows him to gain additional insight into cases and solve them easily! This gift scares him a lot as he is afraid of going down the same sociopathic road as his father! Will Malcolm be able to escape the evilness in his blood? Or will he succumb to it and turn into a criminal like his father, The Surgeon? 
We will also see a lot of Malcolm and Dani in season 3. Their relationship will be one of the most important topics in the upcoming season. 
Man Vs. Bee Season 1 Release Date on Netflix
Is there a Trailer? 
Prodigal Son Season 3 is not green-lit for production as of yet. Thus, there is no footage or teaser for the new season.