Here's everything you need to know about The Animal Kingdom Season 6!
A TV show adaptation of the 2010 movie of the same name, Animal Kingdom, is a dark thriller show centered on the Cody crime family headed by a fierce Monarch.
The show debuted in 2016, and although it wasn't an immediate hit, it received mostly positive views and was renewed for every subsequent season.
When 17-year-old Joshua 'J' Cody's mother dies from a drug overdose, he is sent to live with his mother's family in California.
Before long, J has understood the dynamics of the family. The tough-as-nails matriarch, Janine, runs everything. She has three sons, Pope, the oldest Cody brother who is violent and scary; Craig, the middle one who has the best of both brains and courage among his brothers; and Deran, the youngest who tries to maintain his distance from his criminal family.
Although Janine has three boys, J has the guts to stand up to her and challenge her as the head of the Cody criminal family.
Grey's Anatomy Season 19 Premiere Date, Cast and Trailer News
Expedition Bigfoot season 4: What We Know So Far
The Animal Kingdom Season 6 Cast
With the departures of Janine and Baz from the show, there has been much speculation about who will return in Animal Kingdom season 6. Some recurring characters who made their first appearance in the latest seasons are expected to return to Animal Kingdom season 6, while the rest of the main cast will also reprise their role.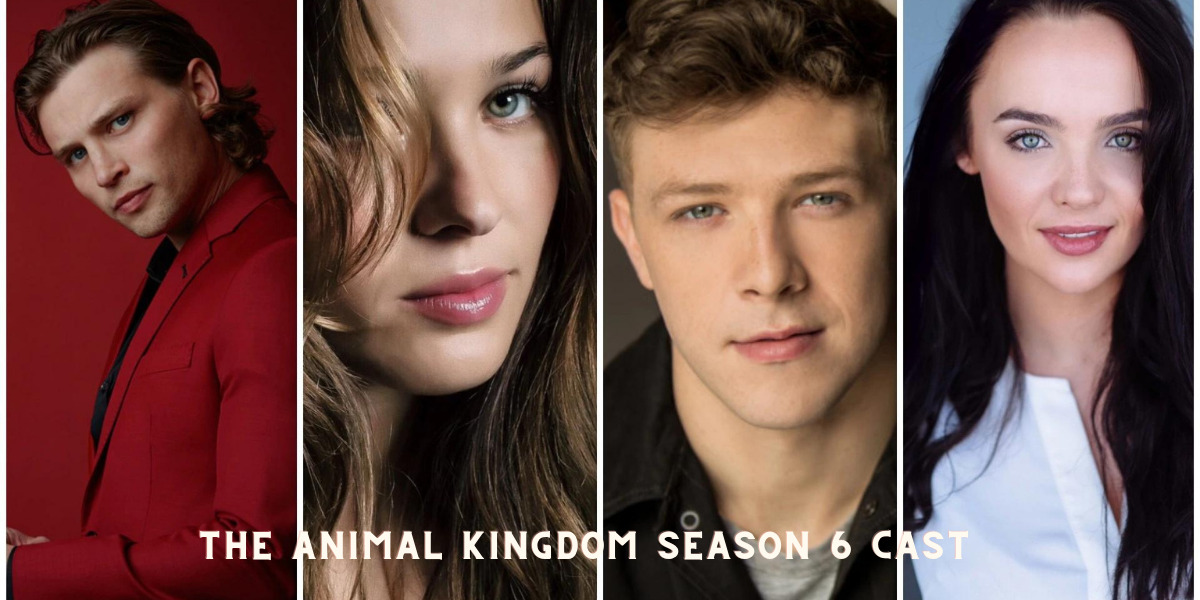 Ben Robson as Craig Cody
Jake Weary as Deran Cody
Finn Cole as Joshua "J" Cody
Jon Beavers as young Jake Dunmore
Rigo Sanchez as young Manny
Leila George as Young Smurf
Jasper Polish as Julia Cody (Pope's twin sister)
Darren Mannas young Baz
Stevie Lynn Jones as Penny (new character)
Denis Leary as Billy Reynaldo Gallegos as Pete Trujillo
It has not yet been confirmed whether Shawn Hatosy or Kevin Csolak will continue as Andrew "Pope" Cody.
Release date
The wait is finally over! The release date and the trailer for season 6 were out together. The Animal Kingdom season 6 will release on 19th June 2022! The fans will be upset that the final season will not be released in May, the month each season has been released. However, the silver lining is that the season will remain 13 episodes long and won't be shorter. It will be ample running time to tie up loose ends left.
Dragon's Dogma 2 Confirmed by Capcom Officially
Prodigal Son Season 3 Expected Release Date
Plot
Season 5 of Animal Kingdom ended on a crazy cliffhanger. Catherine Blackwell's dead body has been discovered. Smurf and Baz were the only two people who knew that Pope murdered her, but they both are dead. The police now have a new lead and will investigate to hunt down each member of the Cody family.
Since it is the show's final season, many loose ends are left. Many unanswered questions after Smurf's death will finally be out. Who will eventually be the ruler of the Cody crime family? Who has the final claim to Smurf's estate? All these questions will be finally answered in Animal Kingdom season 6.
Duck Family Treasure: Release Date, Cast, Plot, Trailer, and Expectations
The Animal Kingdom Season 6 Trailer
TNT released two trailers and a short promo for Animal Kingdom season 6. The first sneak peeks of the show were released after season 5's finale ended on a cliffhanger.
Check first trailer:
Finally, The second trailer was released in April 2022. It showed the police investigating the body of Cath and the Cody boys getting the 'final job' done.
The third, official, and last trailer of season 6 went on air just a few days before the premiere of season 6. It showed some more shots from the final season and a probable kidnapping of Craig's son. Certainly, the final season of Animal Kingdom will be nothing short of unexpected turns.
Check third official trailer: