Days of Our Lives is undoubtedly one of the oldest running shows with a strong fanbase. Recently we got a spin-off of the same show titled 'Beyond Salem', which now has two successful seasons. But will we get Days of Our Lives: Beyond Salem Season 3 shortly? To find out, continue reading the article!
Until now, Peacock has not revealed the status for Days of Our Lives: Beyond Salam. So, as the show isn't canceled or renewed, we are not in the state of deducing anything. However, each new season only comprises five episodes in which the characters from the past get to mingle a little. And a third season won't cause any harm to the image of the show! So, it seems like an excellent chance to renew the story and expand the fanbase. However, these are our speculations. Who knows what NBC has decided! 
Don't Make Me Go Ending Explained
Bridgerton Season 3 – Fellow Travelers Will Not Impact Jonathan Bailey's Role
Other details about Days of Our Lives: Beyond Salem Season 3
There is no trailer nor a plot synopsis for the third season, as naturally, it's still awaiting its renewal. But if we were to predict the cast members of the potential threequel, then the list would be somewhat as the following: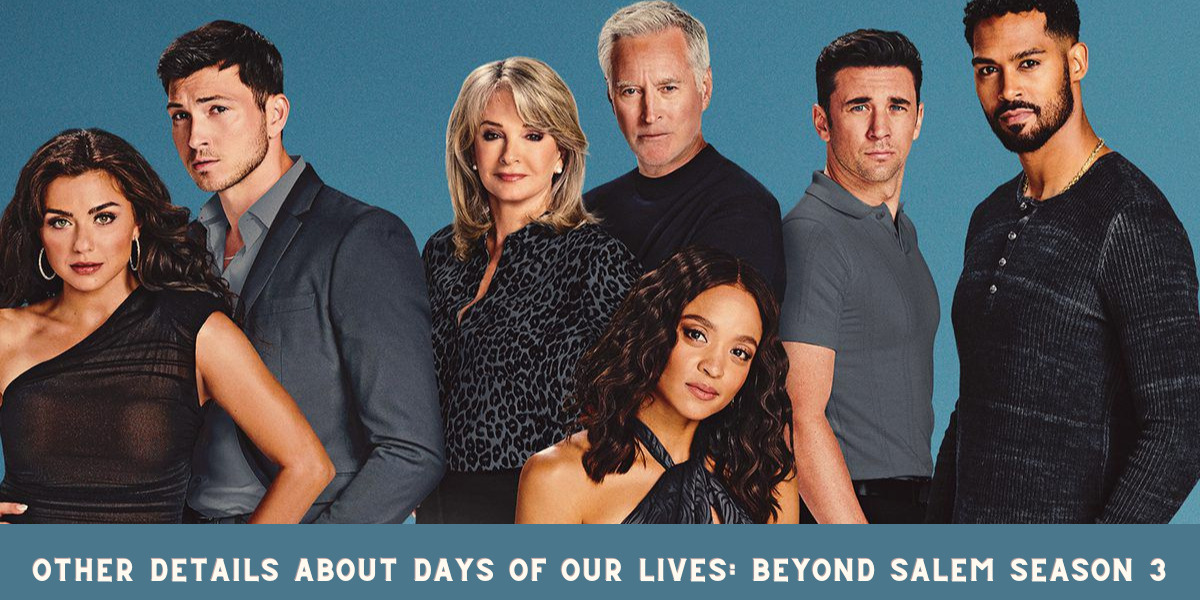 Eileen Davidson as Kristen DiMera

Deidre Hall as Dr. Marlena Evans

Drake Hogestyn as John Black

Steve Burton as Harris Michaels

Stephen Nichols as Steve "Patch" Johnson

Mary Beth Evans as Kayla Brady Johnson

Lucas Adams as Tripp Johnson

Camila Banus as Gabi Hernandez

Victoria Konefal as Ciara Brady

Robert Scott Wilson as Ben Weston

Loretta Devine as Angela

Vince Van Patten as Phil Hellworth

Tanner Stine as Joey Johnson

Christopher Sean as Paul Narita

Abigail Klein as Stephanie Johnson

Colton Little as Andrew Donovan

Victoria Grace as Wendy Shin

Remington Hoffman as Li Shin
The aforementioned actors' involvement in the show also depends on their availability and contract. Well, that was everything you needed to know about Days of Our Lives: Beyond Salem Season 3. For more updates, stay tuned! 
Control Z Season 3 has a Release Date in July on Netflix
The Summer I Turned Pretty Season 2 Premiere Date and Potential Cast