Things Heard and Seen was a totally different kind of movie Netflix has released in years. The movie starts with an unhappy married couple moving into a new home. There is no doubt that the film had a great plot, but the ending left the audience confused. The best part about it is that it just does not focus on the supernatural part, but you'll get to see more of other genres! Before we proceed to tell you about its ending, make sure that you have already watched the movie because the following article contains spoilers. So, let's begin!
What happened at the end of Things Heard and Seen?
George and Catherine move into a new place with their daughter Franny. In this town, George starts a new job as a lecturer. A series of strange things start to happen to them. These events start from the day they move in. Later we find out that the house was haunted because there was a murder-suicide in that home. This also explains the petrol smell filling the room at night.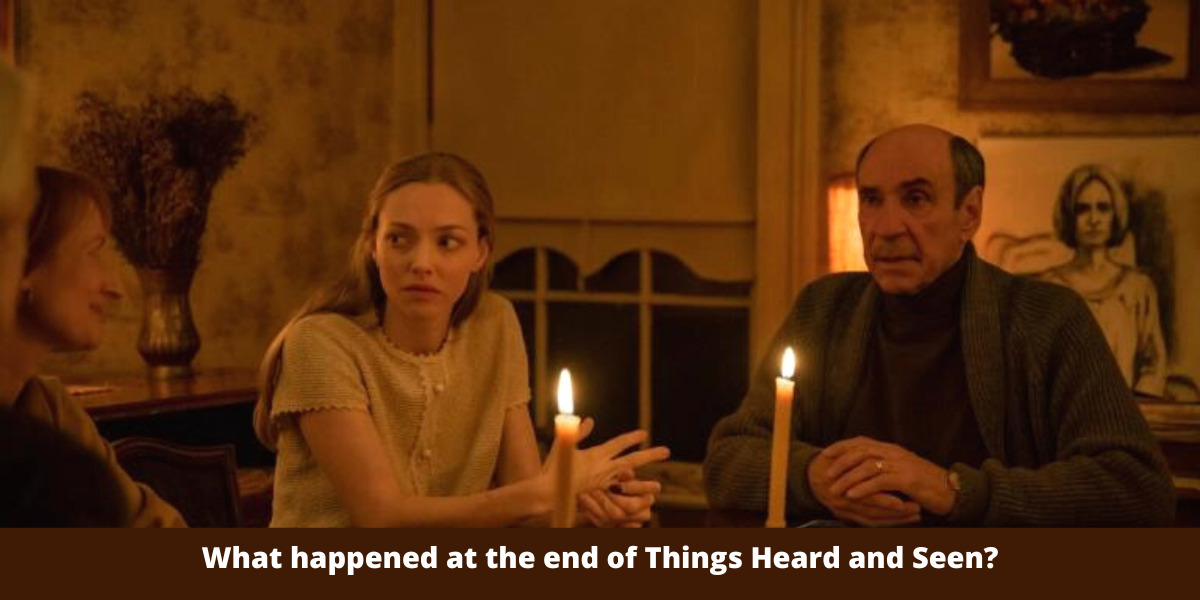 But George is not a good man either. In fact, he cheats on his wife immediately after they move into their new home. His bad traits just do not end there. In fact, he even threatens Catherine's friend, and the supposed job that he had was all because he forged certain documents. He also stole his cousin's credits for the paintings that were originally his works. When Floyd finds out about how he got the job, George kills him. But at this point, it becomes clear that he is being possessed by the evil spirit of Mr. Vayle. But this does not justify his past actions, which he committed long before he moved in. And many fans also believe that Catherine's eating disorders are due to their abusive behavior of George. Given his personality, this can be very much true. 
Industry Season 2 Episode 3 Release Date and Time on HBO Max
Pokémon Journeys Episode 121 Release Date and Time on Netflix
His actions just do not end here because he even puts Justine into a coma after finding out that she has a slight hint about what's going on with him. Amidst all this chaos, Catherine had also started realizing about the female ghost's spirit and actions of George. It was always at the back of her mind. To escape her ill fate, Catherine prepares to leave home before George arrives. But somehow, the both of them get into a fight which ends with George killing her off. Franny was all dressed, and the car was ready. This is why George got the hint that Catherine was planning on fleeing away. But not to forget that he kills her with an ax because of the spirit that possessed him. 
Despite all his suspicious behaviors and Justine returning to her senses, George does not get any punishment. In the final scenes, we see him sailing away into a storm. Gradually he became part of a painting. He probably sailed into hell. But in the background, we could hear Catherine and Ella's voices. And as the film ended here, we did not get a proper reason behind this scene. 
The Cast of Supernatural and Legacies to Appear in Kung Fu Season 3
Harley Quinn Season 5 everything You Need to Know About the Upcoming Season
If you don't already know, the movie is inspired by the book 'Heavens, and its wonders and Hell from things heard and seen. The basic idea the movie wanted to convey to the audience was that good people attract goodness while evil people attract evilness. Moreover, death is not the end! If anything, it is the beginning of something new. The final sailing scene most likely gave away this analogy. The final scene with Catherine and Ella's voices indicated that as Catherine was a good person, she got reunited with an equally good person. In a way, their ill fates united them. So, even though they died a ruthless death, it led them to something new and better. On the other hand, George goes on his way to another damned journey. 
Ben Levin & Kim Rhodes Join Kung Fu Season 3 Cast
Mrs. Smit is seen wearing the same ring Ella and Catherine wearing. This depicts that all three of them had the same ending. But now they are in better condition. So the final scene showed who the damned one was. Berman also revealed in an interview that through the finale scene, he wanted to show that even though the women did not receive justice in their lifetime, they somehow achieved solace in the afterlife. But as Justine wakes up from her coma, she will somehow get the unfortunate women their justice. So, can we expect a sequel? Well, that is a topic for another day!