With the 2023 racing season right around the corner, Joe Gibbs Racing's champion racer, Kyle Busch, is often in the headlines. His career that spans almost two decades, the racecar driver managed to make quite the fortune for himself along the way. During the years, Kyle Busch's net worth increased multiple folds. Here is a look into this two-time champion's life. 
Kyle Thomas Busch is a professional stock car racing driver. As of this year (i.e. 2022), Busch works full-time as a NASCAR Cup Series racer, driving the No, 18 Toyota. Busch also has his own racing company named Kyle Busch Motorsports. He also works part-time for the NASCAR Camping World Truck Series, driving the No. 51 Toyota Tundra for his company. And what is Kyle Busch Net Worth? Here's everything in the article!
Kyle Busch Net Worth – Early Life and Career
Born in Las Vegas, Nevada, on 2nd May 1985, Kyle Busch is currently 37 years old. His career truly speaks volumes for itself and is surely one for the books. Young Kyle started his driving lessons at the early age of 6 when he drove a make-shift go-kart around his neighbourhood alongside his dad. Growing up, Busch spent a large part of his life around cars. He worked alongside his older brother and father in their family garage.
At soon as he entered his teens, Busch started his driving career. In a span of two years (1999-2001), the legendary racer won more than 65 races in legends car racing. Moreover, he also bagged the championship trophy twice at the Las Vagas Motor Speedway.
When he was just 16 years old, Busch entered the NASCAR world. He kick-started his time at NASCAR by competing in their Craftsman Truck Series. He replaced Nathan Haseleu, securing his place at Roush Racing, driving the No.99 Ford.
What is Kevin Durant's Net Worth?
What is Summer Walker Net Worth?
In his debut race, he landed at an impressive 9th place. Finishing top 10 in his debut race truly put him on the map. Unfortunately, race two did not go quite as planned, with his car running out of fuel when the face was about to end.
At the 2001 Auto Club 200, Busch had the fasted lap time in all the practice sessions. Unfortunately, things took an unexpected turn as the 16-year-old was removed from the race. This sudden removal came after CART FedEx Championship Series announced its sponsorship from Marlboro cigarettes. A bill passed in 1998 stated that anyone under the age of 18 could not participate in events that had tobacco companies as their sponsors. 
After NASCAR also put an age limit on their drivers, Busch had to change platforms. He then joined American Speed Association (ASA) on their national tour. In this, he finished 8th on the points table. Such impressive rankings by such a young race car driver really managed to draw attention to him. It was not long before his career took off. To focus on his career, Busch graduated early from Durang High School in Las Vegas.
Busch's love for NASCAR was certain. As soon as he turned 18, the champion racer joined NASCAR in 2003. He started off as the development driver for Hendrick Motorsports. His first win with NASCAR came at the Nashville Superspeedway. 
Personal Life 
In 2010, Kyle Busch got married to Samantha Sarcinella. The two first met at one of the races, where she ended up being placed in Kyle's car (as part of a PR scheme). However, the two instantly hit it off and were inseparable after that. The couple's wedding was featured on Style Network as well. The two welcomed a beautiful baby boy in March 2015, named Brexton Locke Busch. In May 2022, Samantha gave birth to their daughter Lennix Key Busch. 
Kid Cudi Net Worth 2022: Income, Salary, Career, Bio
Kyle Busch hails from a family of racers. Due to this, people often associate him with his brother Kurt Busch. Kyle received nicknames such as "Shrub" and "Rowdy" over the course of his career. 
Kyle Busch Net Worth and Assets
Being one of the most successful racers in NASCAR undoubtedly comes with its own perks. Over his two-decades-long career, the star racer managed to make a fortune for himself. According to the latest reports, Kyle Busch's Net Worth is currently at an impressive $80 million USD. This net worth makes him the second richest racecar driver. 
 Busch earns $9.6 million USD in salary and an additional $1.6 million USD in endorsement deals from various brands. Moreover, he also owns Kyle Busch Motorsports, which contributes greatly to his overall net worth. 
The two-time championship-winning racer bought a lavish house in North Carolina in 2013, which he later sold for a whopping $7.5 million USD. He also owns multiple cars, including a Chevrolet Corvette, a Toyota Camry, and a Ford Edge.
Yvette Prieto Net Worth in 2022 (Latest Updates)
Busch and his family live a lavish lifestyle. The family goes on extravagant vacations often. Even with their busy schedules, The parents ensure to give ample time to their children.
Kyle Busch NASCAR Milestones and Records
The 37-year-old race car driver is one of the best in the game. Over the course of his career, Busch made several records. Some of Busch's NASCAR records are as follows: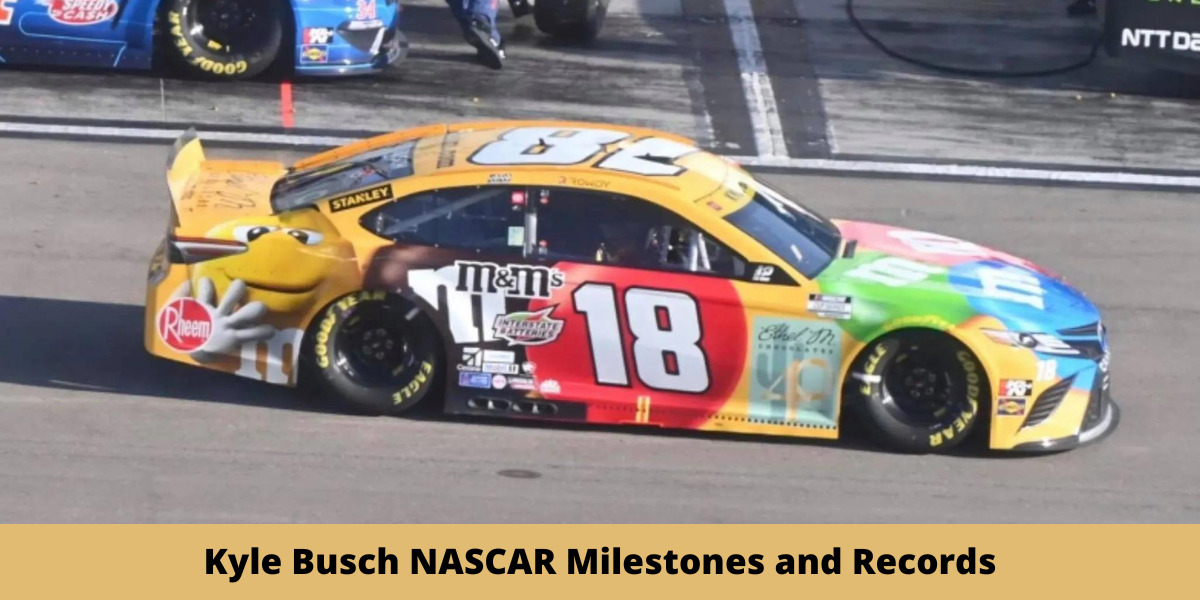 Youngest NASCAR racer to ever win a pole position in a Cup series

Youngest driver to ever qualify for Chase of the Sprint Cup

Record for most races won in a season in the top 3 NASCAR series (24 wins).

Record for most all-time wins in 3 NASCAR touring series (223). 

Record for most Xfinity series win over the course of one season (13 wins).

Record for most overall wins in Xfinity series wins (102).

Record for most overall wins in Truck Series (61 wins).

The only driver in the history of NASCAR to have 60 wins in all of their top 3 series.

Shared record with Morgan Shepherd for consecutive top 10 positions in a race at the beginning of a season (11).

He shared a record with Richard Petty for the highest number of back-to-back seasons with at least one win (18 seasons).

Records for most laps led in the Datona 500 (32 laps).
Furthermore, Busch is one of the only six race car drivers in the history of NASCAR to win the championship in the Cup Series as well as the Xfinity Series. He is also one of the 36 drivers to win a race in all of NASCAR's three formats. In 2009 on his 24th birthday, Busch won the Crown Royal Presents the Russell Friedman 400. He won the Buschy McBusch Race 400, in 2021, on his 36th birthday. In 2010, his company, Kyle Busch Motorsports, won the owners' championship in their very first season, making them the first Truck Series to do so.