Jordan Peele's latest thriller and horror movie 'Nope' made waves with its recent release. It is still going strong at the box office. This brings us to our next question; will we be able to watch Nope 2022 online? Well, it won't be a surprise if the movie lands on some streaming site because of its popularity. But as it is still in the theatres, it seems like it will take time. Below we have summarized the whole thing for you! So, keep reading. 
With the pandemic situation, the world had to adapt in innumerable ways. The filming industry, which had to suffer the most, is thankfully making a recovery now. The hybrid system of movies released in theatres and streaming sites is gradually becoming a foreign concept. This is not good for those who have become too comfortable with watching the best movies from the comfort of their homes. And if you're one such cinephile still hoping to watch Nope online, we have news for you!
How to Watch The Black Phone (2022)
Does "Me Time" Have a Release Date in August 2022?
Is Nope (2022) available for streaming online?
For now, the only legal way you can watch the movie is by watching it in theatres, as Jordan Peele has not signed up any deal confirming its release on streaming sites. So, we are a bit unlucky in this matter. 
But if we look at the bigger picture, it might, in the future, end up on some streaming site. And our best guess is that Peacock will win this battle. Why? Because Nope (2022) is distributed by Universal Pictures, which links back to NBC. And as NBC owns Peacock, this does not seem like a far-fetched idea. But again, there is nothing as a such official for now. So, these are just our speculations. There's usually a trend which Peacock follows. The Universal Picture movies become available for streaming on Peacock after some 45 days. Nope (2022) premiered on 22nd July 2022. Hence, we hope it will make its way to the streaming site in September!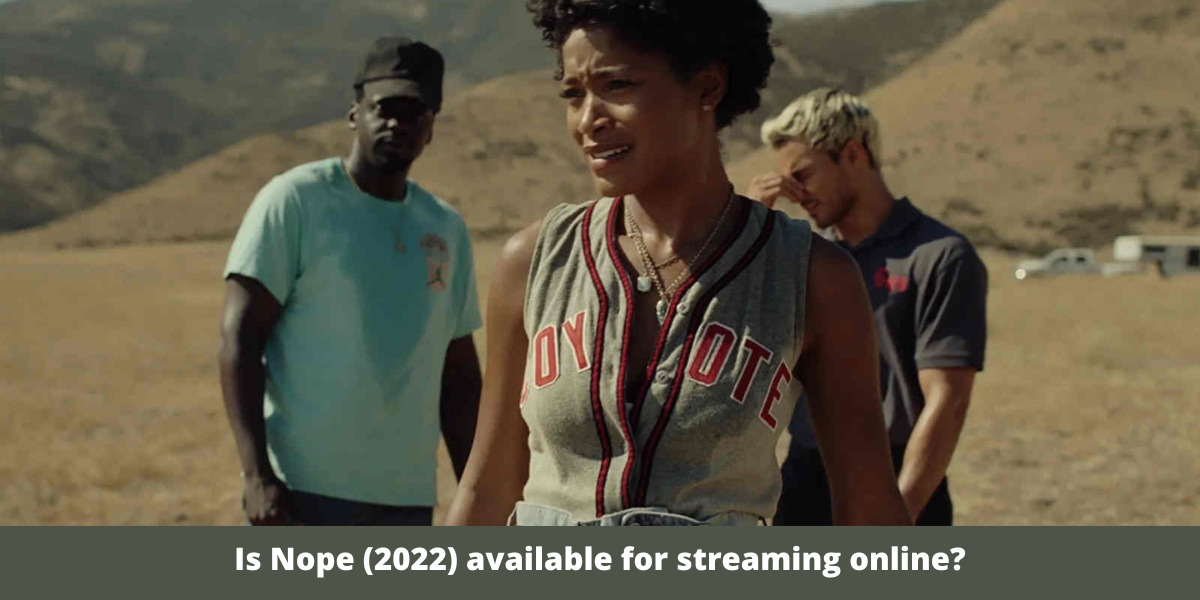 Peacock has multiple subscription plans. It also has a free version, but it seems unlikely for Nope (2022) to be there. Instead, we would recommend you to either choose the Premium or Premium Plus version. The ad-free version costs you a bit more, but it has zero disturbances. At the same time, the other one has ads on it. But the only difference is regarding the ads. The content you'll find on both plans is the same! So, make sure that you make the right choice. We do not know if Nope (2022) will become available on other streaming retailer sites. The same goes for its rental version. So, the situation is a bit uncertain. But we'll make sure to keep this update to date. 
Things Heard and Seen ending explained
Industry Season 2 Episode 3 Release Date and Time on HBO Max
Well, one thing is clear you won't be able to stream the movie online for free! This is if you're going for legal streaming. We do not recommend other ways as they are not encouraging for the film industry. So, waiting until Nope (2022) becomes available online is better. 
Nope (2022) features many mainstream artists, so naturally, it was a hit. It had Daniel Kaluuya, Steven Yeun, and Keke Palmer in the lead. In the movie, they all are siblings who one day come across something bizarre. This is from where everything starts going downhill. Due to the unnatural events in front of their eyes, the trio starts to believe that aliens exist and they have somehow made their way to their land. The perfect blend of horror and sci-fi genre will keep you hooked on your screens. 
Pokémon Journeys Episode 121 Release Date and Time on Netflix
Well, that was everything about how to watch Nope (2022) online! As the movie is still available in cinemas, don't miss out on the chance. Got any more questions? Feel free to drop them down below!