iPhone 14 Pro Max will be Apple's biggest luxury smartphone this year. Four variants of the iPhone 14 series will be out this year. However, of all the iPhone 14 models, the most drastic change will be in its Pro Models, as it will have a massive change in its core and design specifications. Compared to the iPhone 14 Pro model, the other variants of the iPhone 14 will have minimal change. This makes one question the differences between iPhone 13 vs iPhone 14 and whether one should upgrade their smartphone from iPhone 13 to iPhone 14 or not. If you are one of them who is confused about it, we are here to help you. Let us start by understanding the difference between iPhone 13 vs iPhone 14. 
iPhone 13 vs iPhone 14: What's The Difference?
To begin with, iPhone 14 has 4GB RAM, and iPhone 14 will have 6GB RAM. In terms of weight and thickness, iPhone 13 is both lighter and slimmer than iPhone 14. If a smartphone's thickness and weight are crucial for you, then perhaps you should stick to iPhone 13. However, iPhone 13 does not support 5G, but iPhone 14 will support 5G. If in the battle between iPhone 13 vs iPhone 14, 5G has to be a deal breaker, then iPhone 14 is definitely a winner. 
Also, iPhone 13 supports Nano + eSIM. However, for iPhone 14, both SIM support will be for Nano SIM only. The display type of the iPhone 13 is a Color OLED screen, but that of the iPhone 14 is Color Flexile OLED. Now, for many people, the smartphone's size plays a crucial role. The iPhone 14, with its 6.06-inch screen, is slightly smaller than iPhone 13, which sports a 6.1-inch screen. Also, in terms of PPI, the iPhone 13 is better.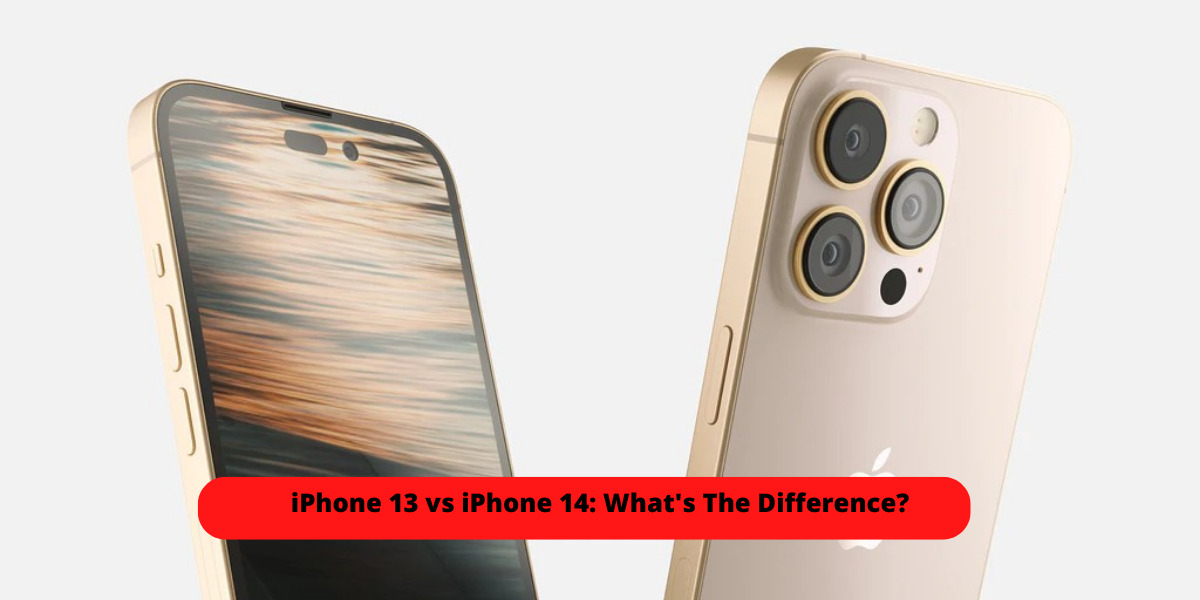 Now, there is not much difference in the camera. The rear camera of the iPhone 14 will support 12 MP wide-angle and 13 MP with autofocus. iPhone 13 sports the same features with a little difference. Its second rear camera comes with a 12 MP lens with auto-focus. Similarly, the front camera of the iPhone '14 comes with 13 MP and Retina Flash, and iPhone 13 supports 12 MP with Retina Flash. 
Android 13 for Nothing Phone 1 delayed to 2023
Project Cambria Will Release Soon Mark Zuckerberg Confirmed
Technical Specification 
iPhone 13 runs on iOS v15, and iOS v16 will power iPhone 14. Both smartphones will run on the same chipset, Apple Bionic A 15, and also, both smartphones will also sport the same CPU, which is a 3.22 GHz Hexa Core Processor. The core details of both smartphones are the same too. 
iPhone 13 and iPhone 14 support fast charging. In terms of battery capacity, iPhone 14 performs a little better with its 3279 Li-ion Battery. The iPhone 13 houses a 3240 mAh li-ion battery. 
Should You Upgrade Your Smartphone to iPhone 14?
If you already have an iPhone 13, there is no real way to upgrade to iPhone 14. It is because there is not much difference in the specifications of both smartphones. Even the iPhone 14 looks almost similar to the iPhone 13. The key features are almost the same, and therefore, if you have recently purchased an iPhone 13, you should wait for more time to upgrade your smartphone when there is a noticeable difference in the specs of the smartphones. However, we do not have the same advice if you want to upgrade your iPhone 13 to iPhone 14 Pro Max. It is because the difference between them is huge. Let us now have a look at the features of the iPhone 14 Pro Max. 
Samsung Galaxy S22 FE Release Date, Features, and Price
Android 13 Release Date, New Features, and How to Install
All About iPhone 14 Pro Max 
According to reports, iPhone 14 Pro Max will ditch the iconic notch. The smartphone will have display cutouts to support the camera, and the Face ID sensor might come in the shape of an exclamation mark. It will sport an LTPO 2 display that comes with a high refresh rate. Furthermore, it will be powered by an A16 Bionic chip, and hence, it guarantees better performance. 
One of the biggest upgrades will be that the main camera will fly a resolution of 48MP. The smartphone will come with a 6.7-inch Super Retina display and also, and the battery will be humongous with a capacity of 4323 mAh. 
However, if you already have an iPhone 13 Pro Max, there is not much of a need to shift because both smartphones are nearly the same in terms of specifications, but you can upgrade from iPhone 13 to iPhone 14 Pro Max. 
Apple iPhone 14 launch Date: Expected Price and Specifications
Wrap Up 
To sum it up, in iPhone 13 vs. iPhone 14 comparison, we found that there isn't much difference between the two. So, you can skip an upgrade.