The Blink-182 drummer is undoubtedly gifted when it comes to music. However, this 46-year-old musician has not had the best of luck with relationships. Many of his fans seem interested in knowing who is Travis Barker dating.
To answer that, Travis Barker was dating the oldest Kardashian sister, Kourtney Kardashian. However, the two got engaged in February 2022 and tied the knot in May 2022. Hence, he is not dating anyone because he made things official with his wife. 
Travis Baker and Kourtney Kardashian's Dating Timeline
Although the pair started dating in 2021, they have been friends for much longer. Barker and Kardashian both lived in the same Calabasas community in California. Moreover, Barker even made occasional cameos on Keeping up with the Kardashians. 
Rumours of Travis Barker dating Kourtney Kardashian started doing the rounds in early January 2021. On Valentine, Barker posted a picture of a woman's ankle wearing a diamond anklet. Many believed this to be Kourtney. Later, Kourtney took to her Instagram to post a short poem about Travis. The poem read,
"Roses are red, Violets are blue, Garlic Bread, Blink-182".
If these hints were not enough, the two made it official when Kourtney posted a picture of them holding hands. 
Are Adam Levine Behati Prinsloo Still Together?
Is Kourtney Kardashian Pregnant?
Since the couple became public with their relationship, the two have not shied away from their PDA. Whether on their Instagrams, on red carpets, or The Kardashians Reality TV series, the two cannot keep their hands off each other.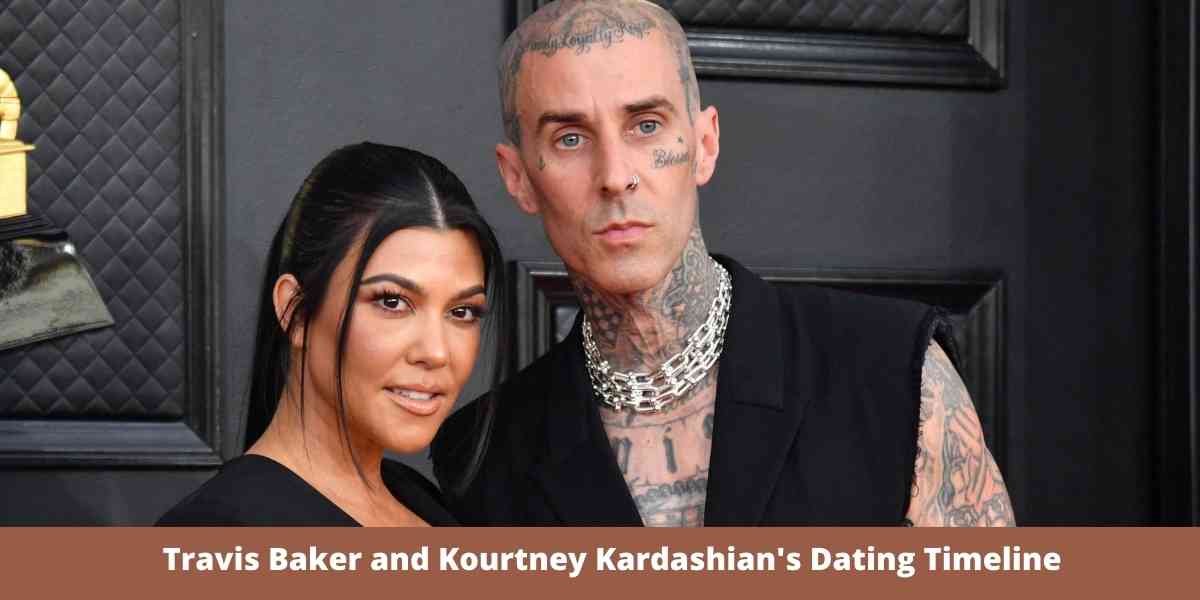 While talking about his lady love at the Drew Barrymore Show, Barker explained that it was much easier to date someone who also had children. Barker has two children from his previous marriage, and Kourtney has three children from her marriage to Scott Disick. Hence, the pair seem to understand each other much better regarding children and the added responsibilities. 
Just a couple of months after making their relationship official, the pair were seen vacationing together with their children at Deer Valley, Utah. According to a source, this vacation strengthened their relationship bond. The same month, Travis also got his lady love's name tattooed on his body. 
Barker and Kardashian's relationship was getting more robust over the months. Hence, Travis proposed to Kourtney on October 17th, 2021, and she said yes! A few months later, in April 2022, Kourtney revealed that the pair had a wedding in Las Vegas. However, this was more of a drunken wedding with no official wedding license. On May 15th, Barker and Kardashian legally exchanged vows in Santa Barbara to fix this. This wedding only included a few close friends and family members. 
A week later, on May 22nd, 2022, the loved-up couple tied the knot again in a beautiful yet intimate wedding ceremony in Portofino, Italy. The venue had thousands of red roses and some of their loved ones in attendance. The wedding celebrations lasted many days. They started with dinner at Ristorante Puny on Friday. Then there was a special lunch at the Abbey of San Fruttuoso on Saturday, followed by a night full of good food and dancing at the Villa San Bartolomeo.
Months after their wedding, the pair seem to be going strong. Barker makes the occasional appearance on Hulu's "The Kardashians." 
Why Did Pamela Anderson And Tommy Lee Divorce After Three Years Of Marriage?
Barker's Dating History
Before marrying Kourtney Kardashian, Barker dated quite a few celebrities. The following is the list of celebrities that Barker dated or was married to:
Melissa Kennedy -the two were husband and wife from 2001-2202

Shanna Moakler -Barker and her tied the knot in 2004 and divorced in 2008. The pair also have two children, Landon Asher Barker and Alabama Luella Barker.

Paris Hilton -the pair briefly dated in 2006 while Travis split from his then-wife, Shanna Moakler. 

Lindsay Lohan -while still married to Shanna, rumours regarding Travis and Lindsay also started doing the rounds. However, Shanna stopped their potential romance before anything could happen. 

Kim Kardashian -Travis admitted to having eyes for Kim before marrying her sister, Kourtney. In 2021, Shanna accused Travis of cheating on her with Kim during their marriage.

Rita Ora -in 2015, Barker dated Rita Ora briefly. The relationship lasted only three weeks before the two parted ways. 
Elon Musk Said Male Characters in the rings of power are 'Coward' or 'Jerk'