With its arrival on our screens, "Tell me Lies" pulled the viewers' heartstrings with the realistic depiction of an intoxicating yet very toxic relationship that more or less damages one to their core. Agree with or not, almost everyone in their life has at least been in a toxic relationship once. And it does not matter whether it happens to be romantic or spiritual, as toxicity, shocking betrayals, lies, and mental and emotional damage can more or less come in different forms and shapes. The vivid portrayal of real-life problems in the said coming-of-age story has made the fans eager to get their hands on the show's every episode as soon as possible, and thus the wait for "Tell Me Lies Episode 9" is no easy task indeed!
Here are all the details you need to know about Tell Me Lies Episode 9; when will it air and at what time, and where to watch it. Check them out now!
Is the Tell Me Lies Episode 9 Release Date Announced?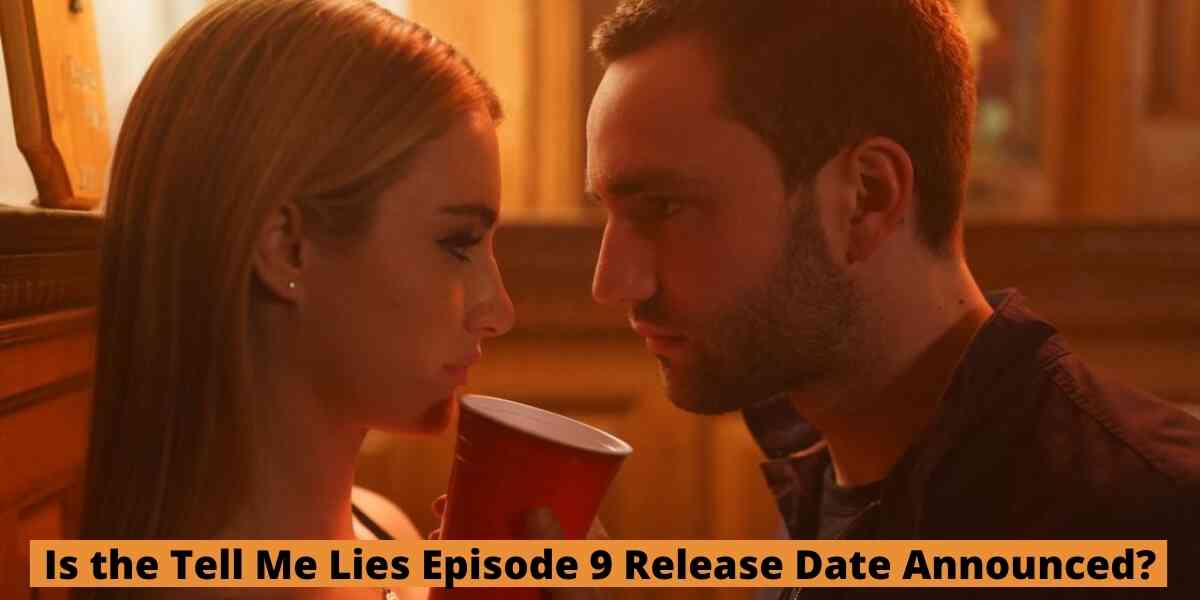 The American drama television series has proven itself to be worth watching with every episode. The multilayered characters who have real-life faults made their stories hit hard at home. Subsequently, making the fans patiently wait for new details to unfold in the upcoming episode as the previous episode left the fans with some newfound information regarding Pipa's troubled past and her ongoing struggles with herself.
Luckily, we do not have to wait too long for it! The release date for Tell Me Lies Episode 9 has been announced:
It is going to premiere on Hulu and Disney Plus (in some selective regions) on Wednesday, October 19, 2022.

The said episode in question is titled "Sugar, We're Going Down Swinging" and is the result of the creative abilities of the writer, Sinead Daly.

It will have a run time of 46 minutes in total.
The first three episodes were officially dropped on Hulu Network on Wednesday, September 7, 2022.
Castlevania Season 5 Release Date, Cast, Plot and Trailer
On What Time Tell Me Lies Episode 9 Will Premiere?
As for the time, it may vary following the platform on which you are watching the series (i.e. Hulu or Disney Plus).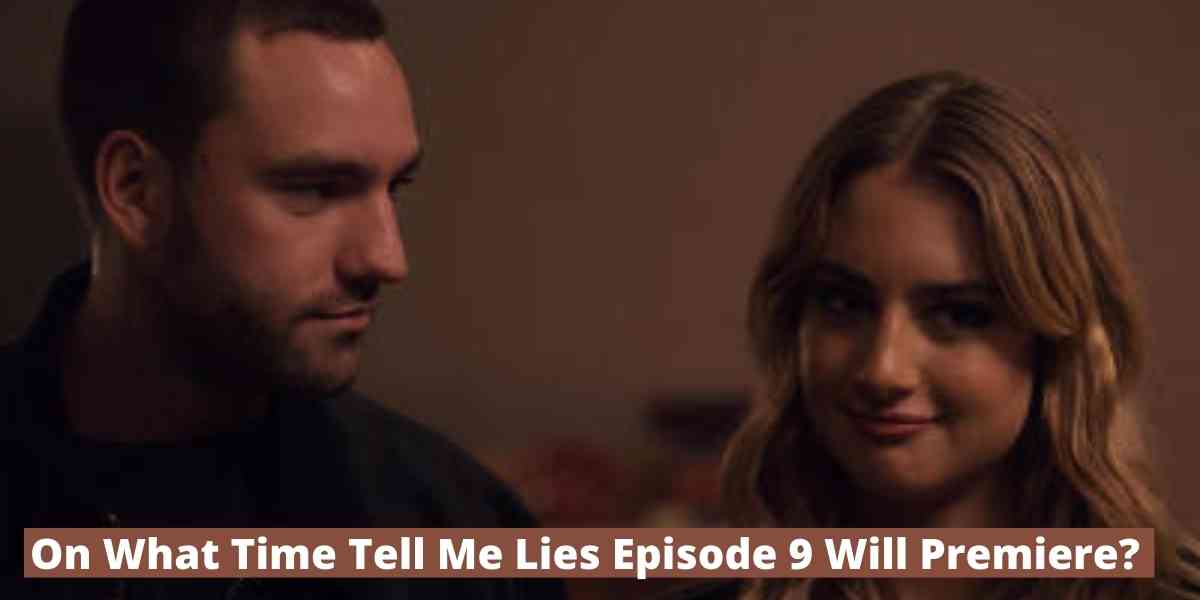 If you are watching the show on Hulu (the original streaming platform), then you can stream the ninth episode live at the following times:
Eastern Time – 12:00 AM

Mountain Time – 03:00 AM

Pacific Time – 09:00 PM
While on the other hand, if you decide to watch it on Disney Plus, then the episode will be exclusively available to people living in Canada, Australia and New Zealand at given times:
Pacific Time – 12:00 AM

Mountain Time – 01:00 AM

Eastern Time – 03:00 AM
As well as at 2:00 PM in Sydney, Australia.
Why Did Criston Cole Kill Joffrey?
How to Watch "Tell Me Lies"?
Helmed by Meaghan Oppenheimer, the heart-wrenching story of a tumultuous romance between Lucy Albright and Stephen DeMarco is based on the writer Carola Lovering's 2018 novel of the same name. 
At present, the television adaption of "Tell Me Lies" is available to watch on:
Its original streaming platform, Hulu Network.
As well as can be streamed on:
Disney Plus (but only in countries like Canada, Australia and New Zealand)
However, it is expected that the show will soon be heading to Disney Plus in other regions, but nothing has been announced yet.
Is There A Season 5 Of In The Dark?
What is "Tell Me Lies" About?
The television series "Tell Me Lies" revolves around the toxic relationship between two college students, Lucy Albright (Grace Van Patten) and Stephen DeMarco (Jackson White), that unfolds over eight years. 
Basically,
It is about that one person, who everyone has had in their life, but apparently can not seem to let go of them even after knowing they are no good for you.

Stephen DeMarco is the said person for Lucy Albright; she sees the red flags from the start but ignores them to be with him.

Ultimately setting herself "down a path that completely derails her."
As the showrunner, Meaghan Oppenheimer, herself shares in an interview with Cosmopolitan:
"Tell Me Lie explores toxic relationships and how we undermine ourselves when we fall for the wrong people."
Thus,
The show addresses a "dynamic" that is "mentally or emotionally abusive" to such an extent that one "begins to accept treatment that you never thought you would accept."

Clearly, the relationship between the two is not an "aspirational" one. 

But, it is instead a "universally relatable subject" that is not talked "openly" about because "it feels shameful."
The show is mainly about toxic love drama, hurt, betrayal, sinister twists, jumbled-up emotions of love and hate and much more.
Cast and Characters:
Given below are the names of the cast members and the characters they are portraying in the said series:
Prominent Cast Members and Characters:
Grace Van Patten

 as Lucy Albright

Jackson White

 as Stephen DeMarco

Catherine Missal

 as Bree

Spencer House

 as Wrigley

Sonia Mena

 as Pippa

Branden Cook

 as Evan

Benjamin Wadsworth

 as Drew

Alicia Crowder

 as Diana
Recurring Cast Members and Characters:
Edmund Donovan

 as Max

Natalee Linez

 as Lydia Montgomery

Tyriq Withers

 as Tim

Gabriella Pession

 as Marianne
Where I can Watch Monster: The Jeffrey Dahmer Story 
What can We Expect from Tell Me Lies Episode 9?
Seeing that the show's eighth episode left the viewers with many shocking details to swallow as a whole. For instance:
Pipa is sporting a facade of the picture-perfect popular girl while being completely dejected inside all along.

As well as her feelings towards her roommate Charlie and the two ultimately making out with each other.

Her revealing a traumatic incident from her past prompted her to adorn the facade of the popular girl when she was utterly lonely on the inside.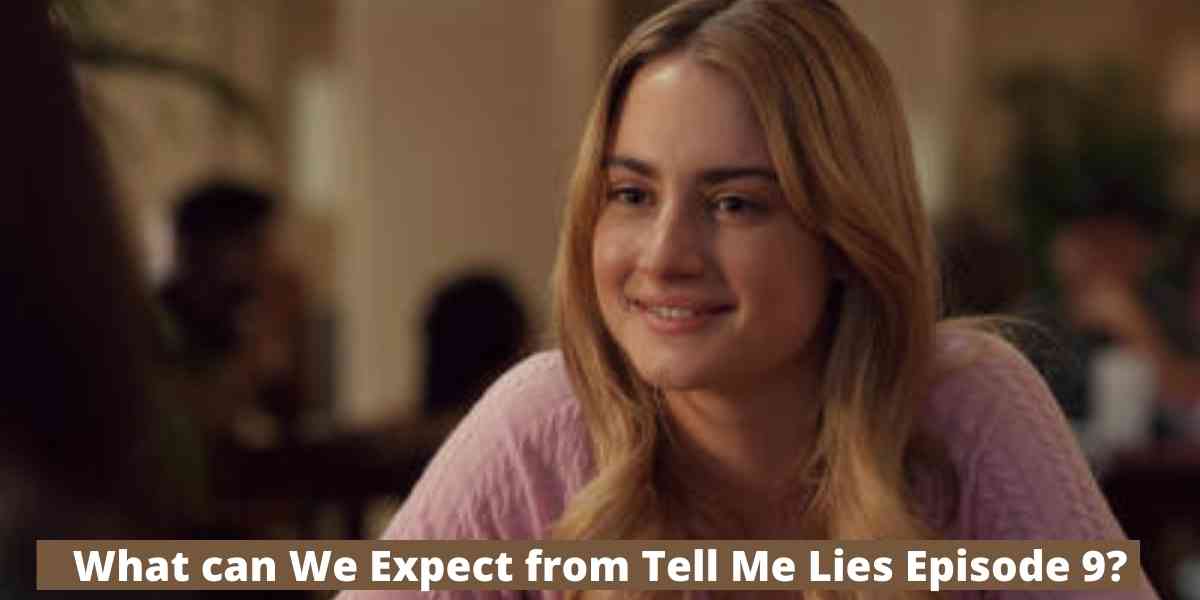 Made one thing clear "Tell Me Lies Episode 9" will probably have Pipa as the centre of attention. The synopsis of the ninth episode proves us nothing but right as we will delve deep into her past. However, it also hints that Pipa would not start a relationship with Charlie in the end and would still go on to date Wrigley as she does not want to hurt him.
Besides that, seeing that it is the second to the last episode, we might also see the following:
Lucy visits Macie's parents and informs them about Drew's involvement in her death – who we saw in the eighth episode is hell-bent on destroying himself.

It may or may not lead him to get arrested and subsequently removed from college, as news gets around the whole campus.

Stephen and Lucy will call it quits as the show will move towards Bree's wedding (I got a glimpse of it in the pilot episode's flash forward)
Tell Me Lies, which is based on Carola Lovering's novel of the same title, follows college students Lucy Albright and Stephen DeMarco who "quickly fall into an addictive entanglement" that "will permanently alter their lives and the lives of everyone" around them, according to Hulu's synopsis.
National Geography reveals The Flagmakers Trailer
Tell Me Lies Episode 8 Recap:
In case you missed Episode 8, we got to see Pipa reveal her darkest secret to Charlie, whom she made out with after hiding her feelings for her for so long:
While discussing her past trauma with Charlie, she unveils that she was deemed an underdog at her school and was constantly mistreated by her classmates. 

Things worsened when her classmates thought it would be best to prank her.

They made her think she has a secret admirer who is madly in love with her as he kept confessing her devotion to her through a fake account.

Sadly she fell for the prank and decided to meet the man but instead became a spectacle in front of the whole school.

 He led her to transfer to another school and spend the next two years in isolation.

Hence, as a result, she created a fake persona that does not allow her to be her person.
Besides Pipa's pivotal moment in the previous episode, 
We also saw Stephen's mother telling him she would no longer pay for his student housing.

Lucy is trying to make Stephen's ex, Diana, jealous.
Overall, the episode was a wild ride, and the next one will be even more interesting than the other.
Tell Me Lies Total Episodes:
The series comprises a total of ten episodes:
Episode 1 – "Lightning Strikes" – Wednesday, September 7, 2022

Episode 2 – "Hot-Blooded – Wednesday, September 7, 2022

Episode 3 – "We Don't Touch, and We Collide" – Wednesday, September 7, 2022

Episode 4 – "Take Off Your Pants and Jacket" – Wednesday, September 14, 2022

Episode 5 – "Merry F*cking Christmas" – Wednesday, September 21, 2022

Episode 6 – "And I'm Sorry If I Dissed You" – Wednesday, September 28, 2022

Episode 7 – "Castle on a Cloud" – Wednesday, October 5, 2022

Episode 8 – "Don't Go Wasting Your Emotion" – Wednesday, October 12, 2022

Episode 9 – "Sugar, We're Going Down Swinging" – Wednesday, October 19, 2022

Episode 10 – Wednesday, October 26, 2022
Tell Me Lies Episode 9 Release Date, Time and Where to Watch:
Tell Me Lies Episode 9 will drop on Wednesday, October 19, 2022, at midnight E/T on Hulu.