Did you know that Sharmeen Obaid-Chinoy will direct the new Star Wars film? Well, after being fresh off the boat from "Ms. Marvel," she is now joining the Star Wars franchise.
Star Wars, an epic space opera multimedia franchise, has never failed to impress its loyal fans with its unique content and the new approach they always aim to bring to its latest projects. More or less, this is also one of the reasons why they are still thriving today, as they strive for versatility, uniqueness and diversity. Hence, selecting great writers and a director to helm the project is crucial as that could make or break the project.
This time around, the franchise decides to travel far and wide to bring in yet another great team for their new film, so that it reaches new heights.
Seeing that the Star War franchise decides to tap into Pakistani-born director "Sharmeen Obaid-Chinoy" to bring in her touch to the project that she has become famous for after helming some of the episodes of the popular "Ms. Marvel" series. 
With Damon Lindelof for Lucasfilm as co-writer and developer for the highly secretive film yet to come.
Here is all that you need to know about it!
Who is Sharmeen Obaid-Chinoy, and Is She Going to Direct a New' Star Wars' Film?
Sharmeen Obaid-Chinoy, a Pakistani-Canadian journalist, filmmaker, activist and, of course, often known as the pride of Pakistan, is now set to helm the new and secret Star Wars film.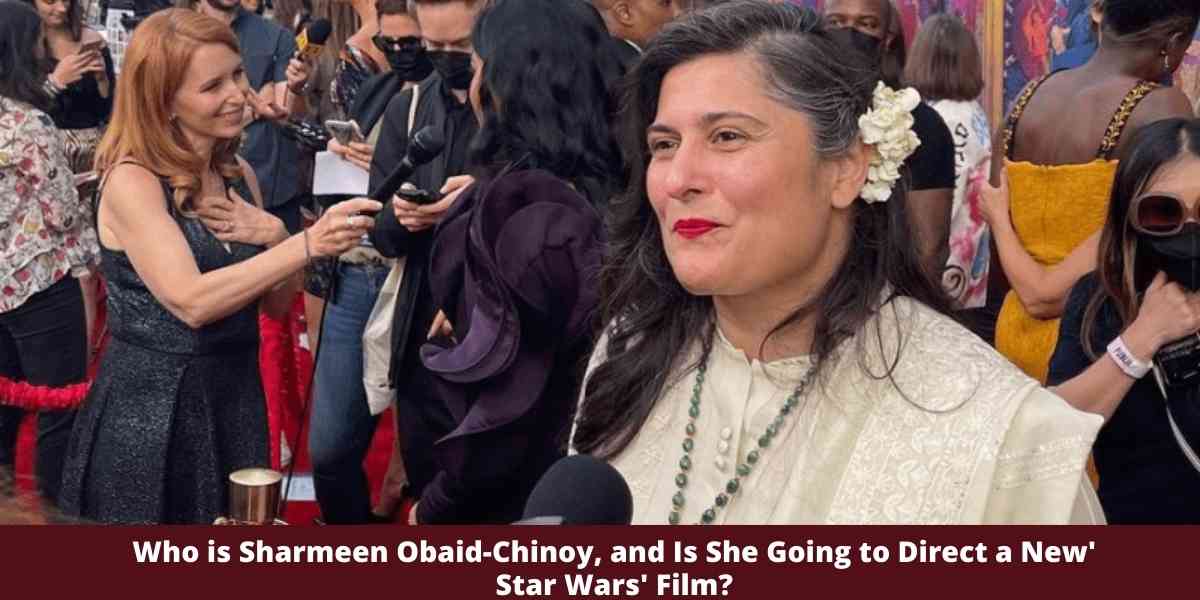 Over the years, she has achieved many awards and accolades in her name, which include:
Two Academy Awards

Seven Emmy Awards

A Knight International Journalism Award. 
Besides that,
The Government of Pakistan honoured her with the second highest civilian honour of the country, "Hilal-i-Imtiaz," in 2012.

She was also named one of the hundred most influential people in the world in the same year.

She is also the first female film director to have won two Academy Awards around thirty-seven.
Some of her most notable works include her Oscar-winning documentary shorts Saving Face', 'A Girl in the River', and 'The Price of Forgiveness.'
Who is Aaron Judge's Wife? Check Every Fact About Samantha Bracksieck!
As well as her recent work in the hit series 'Ms. Marvel is one to talk about, which received great praise from Marvel fans and the Pakistani community.
Is The New Star Wars Film the First
Major
Big Release for Lucasfilm After 2019?
The upcoming star wars film is said to be the first major release for Lucasfilm after their launch of 2019's Star Wars Episode IX: The Rise of Skywalker.
Seeing that the studio became more engrossed in their TV projects that made their debut afterwards. For instance, Disney Plus live-action series like:
The Mandalorian

The Book of Boba Fett

Obi-Wan Kenobi
They also experienced immense success but did not work on any film since 2019 until very recently.
Who is Damon Lindelof, and is He the Co-Writer for the New Movie?
Damon Laurence Lindelof is a famous screenwriter, comic book writer, and producer. He has not only produced 2009's 'Star Trek' but has also produced and co-wrote 2013's 'Star Trek Into Darkness.' And now, he will also be the co-writer of the upcoming Star Wars movie.
Seeing that he already has a deep history with Star Wars, it was not a shock that the franchise chose him as the co-writer for their new project. It is crystal clear that since he is familiar with the Star Wars dynamics, it will be easy for him to work on this project in no time.
Velma is Officially a Lesbian in New Scooby Doo Film
Why did Ryan Grantham Shoot his Mother?
New Star Wars Movie Production:
The details concerning the production of the new Star Wars Movie have been kept entirely secret.
Nobody knows anything about what could be its plot, its potential cast and when it will possibly release.
Are Adam Levine Behati Prinsloo Still Together?
We do not even know who will co-write the script for the film with Damon Lindelof for now. Even Sharmeen Obaid-Chinoy has been brought in early so that she can give her insight into the story and contribute to the film's vision, as per Deadline Hollywood.
Wrap Up:
Overall, there is nothing much known about the film except who is the director and the co-writer for now.
Thus, we will have to wait till we have some official news from the stewards of the franchise.