As the animation series continues, the fans cannot contain their excitement for Blue Lock Episode 11, especially with the tenth episode ending on a brutal cliffhanger.
The story is set in 2018 when Japan placed 16th in the Fifa World Cup. Determined to gain back their prestige in the sport and bring the trophy home, the Japanese Football Union hires Ego Jinpachi to train a striker who will complete this task. Jinpachi comes up with a regimen named Blue Lock to introduce a footballer to greatness. The show's main character, Isagi, is a high school footballer who has yet to find his playing style. In his search for it, he opts for the program and becomes the greatest striker one has ever seen.
Blue Lock Episode 11 Release Date
Blue Lock Episode 11 is set to release on 18 December 2022 in Japan. Following are the timings it is being released in other regions:
Pacific Daylight Time: 8:30 AM (17 December 2022)

Central Daylight Time: 10:30 AM (17 December 2022)

Eastern Daylight Time: 11:30 PM (17 December 2022)

Indian Standard Time: 10:00 PM (17 December 2022)

Japanese Standard Time: 1:30 AM (18 December 2022)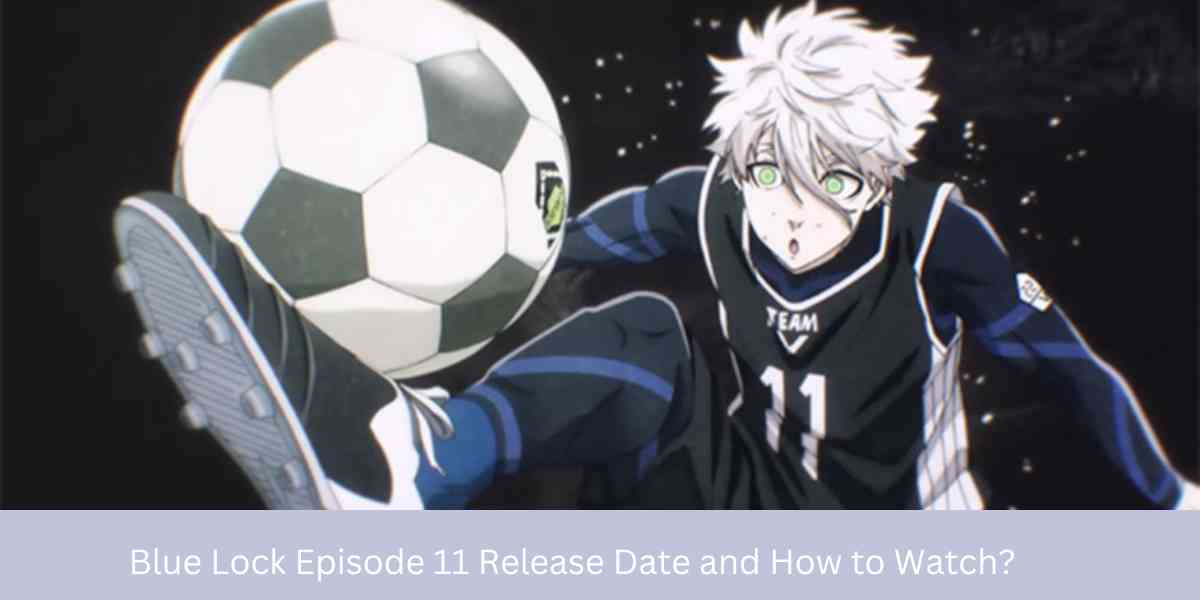 Where to Watch Blue Lock Episode 11
Fans can find Blue Lock Episode 11 and many other future episodes of Blue Lock on Crunchyroll.
Blue Lock Episode 10 Recap
In the tenth episode, we see Team Z regain their form and score a third goal to come to a tie against Team V. Both teams are under immense pressure to perform their best. As soon as Team Z scores the third goal, Nagi, in his rigor to prove his worth, scores a goal for Team V leading to the score of 4-3, with his team in the lead. With the support of Raichi, Team Z also tries their absolute best to win and score a goal, leading them to achieve their fourth goal too.
With very little time remaining in the match now, both the teams are now pushed to their limits as they know whichever team scores next will take home the win. Additionally, because of the foul committed by Kuon to get his team another fighting chance, Team V receives a free kick. However, it fails to land them a goal. As the episode nears its end, we see the ball is now in possession of Isagi, and the fate of his whole team depends on this goal.
Blue Lock Characters
Yoichi Isagi (潔 世一, Isagi Yoichi) voiced by Kazuki Ura

Meguru Bachira (蜂楽 廻, Bachira Meguru) voiced by Tasuku Kaito

Rensuke Kunigami (國神 錬介, Kunigami Rensuke) voiced by Yūki Ono

Hyōma Chigiri (千切 豹馬, Chigiri Hyōma) voiced by Soma Saito

Wataru Kuon (久遠 渉, Kuon Wataru) voiced by Masatomo Nakazaw

Jingo Raichi (雷市 陣吾, Raichi Jingo) voiced by Yoshitsugu Matsuoka

Yūdai Imamura (今村 遊大, Imamura Yūdai) voiced by Shōya Chiba

Gin Gagamaru (我牙丸 吟, Gagamaru Gin) voiced by Shugo Nakamura

Asahi Naruhaya (成早 朝日, Naruhaya Asahi) voiced by Daishi Kajita

Okuhito Iemon (伊右衛門 送人, Iemon Okuhito) voiced by Ryūnosuke Watanuki

Guru Igarashi (五十嵐 栗夢, Igarashi Gurimu), voiced by Aoi Ichikawa

Ryōsuke Kira (吉良 涼介, Kira Ryōsuke) voiced by Kenichi Suzumura

Jinpachi Ego (絵心 甚八, Ego Jinpachi) voiced by Hiroshi Kamiya

Anri Teieri (帝襟 アンリ, Teieri Anri) voiced by Eri Yukimura

Shouei Barou (馬狼 照英, Barō Shōei) voiced by Junichi Suwabe

Zantetsu Tsurugi (剣城 斬鉄, Tsurugi Zantetsu), voiced by Kazuyuki Okitsu

Seishirō Nagi (凪 誠士郎, Nagi Seishirō) voiced by Nobunaga Shimazaki

Reo Mikage (御影 玲王, Mikage Reo), voiced by Yuma Uchida

Ikki Niko (二子 一揮, Niko Ikki) voiced by Natsuki Hanae

Junichi Wanima (鰐間 淳壱, Wanima Junichi) voiced by Ryōta Suzuki

Keisuke Wanima (鰐間 計助, Wanima Keisuke) voiced by Ryōta Suzuki

Sae Itoshi (糸師 冴, Itoshi Sae) voiced by Takahiro Sakura