Ever since the first season ended, fans have been looking forward to and inquiring about The Peripheral Season 2. The science-fiction show, with its intense storyline, has completely enamored the fans. It is based on a book of the same name by William Gibson. It features Flynne Fisher as she travels into the future, which showcases a completely different world. This new world introduces her to a new alternate universe that is much darker and more villainous.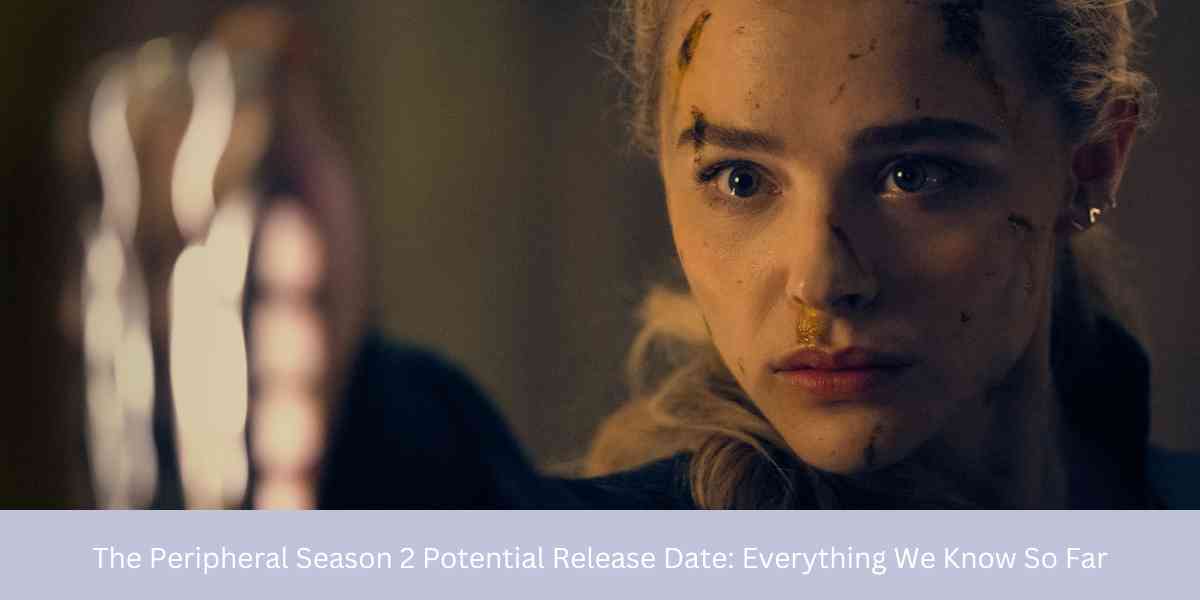 The Peripheral Season 2 Release Date
There has been no official announcement from the production company Amazon when The Peripheral Season 2 is going to be released. However, both the show's creators and cast have expressed their absolute willingness for an addition of a second season to the series.
Joy even stated: "I would love to have season two and season three and all the seasons in the world to explore this amazing, amazing novel. I know we've already started brainstorming about season two in the hopes that we get a season two, and the world only gets more vast and complicated."
Expected Plot And Speculations
It is obvious that when the second season airs, Burton will not be happy when he uncovers the truth about the death of Flynne. There have been suspicions that the Met Police is behind Flynne's death. However, it will not take long before it is revealed that Conner is the killer.
There is also no guarantee that Flynne's attempt to stop the Jackpot worked. Even though she was successful in stopping Cherise from destroying the data that had been implanted in her mind, which is to say the threat of impending doom has been avoided completely?
There are speculations that Cherise may still be adamant about deleting all that data from Flynne's mind. Cherise also has other hands full right now with trying to hunt down the new timeline version of Flynne. This new version has remains of data from the original Flynne's DNA. Flynne's partnership with inspector Ainsley might be useful. This means Flynne may be better protected from Cherise and her unmatched desire to wipe out the data.
It is also going to get confusing from here onwards as there will now be two versions of everyone: Flynne, Burton, Conner, and Tommy. Especially with the two groups of versions under very different circumstances, things are going to get a lot more hectic.
These versions might now also have to deal with Lev as he finish all of them off to protect himself.
Tommy believes that he has killed off Pickett to save his groupmates, Flynne and Burton. However, we get to know that Pickett is indeed not dead. Now, this, of course, creates more problems and dilemmas for Tommy. This means Tommy has only two options; to let Pickett live or to murder him.
Furthermore, Tommy is not the only one who will be drowning in guilt in the new season. As Jasper drugs all the men out of vengeance and leaves them to die, he soon comes to regret this. However, what has happened cannot be changed, and he will now have to deal with the consequences of his actions.
With Aelita's return, Wilf now also learns how most of his memories of the past have been suppressed because of the implant. These memories contain secrets about important events, such as the massacre of millions by Klept, including his own family. Furthermore, now the duo, too, is after Flynne's implant, as it contains important pieces of information that can help them bring Klept down.
The Peripheral Season 2 Cast
The cast of the show has managed to completely capture the hearts of the viewers, and there is a good chance almost all of them will be returning to the audience's screens for a second season. Some of this cast includes:
Chloë Grace Moretz as Flynne Fisher

Gary Carr as Wilf Netherton

Jack Reynor as Burton Fisher

JJ Feild as Lev Zubov

T'Nia Miller as Cherise Nuland

Louis Herthum as Corbell Pickett

Katie Leung as Ash

Melinda Page Hamilton as Ella Fisher

Chris Coy as Jasper Baker

Alex Hernandez as Tommy Constantine

Eli Goree as Conner Penske

Charlotte Riley as Aelita West

Alexandra Billings as Inspector Ainsley Lowbeer
The Peripheral Season 2 Trailer
The second season of The Peripheral does not have a trailer so far. However, this is not shocking because the first season just ended. Moreover, with so much going on, fans also need time to digest whatever has happened in the series till now.