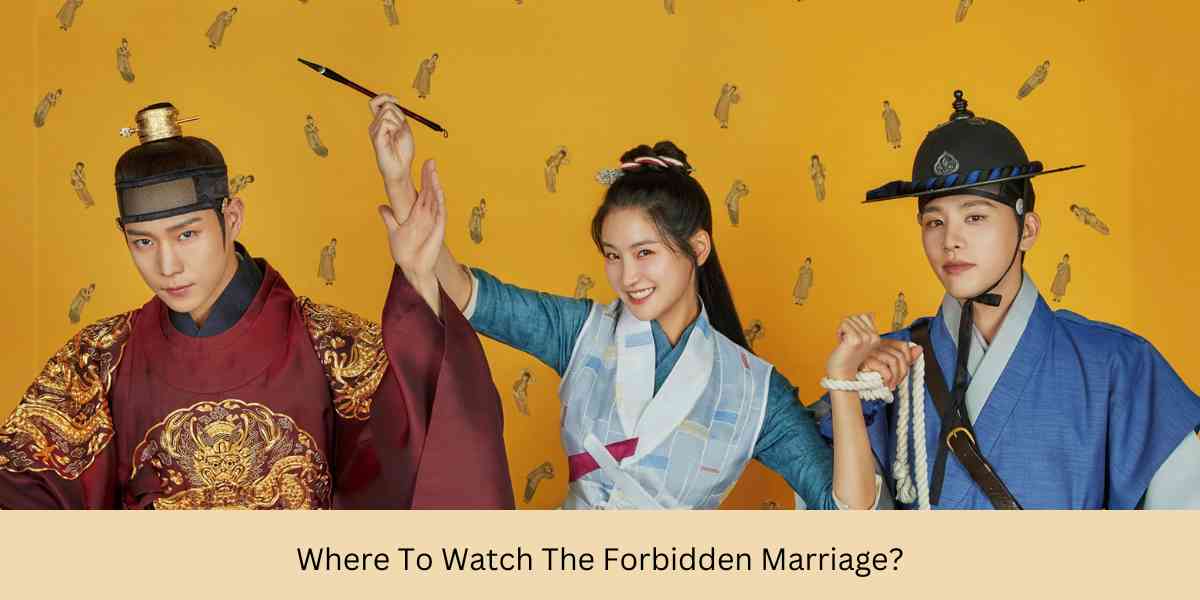 You can watch the episodes of this upcoming phenomenal Korean drama, 'The Forbidden Marriage,' on MBC in Korea. The episodes will also premiere on a Korean streaming service, Rakuten Viki. Every week on Friday and Saturday at 22:00, this show will get premiered. Check out the article if you want to know more about The Forbidden Marriage.
After the trailer release of The Forbidden Marriage, a fan of Korean dramas become crazy over it. They desperately want to know where to watch The Forbidden Marriage. Here are the details of this upcoming drama, including the release date, cast, and storyline.
Story Line:
The show will have 12 episodes in total. The story revolves around Lee Heon, the King of Joseon, and Ye So-Rang, apparently possessed by the King's late wife. The King's beloved wife died seven years ago; since then, King is not over the loss of his wife. He is not remarrying despite the numerous efforts of the Royal Family and government. Since the King was not marrying, the government implemented a nation with a geumhonryung edict, which suggests that no single woman could get married during the period King remained unmarried. This ban made the people furious, and they desperately wanted the King to get married.
Plot:
Later on, a woman named Ye So-Rang claims that the spirit of the King's late wife exists within the palace. She claims to be a swindler and an interpreter of marital harmony signs. At this news, she got arrested and prisoned. She was jailed under the charge of Officer Lee Shin-Won. To escape her plight, Ye So-Rang pretended to be possessed in front of the officer. During her gambit, she appeared to be possessed by the King's late wife and said she was roaming around the Royal palace. At this news, the King became hopeful and asked her if she could see his beloved wife's ghost. Ye So-Rang again tricked everyone as a possessed soul. She stretches out her lies more and more as the story proceeds to survive.
The Forbidden Marriage Cast:
The Forbidden Marriage is based on a web novel by Chun Zi Hye named 'Geumonryung, Joseon Honin Geumjiryung.' The drama's creators are Sang Woo and Jung Hoon, and Park. The screenwriter is Cheon Ji Hye. There are three stars in the show. Kimm Young Dae portrays Heon, Ju Hyun plays Ye So Rang, and Kim Woo Seok acts as Lee Shin Won.
Kimm Young:
A popular junior high school drama, Extraordinary You, made the onscreen actor Kimm Young famous. He started his career as a model and modeling for different favorite designers. At Dior Homme's show, he was the first Asian model to model in the show. He has acted in 4 films, several series, web series, music videos, and theatres.
Ju Hyun:
Ju Hyun is a 28-year-old Korean actress who gained popularity from a tvN's television film Drama Stage season 3: My wife's bed. Her first lead role was in Netflix original series 'Extracurricular' in 2020. She has acted in 4 films so far. And recently starred in 5 television shows, including 'Love All Play' and 'The Forbidden Love.' Ju Hyun did one web series and hosted the 5th Asia Artist Awards in 2020. In Forbidden Marriage, her acting is natural and most admirable to the fans of Korean dramas.
Kim Woo-Seok:
Kim Woo-Seok is a South Korean actor under a company name Alien. He is famous for his roles in shows like Rookie Cops and Love Playlist. His most recent and renowned series is Military Prosecutor Doberman. He acted in eight television series, including 'A Piece of Your Mind' and 'Drama Stage.' He did four web series and four musical theatres.
When will The Forbidden Marriage premiere?
The show will stream on different streaming websites all over the world. Fans worldwide can watch The Forbidden Marriage at these hours and days:
British Summer Time: 12.50 pm (Friday and Saturday)

Indian Standard Time: 6.20 pm (Friday and Saturday)

Singapore Standard Time: 8:50 pm (Friday and Saturday)

Philippines Standard Time: 8.50 pm (Friday and Saturday)

Japanese Standard Time: 9.50 pm (Friday and Saturday)

Australia Eastern Daylight Time: 11.50 pm (Friday and Saturday)
Episode Schedule of The Forbidden Marriage:
Episode 1 Fri Dec 09, 2022

Episode 2 Sat Dec 10, 2022

Episode 3 Fri Dec 16, 2022

Episode 4 Sat Dec 17, 2022

Episode 5 Fri Dec 23, 2022

Episode 6 Sat Dec 24, 2022

Episode 7 Fri Jan 06, 2023

Episode 8 Sat Jan 07, 2023

Episode 9 Fri Jan 13, 2023

Episode 10 Sat Jan 14, 2023

Episode 11 Fri Jan 20, 2023

Episode 12 Sat Jan 21, 2023
So, these were all the details available of the most popular Korean show, The Forbidden Marriage.