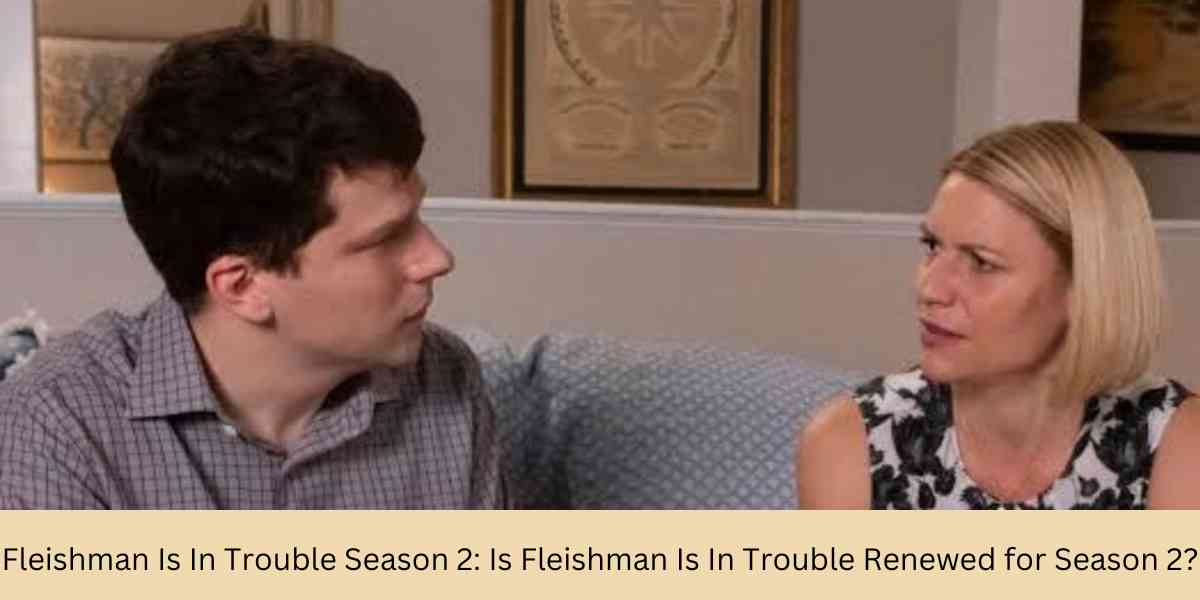 The Fleishman Is In Trouble Season 2 is Renewed? Will the Fleishman is in Trouble season 2 give a new introduction to Brodesser-Akner's 2019 best-selling book? Well, we cannot predict the future but let us warn you that once you start watching the series, you cannot stop. The plotline is addictive, to be honest, since it does have a sense of reality. With the class-apart acting and intriguing plotline, it took no second chance for Fleishman is in Trouble to become a highly-regarded title. The first season is still sitting fresh in the minds of the audiences. But what about the Fleishman in Trouble season 2? Is there any positive news that we fans can expect?
 We can understand your curiosity because we are equally waiting to find details about The Fleishman in Trouble season 2. It hasn't been easy to gather this exclusive news set, but here we bring the latest updates. Read below!
Release Date: Did The Series Get Renewed?
 As of writing this article, the Fleishman is in Trouble season 2 didn't get renewed, and the makers have not finalized the air date. The first season came out only recently, on 17th November 2022. However, before the Fleishman is in Trouble, season 2 makes it to the screen, and season one needs to wrap up. It is currently streaming on Hulu, and the series is getting positive feedback. The series will end after streaming all eight episodes, and the finale will happen on 27th December 2022. But please note that this release date is for U.S. audiences. The first season of the Fleishman is in Trouble and will be available to U.K. fans on 22nd February 2023, and Disney Plus has the right to stream it.
There is very little chance of getting a renewal. This is because Fleishman is in Trouble is a limited series which means the show will conclude the storyline in one season. It is unlike any other series that continues for several seasons. Thus, the same will likely happen with the Fleishman in Trouble, and it will bid you an early farewell.
 However, there can be changes in the decision if the showrunners agree. Limited series like The White Lotus, Big Little Lies, and Mare of Easttown were going to be a one-time thing. But after massive success, the creators thought it was only fitting for them to extend the series for the audience. Hence, it would help if you waited for the finale episode of Fleishman is in Trouble to review the audience's reception. If all things turn out to be positive, IT may release around 2024.
What Can Be The Plot?
The Fleishman in Trouble presents you with 41-year-old Toby Fleishman, a doctor, a parent, and an ex-husband. After separating from his wife, Rachel, he is trying to settle into a new dating scenario. Though Rachel was his first love, he never got to enjoy the other parts of life he so desperately dreamt of. Thus, after Rachel's departure, he was ready to reap the benefits of Manhattan's sexiest available physician. But one day, Rachel leaves behind the kids, Hannah and Solly, with Tobu and disappears.
This disrupts Toby's plan of finding happiness in his single life, and now he is looking for the truth behind his ex-wife's disappearance. However, as the episodes unfold, we see how Toby tries to see Rachel's perspective about why their marriage didn't work. He also gets to reconnect with his old friends as the series progresses. We do not know how the season will end. But if the season leaves plot the season 2, then it will be an exciting catch. The season 2 plotline will follow the same path.
The Fleishman Is In Trouble Season 2 Probable Cast
 Hopefully, there will be no change in cast, and Jesse Eisenberg will reprise as Toby Fleishman. Plus, Claire Daines impresses us with her character of ex-wife Rachel. Maxim Jasper and Mesara Mahoney are the couple's children. Lizzy Caplan, Joy Suprano, Josh Radnor, and Michael Gaston are a few other actors who left an impact.
Final Words
The finale is coming soon! Only after that can we get an update. What are your guesses? Do you think the Fleishman is in Trouble season 2 will be in the making?