The wait is finally over! Season 10 of Dirty Jobs will premiere on Sunday, December 11 at 8 PM ET/PT on Discovery Channel. 
Are you unhappy with your job? This American reality TV series may give you contentment as the host. Mike Rowe takes on all sorts of disgusting and challenging assignments. From coal mining to cockroach breeding, Rowe does it all!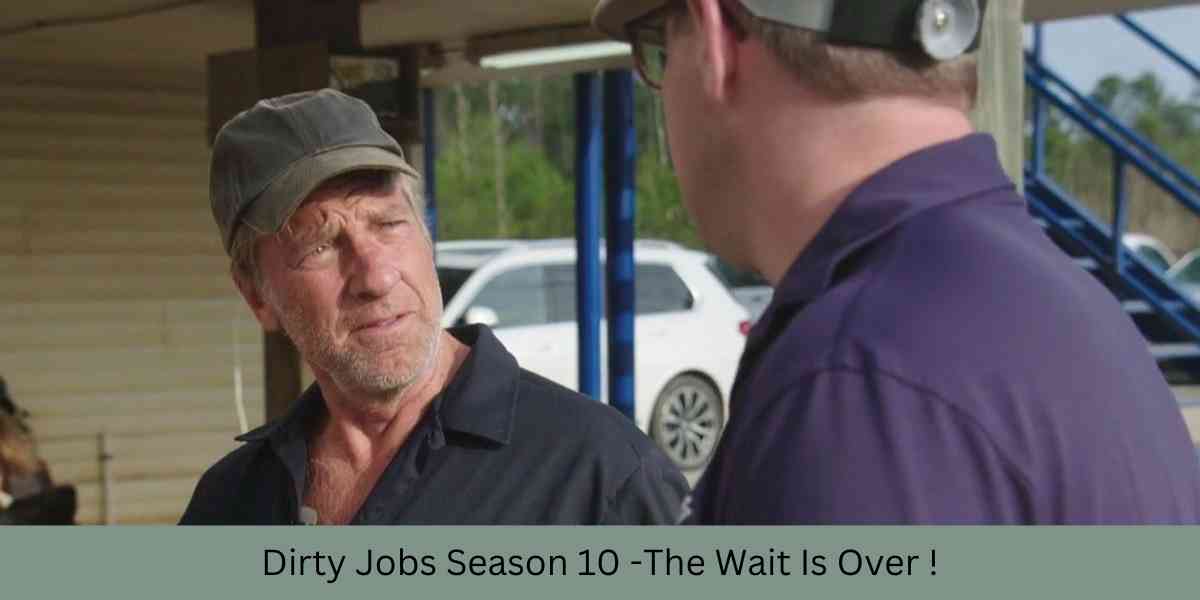 What can you expect from Season 10 of Dirty Jobs? 
Expect the unexpected! Dirty Jobs, Season 10, will make you lose your mind. Mike Rowe has given a sneak peek from the upcoming season as he hums with Christmas bells in a must-watch promo:
 "Dirty Job is back on TV every Sunday night with a new episode. Lots of poop and PPG; it's great to be back on the Road, Soaking fevers, swinging cleavers, cleaning pools, making fuel, and fixing cats… Dirty jobs are disgusting every Sunday night. That's a fact! "Further, he sings: "Dirty jobs are still repulsive; every episode is brand new." And he warns his viewers. "Watching is compulsive even when you see someone spew." He ends his lyrical song with a disgusting note "It is a bar of soap; it is made of hair! You get the idea; see you on Sunday."
The Dirty Jobs promo has raised the hope that Dirty Jobs Season 10 will be the best Christmas gift ever. The newsroom page of Warner Bros. Discovery also reveals the thrilling details about the show. Mike will travel to different places in America to discover, experience, and feel what people are doing those jobs think.
Jobs Mike will be doing in Dirty Jobs Season 10 
Pool Liner Fixer: He will travel to West Palm Beach with Dan, Dave, and Juan Pablo — the three pool specialists who will lead Mike into the dirtiest pool in America to clean 17 years of accumulated filth.

Hotel Soap Recycler: He will meet with Shawn Seipler and Carlos Anderson, the "Soap Whisperer," in Orlando. They will collaborate on recycling soap for donation to people in need.

Beaver Relocator: He will travel to Utah to save municipal infrastructures while positively impacting local ecosystems by trapping and killing urban nuisance beavers.

Deer Urine Farmer: He will bottle the farm-raised deer urine and then sell it to Illinois hunters. He will discover feces from a new species of deer.

Manhole Rehabilitator: Mike will descend into an old maintenance hole in Tennessee to Stop the Sewer from Overflowing.

Feral Cat Fixer: In Texas, Mike will herd cats to control local feral cat populations by capturing, neutering, and releasing them.

Aquatic Necropsy: Mike will assist with the dolphin autopsy by diving elbow-deep into a deceased bottlenose dolphin to determine the cause of death. Consequently, it will help biologists further understand the species in the wild.

Pile Jacketing: Mike will work waist-deep in a river to strengthen the crumbling infrastructure of a damaged bridge in Pensacola.

Spice Maker: Mike will visit his hometown, Baltimore, to make up for an old error and finally learn the secret recipe of Maryland's most popular crab spice mix.
Season 10 of Dirty Jobs will be educational, daring, and just as entertaining as the previous seasons.
What Fans Are Saying About Dirty Jobs Season 10
2.2 M people like the Facebook page of Dirty Jobs with Mike Rowe. There were over 500 comments on the announcement post thread of Dirty Jobs Season 10. Many fans expressed their excitement and love for the show: 
"This show is the reason I signed up for discovery+."

"Love it! I got a fever, and the only prescription is more Dirty Jobs with Mike Rowe."

"I can't wait. I've seen every episode a million times."

"I am very excited to watch it!"
Mike Rowe on His Return to Dirty Jobs 
According to the Discovery Channel site, when asked about the return of this iconic series, Mike Rowe quotes The Godfather, "Just when I thought I was out." He thanked his fans, "they pulled me back in! Hundreds of letters from loyal fans have been flattered over the last year urging me to reboot the series." Moreover, he asserted his motive to encourage "hardworking Americans who aren't afraid to get dirty."
This sets Mike Rowe apart from other hosts: his belief that there is dignity in all jobs. Moreover, Mike's spirit inspires The Homewood Suites hotel in Glastonbury, CT, to pledge a donation for the show, Dirty Jobs, Season 10, as they tweeted: "Mike Rowe will take on the job of Hotel Soap Recycler! We are proud to donate to this wonderful program in Glastonbury, CT!"
Christmas present from Mike Rowe
Christmas is right around the corner! And Mike Rowe is here with a thriller present for you: Dirty Jobs, Season 10. Make sure to tune in to Discovery Channel every Sunday to watch all the action unfold!