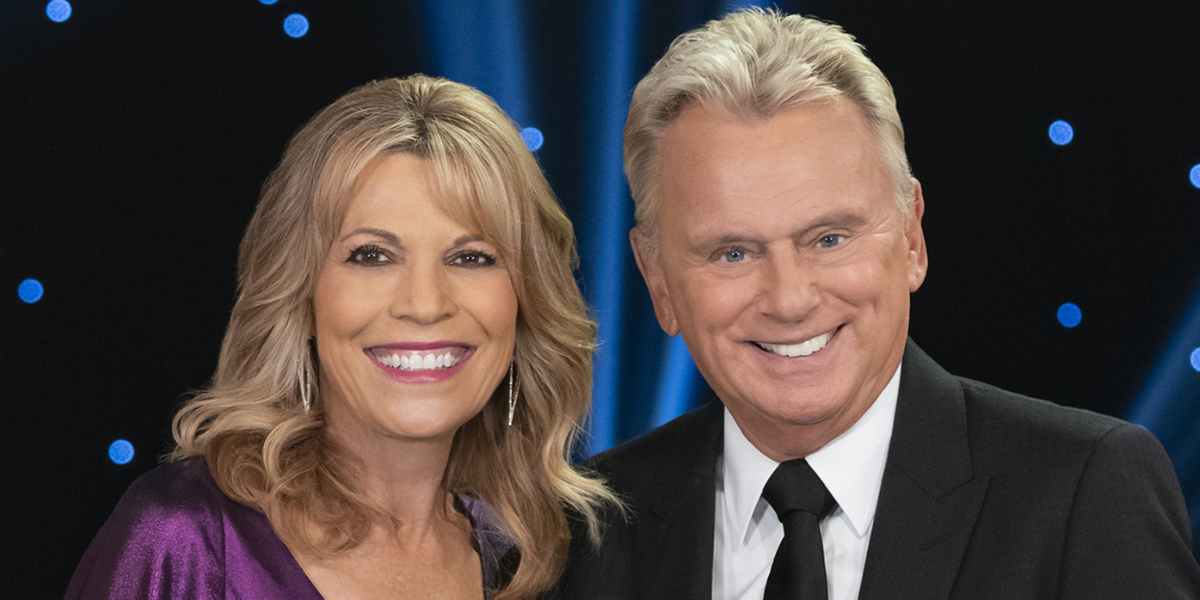 Who is the Wheel of Fortune's Host? 
Pat Sajak and Vanna White have hosted the game show Wheel of Fortune since its syndicated version began. Even though the original show has had quite a few hist and hostess changes, Sajak and White have long remained on the front and hosted it.
Pat and Vanna's Early Life
Pat Sajak was born on 26th October 1946, in Chicago, Illinois. He graduated from Farragut High school in 1964. He then went on to study at Columbia University, Chicago. Moreover, as he was working, he worked as a desk clerk at Palmer House hostel. He served as a Specialist 5th Class in the U.S. Army from 1968-1969.
During the Vietnam War, he was a disc jockey for the American Forces Vietnam Network.
Vanna Marie Rosich was born on 18th February 1957 to parents Joan Marie (Nicholas) and Miguel Angel Rosich. She was born near North Myrtle Beach in Horry County, South Carolina. After her parent's divorce, he stayed with Joan and her second husband, Herbert White Jr. After completing high school, she graduated from The Atlanta School of Fashion and Design and started working as a model. She moved to LA in 1979 to pursue a career in acting.
Pat and Vanna's Career
Pat Sajak started his career working as a weatherman for KNBC-TV. Before that, he was an anchor for NBC's Today's Show. In early 1980, Sajak turned around his life when he accepted the offer to host the game show Wheel Of Fortune. Sajak quickly rose to popularity due to his quick wit and got requests to host many other shows.
He hosted shows such as Larry King Live as a replacement for Larry. He hosted a late-night talk show alongside Dan Miller. Moreover, he became a regular substitute for the show Live With Regis And Kelly. He also hosted plays such as Pat Sajak Weekend and Pat Sajak Baseball Hour.
He also hosted many other game shows, such as Dream House, Just Men!, and Match Game-Hollywood Squares Hour. He has also appeared in many sitcoms as a guest appearance and cameos. Furthermore, he has also played minor roles in media works such as films.
Vanna participated in the beauty pageant Miss Georgia USA in 1978. She started her game show career when she took part in an episode of The Price Is Right in 1980. Moreover, she starred in minor roles in media works like Gypsy Angels, Looker, and Graduation Day. She appeared in a Playboy pictorial in 1987. The same year, she also released her autobiography Vanna Speaks!, which became a best-seller. She has also made cameo appearances in works such as 227, Simon and Simon, Full House, The King of Queens, LA Law, Super Show, The Final Insult, Double Dragon, and much more.
In 2006 she was honored with a star on the Hollywood Walk of Fame. She appeared on a May 2022 episode in the seventh season of RuPaul, Frag Race: All Stars. In this episode, all the participants wore outfits paying tribute to her past looks. She kick-started her career in 1982 when she began hosting Wheel of Fortune. She is also a substantial real estate investor. Moreover, she has her line of yarn called Vanna's Choices, endorsed by Lion Brand Yarns.
Who is the Wheel of Fortune's Host: Pat and Vanna's Personal Life
Pat married photographer Lesley Brown-Sajak. The pair has a son born on 22nd September 1990 named Patrick Michael James Sajak. They later also had a daughter Maggie Marie Sajak who was born on 5th January 1995. Sakai is also a Republican and has spoken for the Conservative Party. He expresses his conservative views through podcasts, magazines, and blogs. Pat is also a massive baseball lover and has invested in the Golden Baseball League. Sakai also has health concerns and underwent intestinal surgery.
White dated and eventually got engaged to Playgirl centerfold John Gibson in the 80s. Unfortunately, Gibson suffered a brutal death in a plane crash in 1986. Later, in December 1990, White married restaurant owner George Santo Pietro. Adding to her misfortunes, Vanna lost her first child due to a miscarriage in 1992. In 1994 she got pregnant again and gave birth to a son Nicolas.
Later in 1997, she gave birth to a daughter Giovanna. Unfortunately, the couple divorced each other in November 2002. From 2004 to 2006, she found herself in a relationship with a businessman. Michael Kaye and later also got engaged. However, the relationship did not last long, and the two never recited their vows. Vanna has ever since 2012 been in a relationship with contractor John Donaldson since.