Who knew sprinkling salt on steak could make you a millionaire? Well, this is exactly what happened for the viral sensation Salt Bae. His unique way of sprinkling salt and charismatic style made his videos go viral overnight. Until and unless you've lived under a rock for the past few years, you already know who Salt Bae is. Well, now let us look at Salt Bae net worth and how he became one of the most famous chefs on the internet with a staggering net worth. 
Salt Bae Net Worth
After years of struggle and hard work and one very viral video, Salt Bae made it bigger than ever expected. Currently, Salt Bae net worth stands at an astounding $70 million. Multiple celebrities wanted to meet him and try his food after his salt-sprinkling style went viral. They would often go to his restaurant and post about it. This led to his restaurant gaining immense popularity within a short time. 
Through his restaurant's success, he managed to earn enough to open his own chain of restaurants. He named them, Nusr-et, after himself. Nusr-et soon became a luxury steakhouse that serves high-quality meat to its diners and also provides top quality dining experience. 
Nusret (or Salt Bae) only rose in fame and has never looked back since then. Besides his $70 million net worth, Salt Bae's restaurant chain, Nusr-et, is also considered a billion-dollar business. He also earns money through occasional endorsements on Instagram, where he has a massive 35 million following.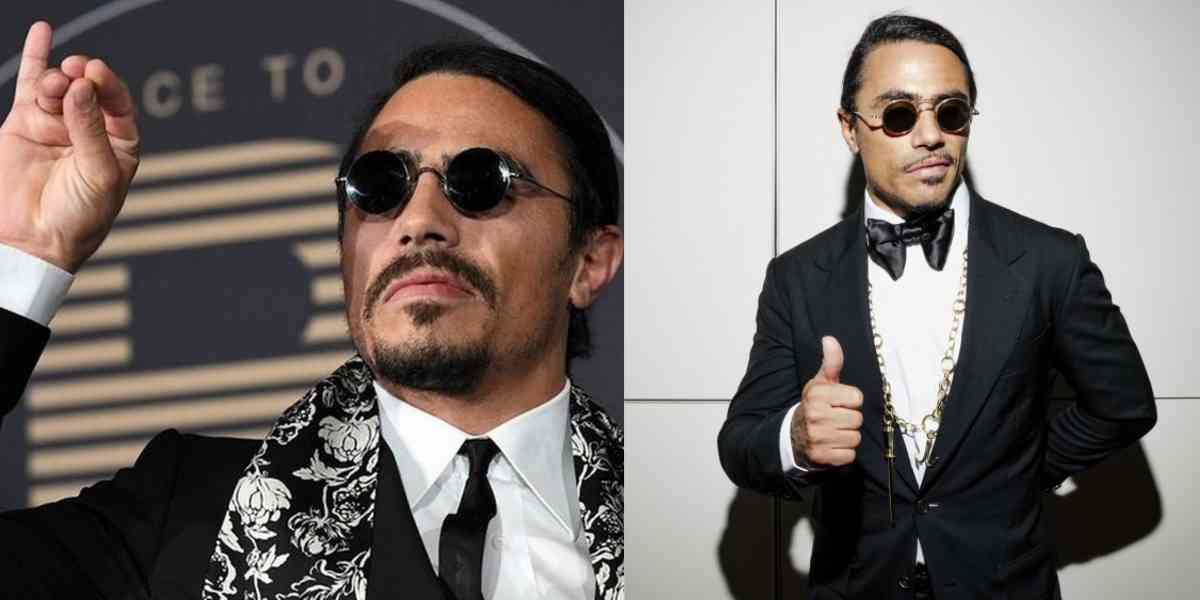 Who is Salt Bae? Early Life and Struggles
Nusret Gökçe, also known as Salt Bae, was born in 1983 to a Kurdish family in Erzurum, Turkey. He did not start as the rich chef he is today. As a child, he belonged to a humble family where his father often struggled to make ends meet. He was a mine worker who worked long hours in very tough conditions. After a constant financial struggle, Nusret and his family were forced to leave Erzurum and move to Darcia. The situation got so bad that Nusret dropped out of school in grade 6 since his father could no longer afford his tuition fees. 
Related: Who is Judy Corry Husband? Is the Husband Her Ex-Boyfriend?
As a result, from a young age, Nusret started working with a butcher to help provide for his family. Here, he learned a lot about different types of meats and discovered his love for food. He saved money and moved to Argentina to become a professional chef. 
At 24, Nusret travelled through various countries and offered to work there for free. He even worked in the US for a short time, free of cost. Ever since he started training to be a chef, he dreamed of opening his restaurant. Although not the best decision financially, Nusret believed that working for free would help him gain insight into the restaurant business. 
Even though the young aspiring Nusret was willing to offer his services for free, he still struggled in his career. He applied for US citizenship nine times, but each time got rejected. 
This led to him moving back to Turkey in 2010. Here he started his small restaurant that was anything but extravagant. The small restaurant space could only fit eight tables. 
How the Restuarant Took Off
Although Salt Bae had a small restaurant, he focused on the food quality he served. That is why when Ferit Sahenk, a rich Turkish businessman, dined at his restaurant, he was mesmerized by Salt Bae's talent. He decided to invest in the aspiring chef, and this is what initially took off Salt Bae's restaurant business. 
Related: Lance Kerwin Cause of Death: 'Salem's Lot' Actor Lance Kerwin Dies at 62
After just a few years, Ferit, Mithat Erdem and Nusret opened restaurants in Dubai, Istanbul, and Abu Dhabi. 
The Video That Started it All
Nusret, better known as Salt Bae, became a viral sensation at one of these restaurants. Nusret posted a 36-minute video of him sprinkling salt on meat in the most unique way possible. His technique took the internet by storm. In just two days, his video received over 3 million views, leading to the birth of "Salt Bae". 
Apart from the video getting millions of views, Salt Bae quickly became a meme. His salt sprinkling technique was unique, but his dressing, charismatic body language, and unique way of saying "wow" also attracted large audiences towards him. 
How's Salt Bae Handling His Fame?
Becoming famous means you've got multiple fans. But unfortunately, it also means that you'll gather a few haters. Some people claim that Nusret became arrogant and did not give his fans the time or attention when they came to meet him. 
Related: Is Jay Leno Gay? Separating Fact from Fiction
However, many of Salt Bae's fans claim that even though he is a multimillionaire now, he still seems humble and works just as hard on his art. This can be seen in his appearance on SNL as well. The master chef appeared on Saturday Night Live, mostly discussing maintaining his daily routine and craft. Furthermore, even if you dine at one of his restaurants, you'll see that the food quality remains top-tier, and you'll still get the same juicy burgers and butter-like steaks that his restaurant is famous for.