Scottie Pippen, a retired professional basketball player, is widely recognized for his incredible contributions to the sport. With a remarkable career that included playing alongside Michael Jordan for the Chicago Bulls and winning multiple NBA championships, Pippen's net worth has piqued curiosity. Let's delve into Scottie Pippen's net worth and his journey in the basketball world.
Scottie Pippen Net Worth in 2023
As of 2023, Scottie Pippen's net worth is estimated to be $20 million. Over his 17-season NBA career, Pippen earned a total salary of $109 million, in addition to substantial earnings from endorsements and other ventures.
Net Worth Through Salary and Contracts
Scottie Pippen is often hailed as one of the most underpaid NBA players in history. In 1991, he signed a 7-year, $18 million contract extension with the Chicago Bulls. Despite playing a pivotal role in the team's success alongside Michael Jordan, Pippen earned significantly less than his superstar teammate. His decision to prioritize financial security for his family, given his background of growing up in poverty with disabled family members, influenced his contract negotiations.
Pippen's frustration with his relatively low salary intensified as he believed he deserved a more lucrative deal. Nevertheless, his total NBA earnings of $109 million exceeded Michael Jordan's $94 million.
A significant portion of Pippen's earnings came from a five-year, $67.2 million contract he signed with the Houston Rockets before the 1998-1999 season. He also earned an additional $10 million during his return to the Bulls for his last two NBA seasons.
Related: What is Iron Sheik's Net Worth In 2023?
Early Life and Career
Scottie Maurice Pippen was born on September 25, 1965, in Hamburg, Arkansas, as the youngest of Ethel and Preston Pippen's 12 children. Despite facing challenging circumstances, Pippen excelled in basketball during his high school years at Hamburg High School, where he led his team to the state playoffs and received all-conference honours.
Initially overlooked by college scholarship offers, Pippen joined the University of Central Arkansas as a freshman walk-on, standing at 6'1″. However, a significant growth spurt propelled him to a height of 6'8″. During his college career, Pippen showcased his talent, averaging impressive statistics of 23.6 points, ten rebounds, 4.3 assists, and nearly 60% field goal shooting per game.
Pippen entered the NBA as the fifth overall pick in the 1987 NBA Draft, initially selected by the Seattle Supersonics. However, the Chicago Bulls were eager to acquire him and arranged a trade with the Supersonics to secure his services.
Related: What is Conor McGregor's Net Worth?
Career Achievements
Scottie Pippen made his NBA debut for the Chicago Bulls on November 7, 1987, against the Philadelphia 76ers. Known for his exceptional skills on the court, Pippen played a crucial role in the Bulls' success during the 1990s, helping the team secure six NBA championships.
Throughout his career, Pippen earned seven NBA All-Star selections and was named the NBA All-Star Game MVP in 1994. He showcased his defensive prowess and offensive capabilities, regularly contributing to the Bulls' victories. Pippen's accomplishments included achieving his first triple-double in 1990 and playing a pivotal role in the Bulls' three-peat championships from 1991 to 1993.
After his time with the Bulls, Pippen played for the Houston Rockets from 1998 to 1999 and the Portland Trail Blazers from 1999 to 2003. He made a brief return to the Bulls in 2003 before officially retiring from professional basketball on October 5, 2004.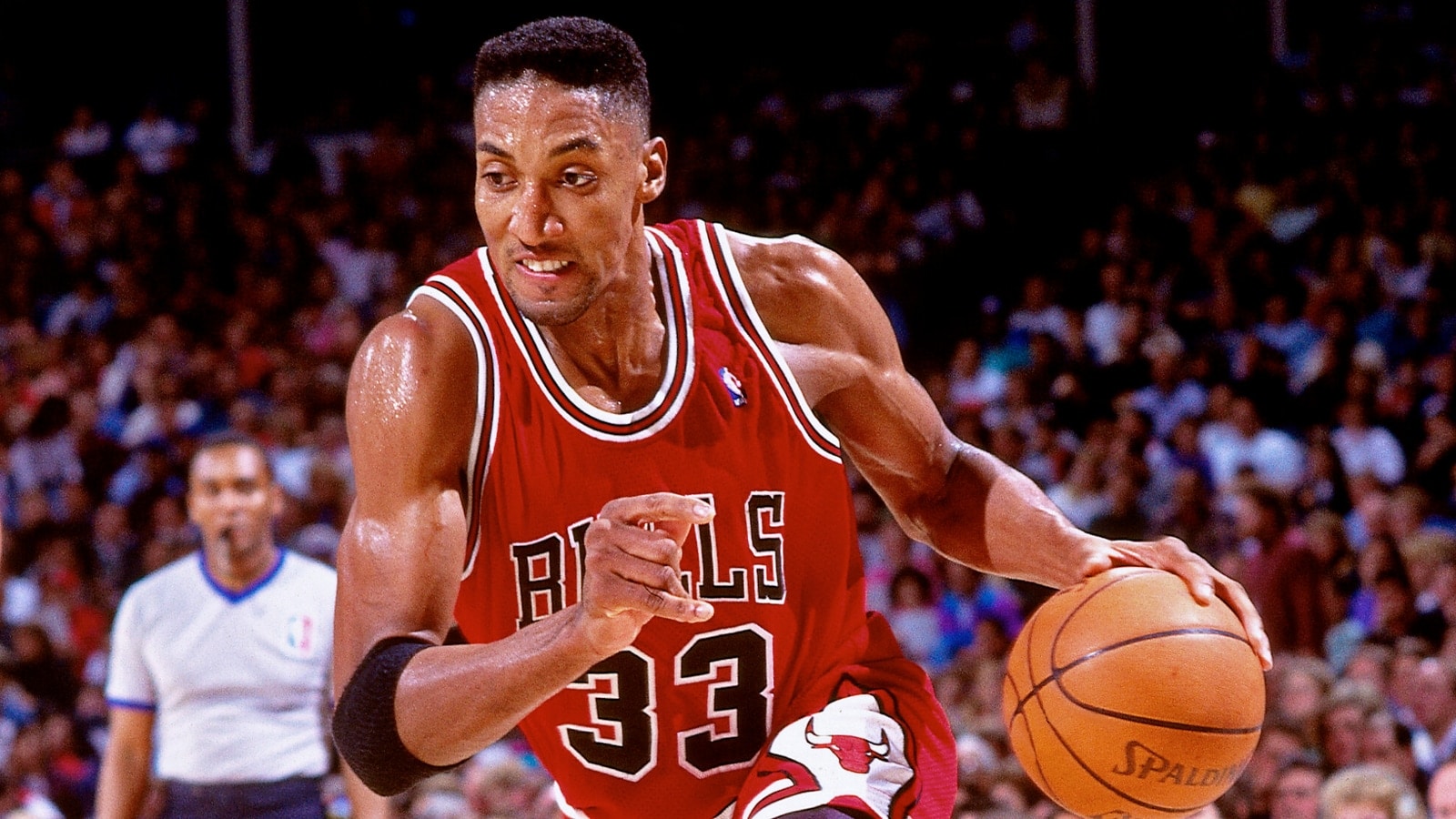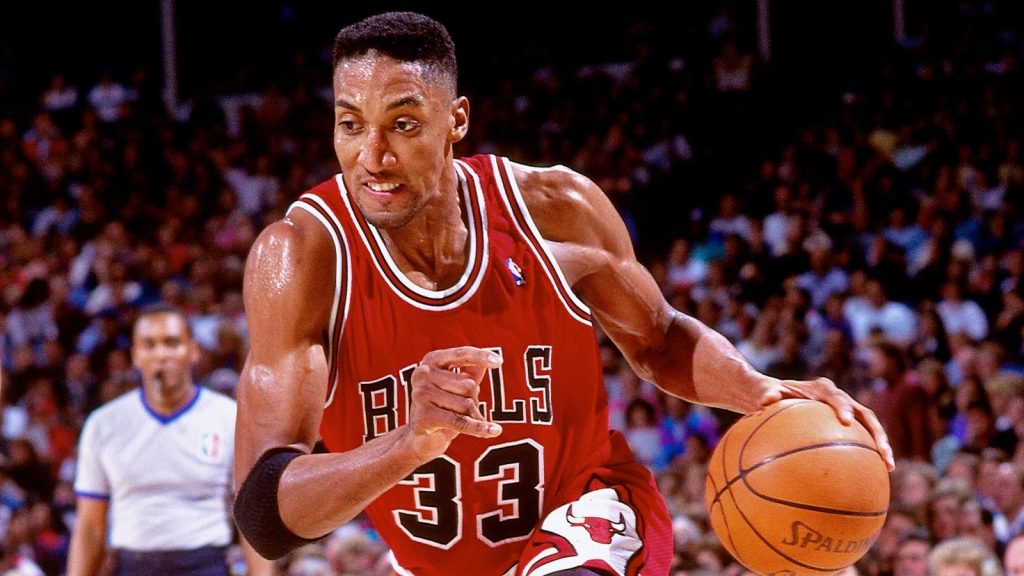 Olympic Success and Personal Life
Scottie Pippen had the honour of being a part of the original Dream Team, representing the United States in the 1992 Olympics in Barcelona, Spain. His team secured the gold medal, and Pippen remains the only NBA player to win an Olympic gold medal and an NBA title in the same year twice, accomplishing this feat in 1992 and 1996.
In his personal life, Pippen has been married twice. His first marriage was to Karen McCollum in 1988, which ended in divorce in 1990. In 1997, he married Larsa Younan, known for her appearance on the reality TV show "Real Housewives of Miami." The couple has four children together. However, they divorced in 2021.
Apart from his marriages, Pippen has two more children from previous relationships. He has a daughter named Sierra Pippen from his former fiancée, Yvette De Leon, and a daughter named Taylor Pippen with his former girlfriend, Sonya Roby. Tragically, Taylor's twin sister, Tyler, passed away nine days after birth.
Real Estate Ventures
Scottie Pippen has made notable investments in the real estate market. In 2004, he and Larsa Pippen purchased a spacious 10,000-square-foot residence in Highland Park, Illinois, for $2.225 million. The property featured luxurious amenities such as a home movie theatre, sauna, game room, and an indoor basketball court customized with Pippen's Chicago Bulls jersey on the floor.
After several years on the market, the house was eventually sold for just under $2 million in late 2021. Additionally, Pippen previously owned a mansion in the prestigious Harbor Beach neighbourhood in South Florida, which he sold in September 2021 for $10.54 million.
Scottie Pippen's net worth may not rival the figures of some other high-profile athletes, but his legacy as a basketball legend and his investments have contributed to his overall financial standing.
Related: Jim Brown's net worth: How did Jim Brown earn his net worth?