Adam Scott has made it big in comedy stardom, but it would not be possible without his wife. Famously known for his roles in TV shows such as Parks and Recreations and Party Five, the American actor, comedian, and producer never fails to praise his significant other. He has been vocal about how his beloved wife has always been his ultimate rock, subsequently making ardent fans curious about her and their love life. Ultimately leading them to ask: who is Adam Scott's wife, and when did they get married?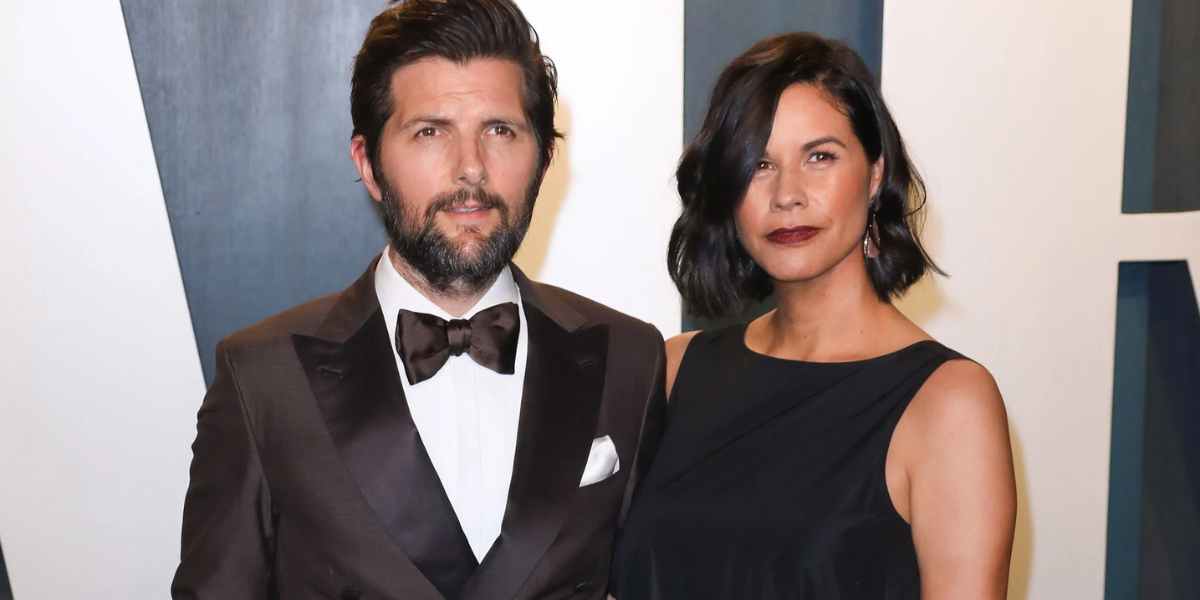 Curious to know more? Well, fear not! Here are all the details that you need to know about who is Adam Scott's wife, how they met, and when they got married.
Just keep on reading the article to find answers to all of your burning questions!
Who is Adam Scott's Wife?
Noami Scott (née Sablan) is Adam Paul Scott's wife, who also happens to be a thriving TV and film producer in Hollywood.
She has been working as a writer and producer since the early 2000s. Surprisingly enough, the late-night television helped her kick start her career in production as Noami got her first gig in Jimmy Kimmel Live! as a segment producer.
Some of her most notable works include:
The Overnight 

Other People 

Ghosted

Fun Mom Dinner etc.
Noami and her husband also formed their own production company, "Gettin' Rad Productions," shortly after they had their first child.
Since then, the duo has collaborated on numerous projects while successfully managing their personal and professional lives.
Noami Scott (née Sablan) was Once an Actress?
Even though both Adam and Naomi are in the Entertainment Industry, many people assume that the Emmy-nominated actor is the only one who appears on the big or the small screen. 
Well, you could not be more wrong! 
While it may be a big shock, Adam Scott's wife has some acting experience. Her first ever job in this industry was acting – though it was a small role, she appeared in the movie Kissing Jessica Stein in 2001, where she was also working as a production manager. 
Not only that, but she also made a guest appearance in the British comedy series called Sadie J.
However, please do not confuse her short-lived acting career with her production career, folks. Noami Scott did get her "initial exposure" in production via Jimmy Kimmel Live, but it was not her first job.
Please note that she actually debuted as an actress but then moved to film and TV production.
When did Adam Scott and Noami First Meet?
Adam Scott and his wife, Noami Sablan, were introduced to each other by a mutual friend. However, they first met in 1998 at a bar on Sunset Boulevard.
In an interview, Adam shed light on the fact that Naomi promptly left after their date ended. She was hinting that the two did not hit it off immediately.
Noami quipped and further highlighted that she only came around when she heard "actor" and "saw him perform."
She was then "sold" by his charms, and they began dating afterward.
When did Adam Scott and Noami get Married?
After dating for seven years, the pair got married to one another in the year of 2005.
Are they still Married?
Yes, Adam and Noami have been happily married for eighteen years now.
Ever since they began dating, they have been a strong team. Their bond is unbreakable. Whether it comes to parenting their kids or their professional careers, they both have had each other back since day one.
In an interview, Adam confessed that he is the luckiest man in the world because he has "the coolest, the smartest, the funniest and the most beautiful" person as his wife.
No wonder they are going strong to this day!
How many Children does Adam and Noami Scott have?
Adam Scott and his wife, Noami Scott, have two children together; a son and a daughter. Their eldest son, Graham Scott, happens to be fifteen years old. While their youngest daughter, Frankie Scott, is twelve years old now.
Even though they are both parts of Hollywood, the couple has tried to keep their children from the spotlight.
The primary purpose was "to keep the kids grounded and away from all of the Hollywood stuff so they can be kids as long as possible."
They are parenting their two kids in private and away from the eyes of the media and paparazzi. 
Adam once revealed that he and his wife try to be "politically active and community-minded." 
Thus, they try to pass that "same spirit" on to their kids.
Who is Adam Scott's Wife
Who is Adam Scott's wife? Well, it is not the power rangers and Aladdin star "Noami Scott," but the thriving film and tv producer Noami Scott / Sablan.
People often confuse the two women with each other.
So, please do not be one of those folks!
I hope this article resolved all of your queries regarding who is Adam Scott's wife.
We will update you once we get further information! Till then, stay tuned!