Since its announcement, fans have been unable to contain their excitement over the TV show released on Netflix FUBAR.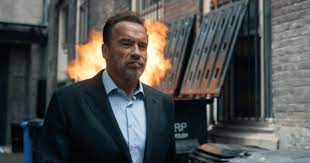 FUBAR here is an abbreviation and stands for Fucked Up Beyond All Repair/Recognition. Moreover, there's a reason why this show is so highly anticipated. The reason for this popularity is its main lead, Arnold Schwarzenegger. Especially so considering that this is the action-hungry actor's first TV series project. Furthermore, it is almost impossible not to know the action icon of this TV series from his previous hit works. The reason why the stakes are so high for Netflix is FUBAR.
Netflix FUBAR Release Date
The TV series on Netflix FUBAR (Fucked Up Beyond All Repair/Recognition) is set to release on the streaming platform on the 25th of May, 2023. As far as news proceeds, it is known that the series will consist of 8 episodes. Moreover, these eight episodes will release on the same day rather than periodical releases. The show follows the usual Netflix show binge policy. 
Related: Rickey Smiley Net Worth: The Comedian's Journey
FUBAR Cast And Production Crew
The show's cast on Netflix FUBAR (Fucked Up Beyond All Repair/Recognition) is below. The cast is no doubt star-studded.
Arnold Schwarzenegger as Luke

Monica Barbaro as Emma

Jay Baruchel as Carter

Aparna Brielle as Tina

Andy Buckley as Donnie

Milan Carter as Barry

Fortune Feimster as Ruth (or Roo)

Barbara Eve Harris as Dot

Gabriel Luna as Boro

Fabiana Udenio as Tally

Travis Van Winkle as Aldon

Devon Bostick as Oscar

David Chinchilla as Cain Khan

Rachel Lynch as Romi

Stephanie Sy as Sandy

Scott Thompson as Dr. Louis Pfeffer

Adam Pally as The Great Dane

Dustin Milligan

Tom Arnold
The writer and creator of this show are Nock Santora. He executive produces this show alongside Scott Sullivan, Adam Higgs, Arnold Schwarzenegger, David Ellison, Dana Goldberg, Bill Bost, and Holly Dale. Moreover, another executive producer of the show is Phil Abraham. Not just that, but he also directs the whole TV show. 
Related: Cindy Williams Children: A Peek into the Actress's Family Life
Netflix FUBAR Plot
Since neither Luke nor his daughter Emma knew the other person was a CIA agent, they have lied for years. They both realize they know nothing about one another once they understand the truth. Moreover, upon discovering one another's CIA involvement, the two are compelled to work as partners and uncover each other's true identities amid intense action and espionage. All of this havoc puts retirement plans of Luke into jeopardy. No matter what the twist in the story is, the viewers will have fun with the drama in the family and the comic mischief that takes place.
Related: What is Samantha Ann Clark Cause of Death?
Netflix FUBAR Trailer
The first teaser trailer for the TV show on Netflix FUBAR was released on the 27th of February, 2023. Even though it is just 30 seconds long, the snippets of the TV show leave the viewers quite satisfied and excited about the upcoming series. Furthermore, the trailer has several elements that practically scream Arnold Schwarzenegger. What are these elements, one may ask? Lighting stuff on fire, shooting firearms and pistols, and smoking Stogie cigars. Not just that, we also get Arnold Schwarzenegger to say his iconic dialogue from The Terminator that is "I'll be back."