Attention, folks! The larger-than-life Slaton sisters are back again to take us through their weight loss journey as TLC has not only announced but also revealed the 1000 Lb Sisters Season 4 release date.
After celebrating key moments in their lives and giving us a glimpse of it in the third season, the reality television stars will be returning to our screens for more episodes, contrary to everyone's beliefs.
Though, now in their 30s and their lives taking new turns, attempts at weight loss and weight loss surgery do not seem as easy as it may appear at first to them. But, like they say, never say never!
Want to become a part of their journey to a healthy life? Well, fear not! Here is all that you need to know about the 1000 Lb Sisters Season 4 release date.
What is the 1000 Lb Sisters Season 4 Release Date?
The wait is over! The fourth season of 1000 Lb Sisters is scheduled to make its debut on TLC on Tuesday, 17th of January 2023, at 9 p.m. ET / PT.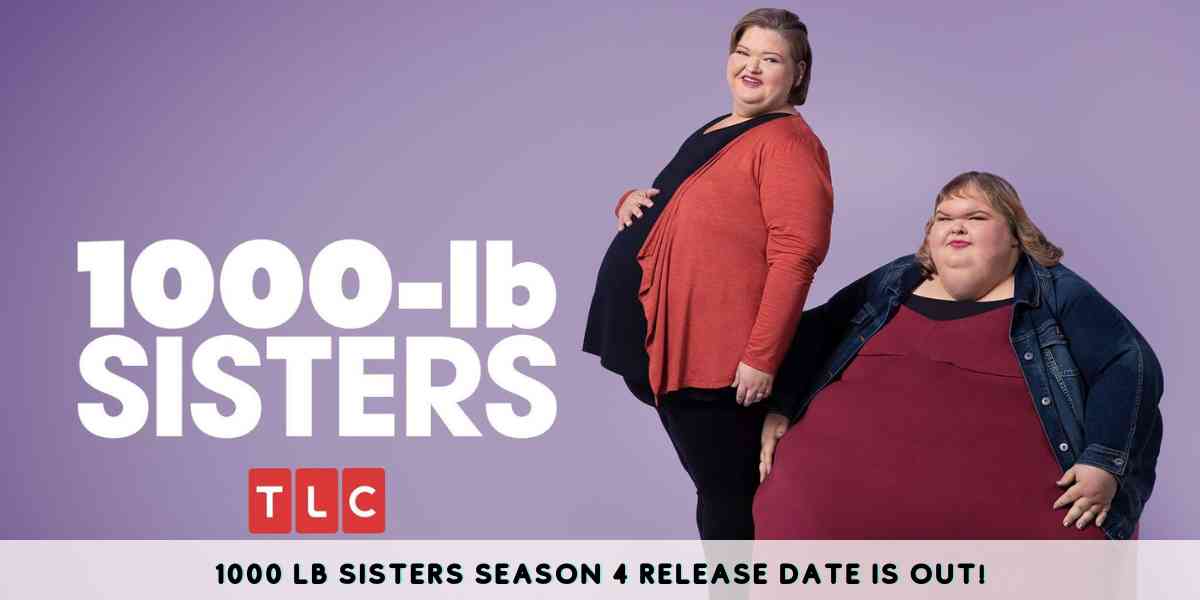 The news was a huge relief for the loyal fans who have lost all hope for the show's return. Owing to Tammy Slaton's death scare in season three and Amy Halterman's (née Slaton) new role as a mother, the probability of them coming back for another season was quite low. Mainly because some of the cast members were thinking about quitting the show for good. Out of which Amy was one of them, as she thought that filming was affecting her role as a mother.
Nonetheless, all turned out good in the end! The fans and viewers just have to wait a little while to have the next season on their plates.
So, stay tuned!
Did Amy Slaton Quit 1000 Lb Sisters Season 4?
No, Amy Slaton did not quit 1000 Lb Sisters, as she is coming back for the fourth installment. However, she did talk about taking a break from the show in February 2022 to focus on her eldest son and finds it hard as a new and overweight mom:
"I've been on the show for three years. At first, it was easy but now that I have Gage it's like, he doesn't want me out of his sight."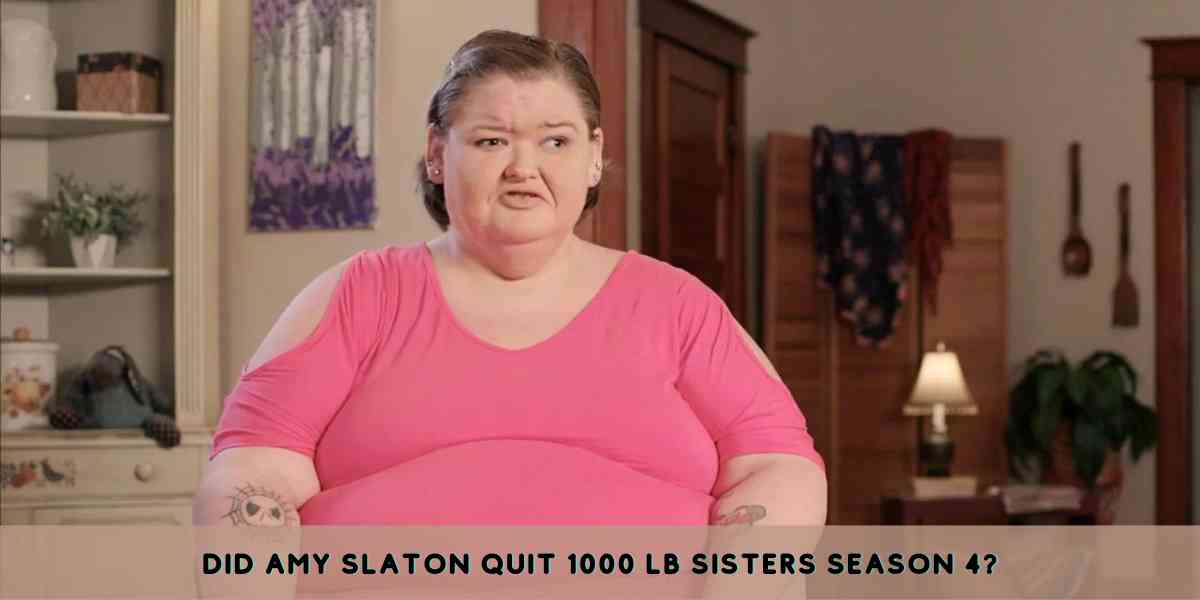 Revealing her concerns, she highlighted that,
"I feel like I'm being a bad mom when I'm at work. He's always at granny's when we're filming and stuff. I feel like I'm losing valuable time."
Though she did surprise fans with her second pregnancy; she also gave fans a jumpscare when she made it clear that she does not want to do another season:
"I don't really want to do another season because I'm pregnant, it's just a lot. If they cut down my hours, I'll be probably fine."
It seems like the TCL did devise a way that would help her balance both her personal as well as work life because even after having doubts, she is still returning. (But, it may very well be her last season, if she decides to finally step back from the show as a full-time mother.)
Miracle Workers' Season 4 Teaser Features Daniel Radcliffe: Check Release Date, Cast, Plot and Trailer!
Is Amy Slaton Pregnant Again?
Yes, the star "Amy Slaton-Halterman" is pregnant again with her second son, Glenn Allen Halterman.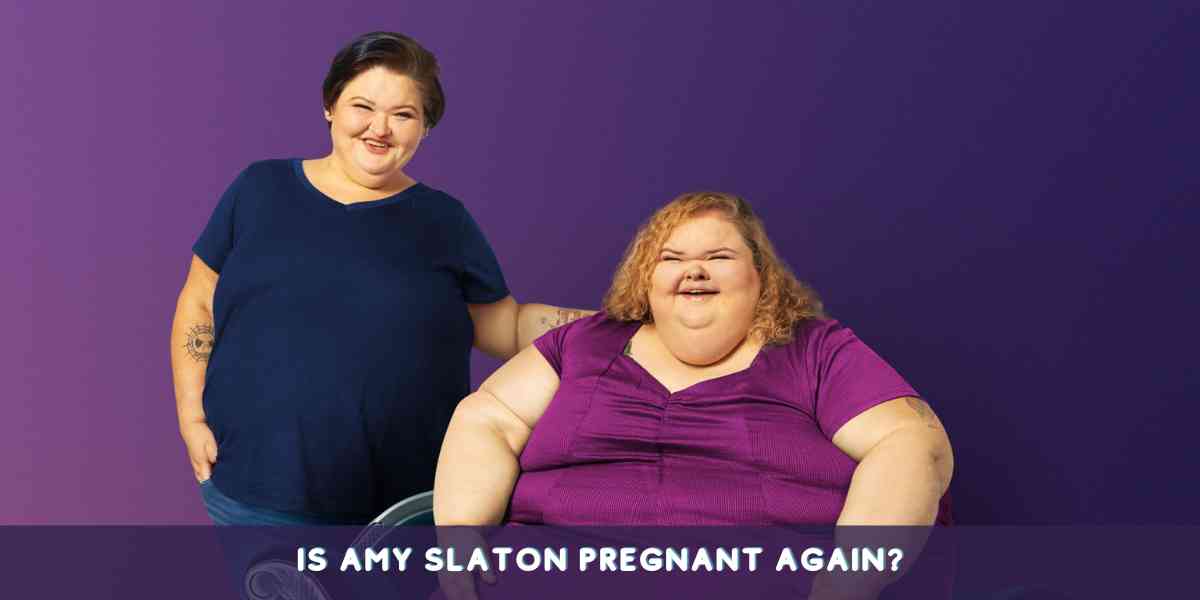 Stepping into her new role as a mother, the upcoming season will not only show a very pregnant Amy but also shed light on how content and happy she is with motherhood.
However, TCL did hint about her constant worrying over how she will be able to handle two kids while being overweight and managing being part of the show.
Christmas on Mistletoe Farm Netflix Release Date
How is Tammy Slation doing after her "Near-Death Experience"?
Tammy Slaton has, fortunately, survived her "near-death experience," which has prompted her to take huge steps for the betterment of her health.
In February 2022, she took fans by surprise when she shared a TikTok posted from her Ohio-based rehab facility.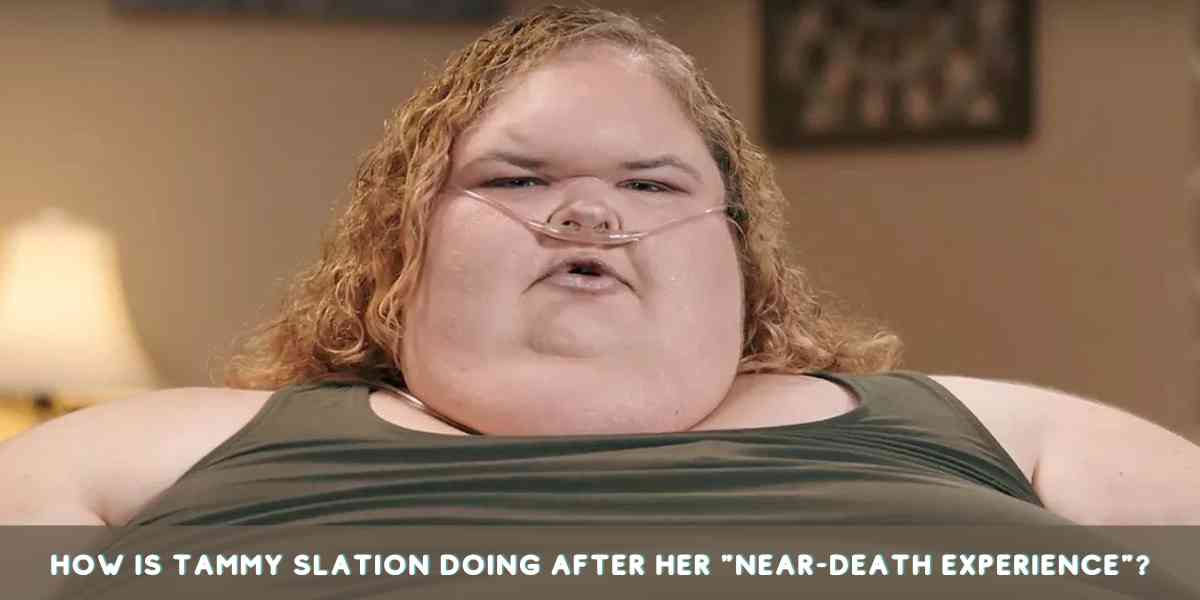 Highlighting that she has not only re-joined rehab but also told fans that her weight loss journey is going smooth – though, they do have to wait for the next season to get more information about it as it has been fully documented for the show:
"I'd love to give you a weight loss update, but you're going to have to wait until season 4 comes out," she said. "Sorry!"
Further adding that,
"Just know that I'm staying on track and things are looking up!"
For those people who do not know, Tammy Slaton was urgently hospitalized for carbon monoxide poisoning in November 2021, and for a minute or two, "she had quit breathing," too. Thus, due to her critical situation, she was put on life support and had to undergo tracheostomy surgery.
Though it has been a year since her health scare, she still wears a trach tube. Her brother even shared that after re-joining her rehab, she has also lost 115 pounds in just thirty days.
Did One of the Thousand Pounds Sister Passed Away?
With Tammy Slaton's absence from social media platforms after her scary hospital run, fans grew worried about her well-being, many thinking that she probably did not survive it. However, the reality was completely the opposite, and she was just keeping a low profile for several months.
Her younger sister, Amy Slaton-Halterman, made it clear through her Instagram that her elder sister is "completely fine" and her social media absence has nothing to do with her health:
"She been locked out of her account and had to set up new ones. And TikTok banned her."
(P.S. Tammy has now returned to TikTok after her split from her ex-boyfriend Phillip Redmond in August.)
To put it simply, none of the sisters is dead, both Tammy and Amy are very much alive.
Wrap Up:
Averaging over a thousand pounds combined, Amy Slaton-Halterman and her sister Tammy Slaton have been there for each other throughout their lives as they struggle to lose weight. Opening new chapters in their lives, fans will see Amy's motherhood journey and Tammy Slaton making "a life-altering decision" for her health in 1000 Lbs Sisters' Season 4.
And, of course, brother Chris Combs and Amanda Halterman joined in to shed excess weight too.
"Interview with the Vampire" Series Has Been Renewed for Season 2 at AMC
So, do not forget to watch folks once the fourth season premieres!